Life is always more entertaining for families when dad stays home with the kids while mom is working away, even when you're a super hero family! The "Incredibles 2" film is going to showcase how incredible life can be for stay-at-home parent. Just like in real life, when dad finally thinks he has a handle on things, everything changes. Those incredible kids of ours are great at keeping us on our toes, aren't they?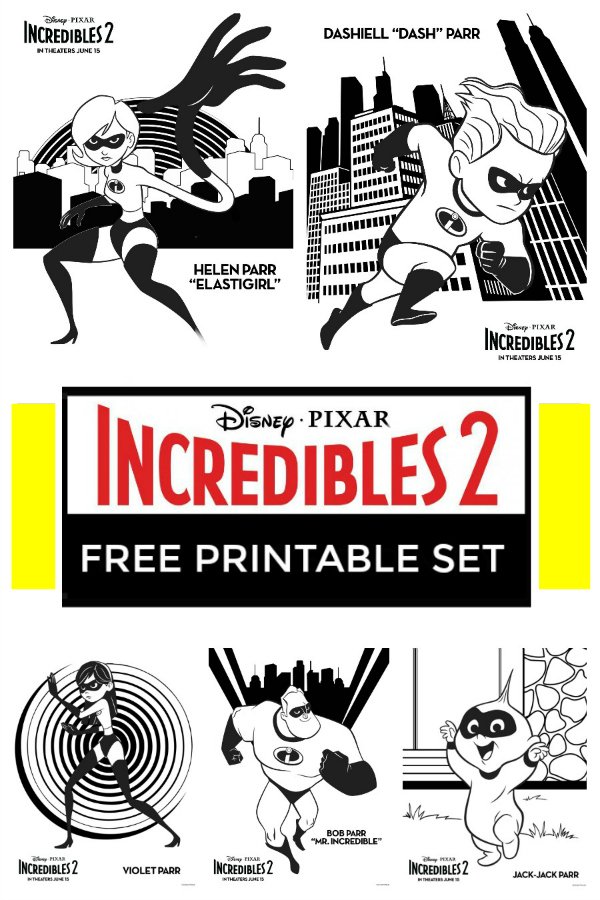 Take a look at the new film by downloading these FREE PRINTABLES! This free printable pack from Disney includes five color pages, two colorful activity sheets, and two incredible recipes! Give your little ones the color pages, your incredible smarties the activity pages, and head to the kitchen! Hey! I've been looking for an incredible waffle recipe forever! How awesome of Disney to share theirs with us! It's… Incredible! Right? Download the Incredibles 2 Family Pack
Check out this fun Fighting Jack Jack plush. It is fun to play with or to take with you to see the new movie.

Want to get ready for Incredibles 2? Have a family movie night watching the original Incredibles.
Free Incredibles Coloring Pages
When your kids have finished enjoying Bob's Incredible Waffles, slip this Incredibles 2 coupon book under their noses! They will have so much fun cutting out these coupons they won't even realize that they are for them to give you as a gift! These coupons are an incredible way to get your kids to help out around the house! With coupons for household chores, family activities, NO COMPLAINING, and NO PHONES at the table, you're going to think Mr. Incredible himself has taken over your house too!
Free Incredibles Crafts
Kickoff Your Incredible Summer with this cute Matching Game and DIY Incredibles 2 Door Hanger! If you don't have color printer at home, download the files to a USB and take them to your nearest copy center. You can print these colorful projects on high quality paper for as little as $3!
ABOUT THE MOVIE
In "Incredibles 2," Helen (voice of Holly Hunter) is called on to lead a campaign to bring Supers back, while Bob (voice of Craig T. Nelson) navigates the day-to-day heroics of "normal" life at home with Violet (voice of Sarah Vowell), Dash (voice of Huck Milner) and baby Jack-Jack—whose super powers are about to be discovered.

Their mission is derailed, however, when a new villain emerges with a brilliant and dangerous plot that threatens everything. But the Parrs don't shy away from a challenge, especially with Frozone (voice of Samuel L. Jackson) by their side. That's what makes this family so Incredible Written and directed by Brad Bird ("Iron Giant," "The Incredibles," "Ratatouille") and produced by John Walker ("The Incredibles," "Tomorrowland") and Nicole Grindle ("Sanjay's Super Team" short, "Toy Story 3" associate producer), Disney•Pixar's "Incredibles 2" busts into theaters on June 15, 2018.
INCREDIBLES 2 Opens in Theatres Everywhere

June 15th

!