I received a copy of this DVD for review. All thoughts are my own
Oh no, Wendy's story book has been stolen by Captain Hook in this movie of Jake and the Neverland Pirate- Battle for the Book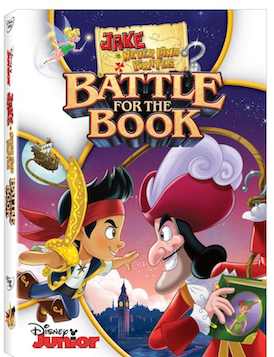 Jake and his friends have to travel to London to help Peter Pan's friend, Wendy get her book back. Wendy has all the stories of her adventures that have happened in Neverland, including the stories that feature Captain Hook. The longer the book is out of Wendy's hands, the more she and her brothers forget their adventures in Neverland.
The battle for the book continues in Never Land, where Hook plans to destroy the book, and all of the stories in the legendary Ring of Blue Fire. It's up to our young heroes to save Wendy's Storybook and the Story of Peter Pan!
Look here for some great activity sheets to do while watching the show.