I received a set of Jamberry Nails from Julia Blair's Shop. All thoughts and opinions are my own.
If you have been around The 6 Pack for a while, you have heard me say (read what I said?) I am a slowly reforming jeans and tee-shirt, no wearing makeup kind of girl. I am coming around like I said slowly, to wearing more fashionable styles, getting out of my jeans and hoodies only apparel, and taking steps to put some effort into my looks. While I am still usually found in my jeans, I have been found sporting a skirt for no reason at all, putting on my new makeup just to take the kids to school, and I have even started thinking about my nails.
I blame it all on my fashionista daughter and my BFF. My BFF is always on my case and has been helping me find things that fit my desire to be comfy and still looking nice. And my daughters are always asking to paint my nails. The problem with my nails is a coupe of things. First of all, I have insanely thin nails. They have always been thin but after having kids, they are even more thin. Even when they manage to grow which is hard all by itself, they tend to bend easily. Think newborn baby thin. It is crazy. Then I also have a nervous habit of picking at my skin around the nails. Then when I paint my nails I tend to immediately or within hours start to pick at the nails. It could be something as simple a bubble or bump in the polish and I can not help myself. But I have gotten much better and I can hold off until the polish starts to chip. Once it starts to chip, forget it…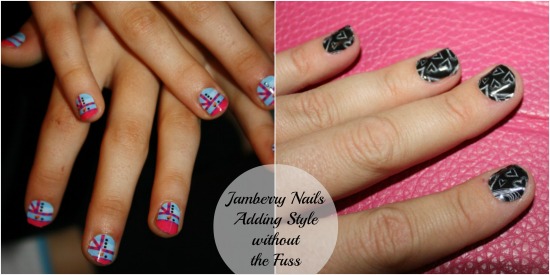 I recently received 2 sets of Jamberry Nails from a friend of mine who is a new consultant. She fell in love with the look and ease of Jamberry Nails and wanted to share them with others. I was a bit sceptical when I first heard of them, but after seeing how much she loves them, I decided they would be great for Serenity, even if I ended up not liking them for me.
I was very impressed as I looked at all of the styles that they have. One thing I love is seeing all of the cool designs that people put on their nails when they get manicures, but since manicures are not my style, I have never been able to have them for myself. With Jamberry nails, since they are easy to apply at home, by myself, I can have the neat designs too.
I choose a cute set of nails for me. Something that wasn't too flashy but still very cute. I chose chalkboard hearts. They are a simple blackish colored, with white chalky hearts. They are not gothic black, but look more like a chalkboard, hence the nail chalkboard hearts. A pack comes with about 2 applications, either 2 set of fingers or fingers and toes.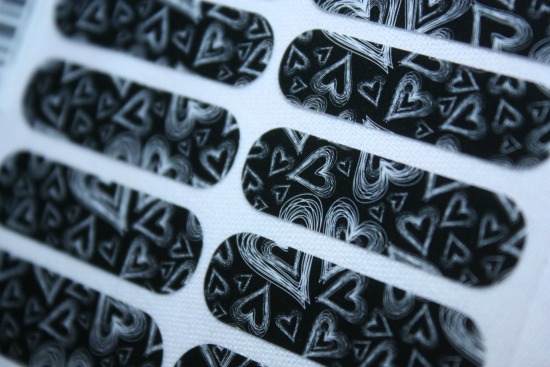 Since Jamberry Nails also has a kids collection. These are the perfect side for smaller fingers and feature kid friendly designs that are sure to make any little girl squeal with happiness. Serenity chose  flurries and frosties. What I love about the kids version, is not only does it come with 2 applications of the main pattern and then there is another bonus set.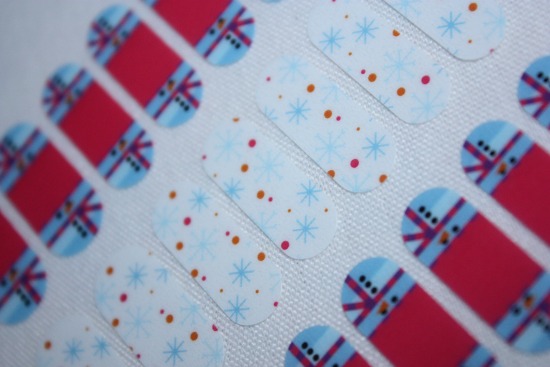 When we sat down to get ready to do our manicure, I was at complete loss. I watched the video that explained how to apply Jamberry Nails that is on the website to help me get started. Since I do not have the special heater, we used a blow dryer on low.
Basically, after deciding which nail sticker was best for each nail, I peeled off the end, and cut it in half. I would warm up the stickers for a few seconds before placing it on the nail. Then I would heat it a bit more. I could actually see it conforming to the nail.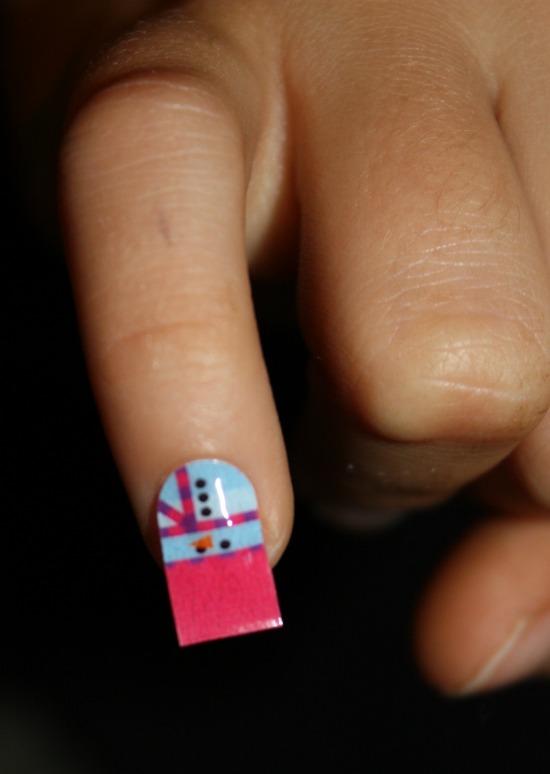 The I would trim it down the size of the nail. While it took me a bit longer than I think it normally takes, because I am just not very skilled at anything to do with nails, it was still much easier and shorter than dealing with painting the nails, attempting to make details and in my case, usually messing it up.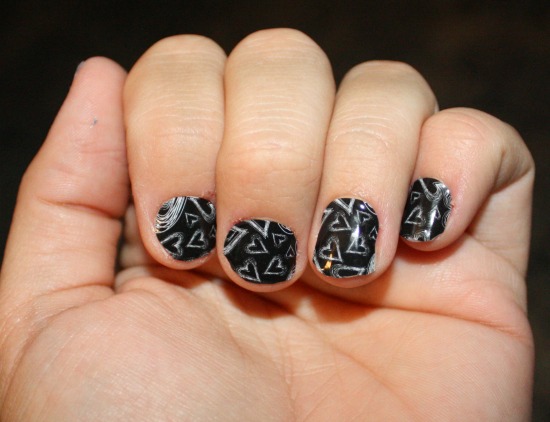 I loved how great they turned out. The Jamberry Nails completely stuck to the nails and provided a smooth surface that didn't compels me to pick and scratch at them. once they were on and set, I couldn't feel that they were there and it looked like a fully done set of nails.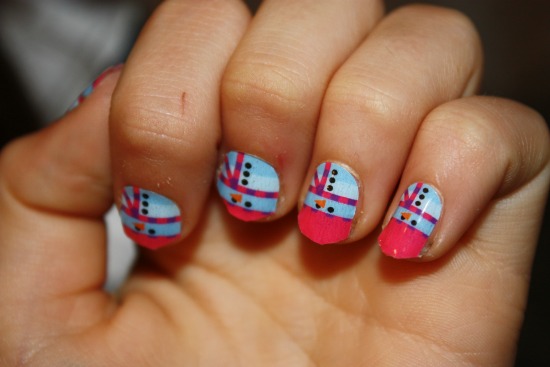 If you are interested in ordering a set of Jamberry Nails, or you want to host a Jamberry Online Party so that you can earn credits towards free Jamberry Nails, please visit Julia's site. There is also an opportunity to make money selling Jamberry Nails for yourself. Julia would love to give you more information if this is something you are interested in.
I also get the pleasure of offering on one lucky US/CAN winner a sheet of Jamberry Nails that they chose. The giveaway ends on 11/26 11:59 pm est.