So many people want to go to Las Vegas. They have young kids at home and aren't ready to go on a vacation without taking the kids with them. Immediately, people rule Las Vegas out. People think there in nothing to do with Las Vegas. That wouldn't be more wrong.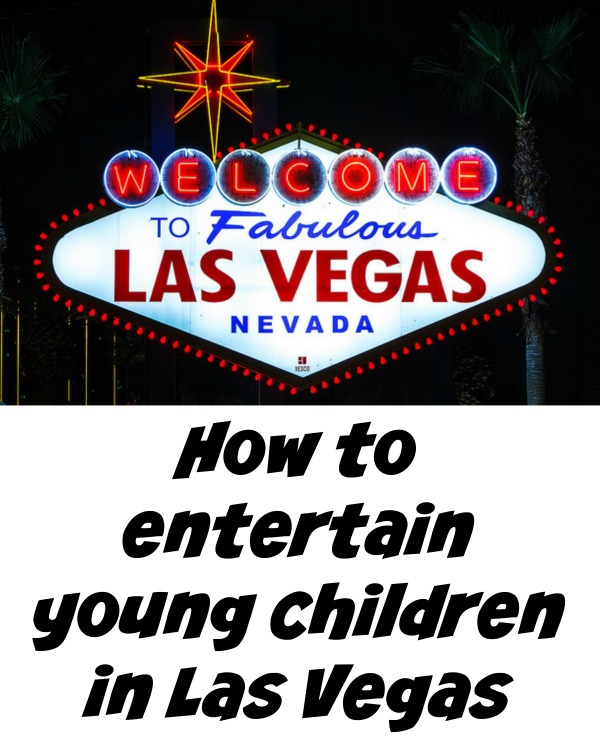 We are going to Vegas baby!. Of wait, I mean we are going to Vegas with a baby. Hmmm, that might be a little different. While you will be doing things differently when you travel to Las Vegas with kids, it doesn't mean it can't be just as much fun. There is no reason Vegas isn't fun or exciting just because you have the kids. Follow a few simple tips and Las Vegas will be tons of fun for everyone.
How to entertain young children in Las Vegas
Parking: Most of the casinos offer valet parking. While there are plenty of free parking, sometimes, with kids, it is better to just tip the valet and let someone else park the car. That way, you eliminate the need to walk the kids any further.
Bring snacks. Always have snacks. Going anywhere with kids, my number one tip is snacks. Kids need to eat more frequently than adults, they get cranky when they are hungry, and food isn't always cheap in Las Vegas. Make sure to have things for the kids to snack on while on the go. If I don't think I can hit a convenience store or grocery store, I try to order things that I can take with me when I order the kids something to eat.
Bring a stroller. Everywhere you go in Las Vegas seems like it requires a walk. Kids get tired fast, plus other people can just be rude and push the kids out of the way. If you plan to do any kind of shopping at all, make sure you have the stroller. It makes sure you can keep your hands on the kids, keeps them from getting tired as fast, and also, helps them keep from over heating.
Pack a long sleeve shirt. Everyone in Nevada is hot. For just about most of the year. Even during the hottest days, it is smart to have long sleeves for kids. Sometimes the temperature can drop at night, but also the stores are air conditioned and it can seem a little cold for kids.
Once you know how to keep the kids the happiest while you are visiting Las Vegas, there is the concern of what to do with them. You need to think outside of the box. Don't think all of the typical Las Vegas things. Kids can't hang out in the casino or night clubs and they ceratinly don't want to watch drag queens putting on musicals.
Mandalay Bay Shark Reef. This is a really fun aquarium style exhibit! They have a few reptiles and a winding path of exotic fish that lead you to a very impressive tank filled with all sorts of ocean life. Depending on your child's interests this will buy you at least an hour if not more. Also note that there is a small food court just outside of the exhibit with typically mall food. You know the kind if food kids love to eat.
Mirage "Siegfried & Roy" Dolphin exhibit. Get up close and personal with the dolphins. There is a regular pass and then more extensive passes. I know personally, I want to get a trainer for a day experience. Maybe someday.
Madame Tussaud's Wax museum: Strangely enough my daughter loved this place. Staring at people is one of all children's favorite pass times. Mix that with the fact that you can touch most of the wax figures and even pose with them makes this a win in my book. Also if its a weekday there are usually people on the strip passing out coupons to the museum.
Discovery Children's Museum: You will have to leave the strip for this one but it is worth it! Las Vegas has an AMAZING children's museum. There are 5 levels of for kids to explore! Take the kids and plan to spend the day. This trip can take up an entire day and is a fun way to spend some of your time while in Las Vegas with little ones.
Go swimming: Most kids love swimming and most of the hotels in Las Vegas have swimming pools. Depending on your child's love of the water, if swimming is on the agenda, make sure you have the needed gear.
Walk around at night: Las Vegas is known for its lights. Take the kids out and let them get a good look at all of the lights. A beautifully place to go at night is Freemont street. The light display is sure to amaze everyone.
Visit the National Park:. The National Parks are gorgeous in Las Vegas. There are several that offer drive along scenic passes so there is no hiking involved, although, you can always get out and hike. The kids might get to see wild animals that they are not used to seeing and rock formations that they have never seen before.
There many free things to do in Las Vegas too. When taking kids to Las Vegas, just remember to expand the ideas you are looking for and don't think about the traditional things to do in Las Vegas.