I received a code for Kidz Can Design. All thoughts are my own.
You know when your kids draw a picture that just completely steals away your heart. MAybe it is the first time they write their name. Or they design their own character? Whatever it is , you now have a special way to keep it forever.
Kidz Can Design offers jewelry made exactly from the design. They take the picture you upload on the website, email to them or ship in the mail. They take that and using their technology, make it on a piece of metal jewelry.
YOu can even add your favorite picture to the jewelry too. Maybe a birth picture, or if you were lucky enough to catch that first smile. It can be any picture that you are in love with.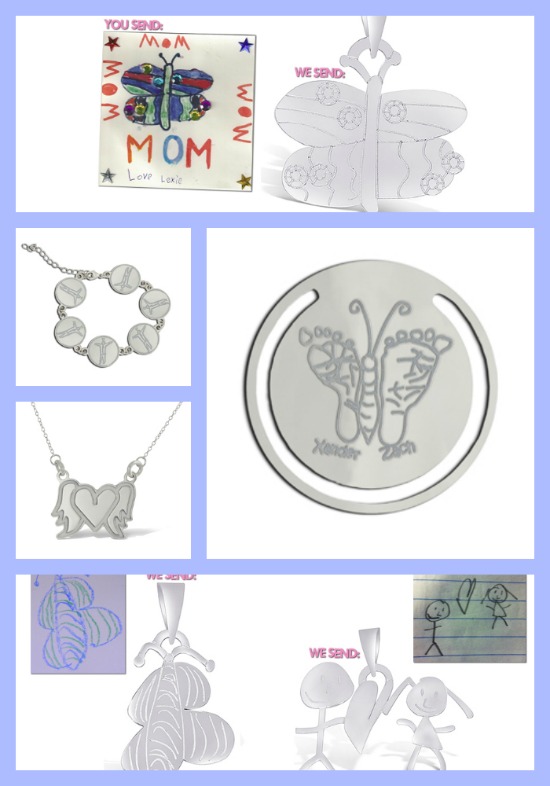 There are custom pendants, charms, name plates, necklaces, bracelets, dog tags, book marks and key chains. For my daughter, I chose a key chain with a picture of her father and me, from when we went to New York City. Serenity is still talking about how much she loved the trip and that she loves this picture of us. I knew it would make a very special memory for her, and she can carry that picture of parents with her everywhere.
I ordered it today, and it takes 2-3 weeks to arrive. I wanted to share with you this site, now, because when my charm comes, it will be too late for you to order in time for the holiday.
There is a big sale going on, and many of the pieces are on sale for steep discounts. I recommend checking out the site, and ordering your pieces now to get them in time.
I will be posting again when my charm arrives. I can not wait to show it off. I already have each of the kids drawing me pictures so that I can get charms made out of each one.
What do you think? Who do you know that would love to have one of these. Do you have a drawing or picture that you would make into jewelry?