I am a Net Gear Ambassador. All thoughts are my own.
If yor house is like mine, everyone is connected to the internet. Whether it is to be on the computer, on their phones, watching movies on the tablets, or streaming You Tube on the tv, we are all online.  It's crazy just how many aspects of our lives depend on us being connected to a device.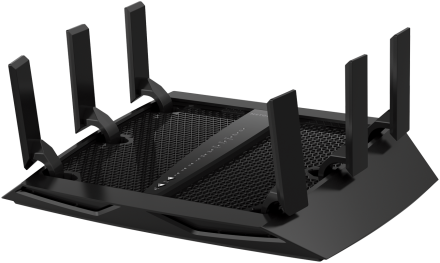 NetGear is one of those names in internet technologies that everyone seems to have heard of before. Right now, your ability to connect to the internet is even better then before. There has never been a WiFi like this before. I want to introduce to you the Nighthawk X6 AC3200 Router that has a Tri-Band WiFi Technology. This technology makes it so that each and every one of the devices that you may have in your home can connect to the internet.
You may be thinking right now that you already do this while you are at home. Think about what happens as you add more and more devices to your wireless network. What happens to your speed? In my house, I can always tell when someone has jumped on their electronics or turned on their streaming because my computer pretty much comes to a halt.
Did you ever think that it would be possible to connect laptops, tablets, phones, TVs, game consoles, music streamers and cameras to the network all at once if they are WiFi enabled? It's now possible with the Nighthawk Router. The speeds are incredible at 3.2 Gbps and with 3 WiFi bands and Smart Connect intelligence every device is give the fastest connection possible and the speed is optimized to its max.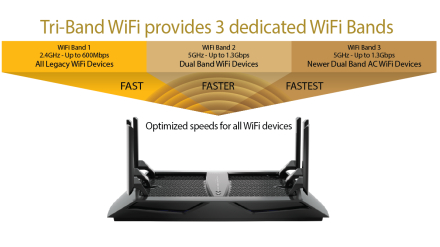 There are 6 high-performance antennas on the Nighthawk Router. You will not be asking the question of your internet being fast enough anymore. You will be wondering if your devices are fast enough to keep up with the speeds that are available to you. Gaming online is a whole other story all to itself. So many times people have gotten mad at a game because it was buffering or lagging. It wasn't the games fault. It was the speed of your internet at the time. The Nighthawk's Tri-Band WiFi ends this game-lag and delivers uninterrupted gameplay. This is what gamers have been waiting for to be able to play at the success rate that they know that they are capable of playing.
I know you also hate it when your video or movie that you are watching buffers, right? That can be put to an end as well with the ability to seamlessly stream HD simultaneously on multiple devices thanks to smart Connect and Beamforming. Nighthawk is the router that everyone has been waiting for in order to connect a multitude of devices and enjoy entertainment without interruption from lag and buffering.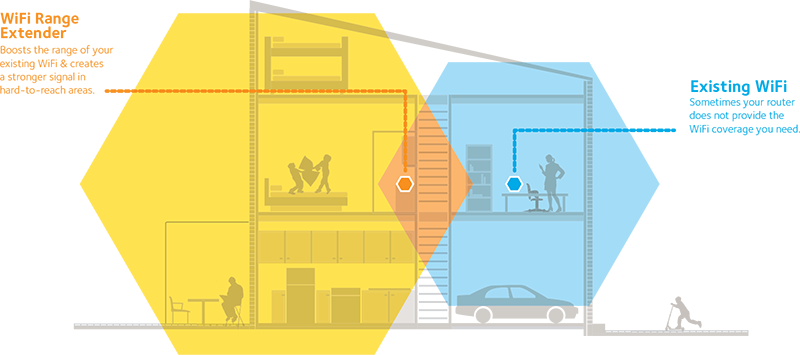 I am also excited about the AC750 WIFI Range Extender. My house is set up weird, so parts of my house get almost no service no matter how good the router is. Something in the house seems to block the signal.  If your house is shaped oddly, has multiple levels or you want to use your wifi when in the yard, with the WIFI Range Extender, you will now be able to enjoy all your favorite devices such as smartphones, tablets, laptops and more throughout your whole home. The Range Extender will boost your WiFi that already exists by simply just upping your range and speed. It will work with any standard WiFi router and the Gigabit Ethernet port allows you to provide WiFi connectivity to even a wired device such as a Bluray player, game console, smart TV or a streaming player using your own existing WiFi network. All you have to do is plug it into any outlet and let the difference speak for itself.
Facts about the Range Extender:
Dual band WiFi up to 750Mbps
Supports new 802.11ac and b/g/n WiFi devices
External antennas for better performance
Connect wired devices to your WiFi network with Gigabit Ethernet
NetGear has always been a company that wanted to innovate products in order to connect people and businesses. Life is always advancing around us, and they wanted to be able to advance along with it by making products that were easy to use, that were powerful and that were smart. They wanted people to have the smartest home that had the latest technology. NetGear wanted to make it easy for someone to do something as simple as stream a movie and not have to worry about buffering. They wanted you to be able to have access to the most advanced wireless internet connectivity and for your home network to have the speed and performance that you needed. They wanted the need for speed and efficiency to be met every single time and that the client be as relaxed as possible when connecting to the internet. It's their job to worry about what goes into the effortless connectivity, not yours. Even though we primarily hear about NetGear for the home, they also offer solutions for businesses and service providers as well.