Disclosure: Comped activities and, in some cases, media rates,  were provided to showcase this venue properly. All opinions are my own.
Last week I was able to get away on a nice family vacation when we were able to visit Virginia Beach. And being a beach girl at heart, there is no place I would rather be than the beach. I grew up in the Outer Banks, and we still go back every year, but it is really nice to go to different places for a change of pace.
We stayed in Virginia Beach for a few days and, let me tell you, their slogan is Live the Life, and boy did we! It was great. We stayed at the Comfort Inn & Suites Oceanfront, at 2015 Atlantic Avenue, right on the beach. I don't think there is anything better than staying in a hotel and being able to walk out the doors and be on the beach. The hotel was absolutely beautiful, and the staff was amazing. Everyone was so accommodating and friendly and truly were willing to bend over backwards to make the stay as perfect as possible. The suite has a queen sized bed, a pull out couch and, a great benefit to a family, is the microwave and mini fridge. The hotel offers a swimming pool, weight room and a business center. The business center has a TV, computer and printer as well as a very comfortable seating area, and as someone who works on the computer, you know this is important.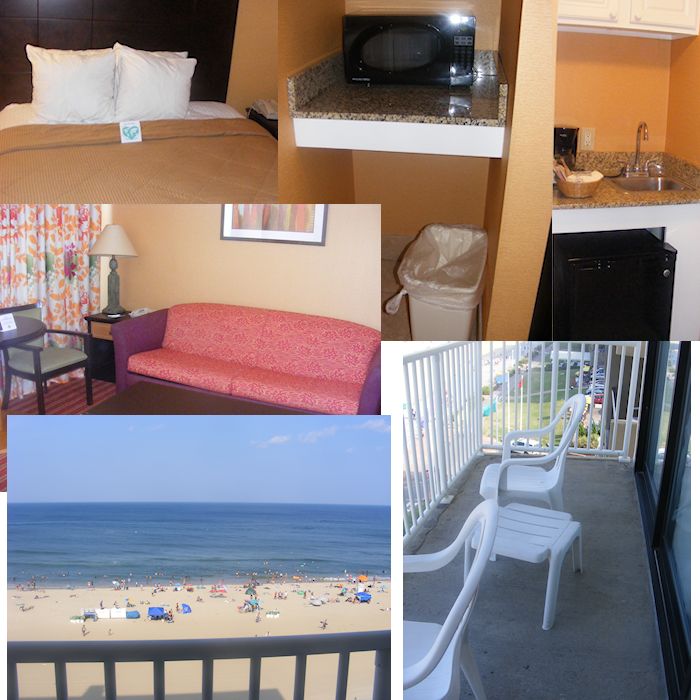 ;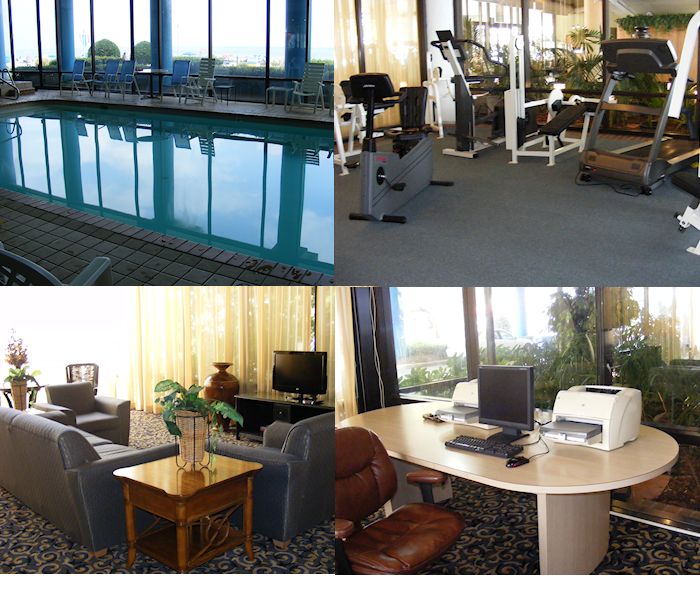 Another added benefit that the Comfort Inn offered was a free breakfast in the morning. Not just a small breakfast either. Every morning, you can go down and it is like going to a restaurant. There are waffle makers to easily make yourself a waffle, some mornings there is bacon, the next there is sausage, one morning scrambled eggs, the next omelets. There is a selection of fruit and cold cereals, pastries, hard-boiled eggs, yogurt, bagels, toast and muffins. There is something for just about everyone, even my fussiest eater. With breakfast being offered for a few hours every morning, you do not feel rushed to start your day, and it is a great way to save money for some of the other great things to do, and places to eat in Virginia Beach.
Since we were only staying for a 3 days, we wanted to make the most out of the time we were there. For dinner my first night there, I went to Waterman's Surfside Grille. Family owed since the '70s, this restaurant is really nice. There is indoor and outdoor seating, and with the outdoor seating area, you are right against the boardwalk, looking out onto the beach and ocean. It has a very festive atmosphere. Claiming to be the inventors of the "Orange Crush", an alcoholic drink I hear is absolutely amazing, every year they host Crush Bowl and throw a HUGE party! Dinner was truly delicious, and they served some of the best hush puppies I have had in a very long time. And the salads are so big, there is no way you are leaving there hungry after eating one. Be sure to try the Key Lime Pie too. It tops off the dinner perfect and is great on those hot summer evenings.
One of my favorite things to do, while sitting relaxing on the beach, is to try to see the dolphin off in the water. I have awful eye sight, so to even get a glimpse I need to use binoculars. I have always wanted to take a dolphin watching tour, and this year I was determined. We headed to the 11 am tour with Rudee Tours. This, in my opinion, is one of the best tours around. The tour takes place on the Rudee Flipper, a 65 foot beauty of a boat. Running about an hour and a half, there are very experienced in their tours, but also, and to me, most importantly, they work in conjunction with the Virginia Beach Aquarium to offer a very educational tour. As the boat is driving out, you are learning about the area, the sea life, the habits of the dolphin, and why we will see dolphins where we see them. The tour guides explained that many of these dolphins come back to this area year after year, and that they know that because every year, scientist go out and do a dolphin count. That each dolphin can be distinguished about by their dorsal fins, each has their own marking and characteristics. (Imagine my excitement when a few days later, while visiting my mom in NC, I hear on the news that Virginia Beach scientists headed out to do their annual dolphin count!) The tour guides come around with pictures that have been taken while on the boat of babies and their mothers , they show a dolphin skull that you can see and touch, and even bring around a whale baleen and explain how the whale use it. So even if the tour was to turn out a bust and you missed out on dolphins, there is so much to learn.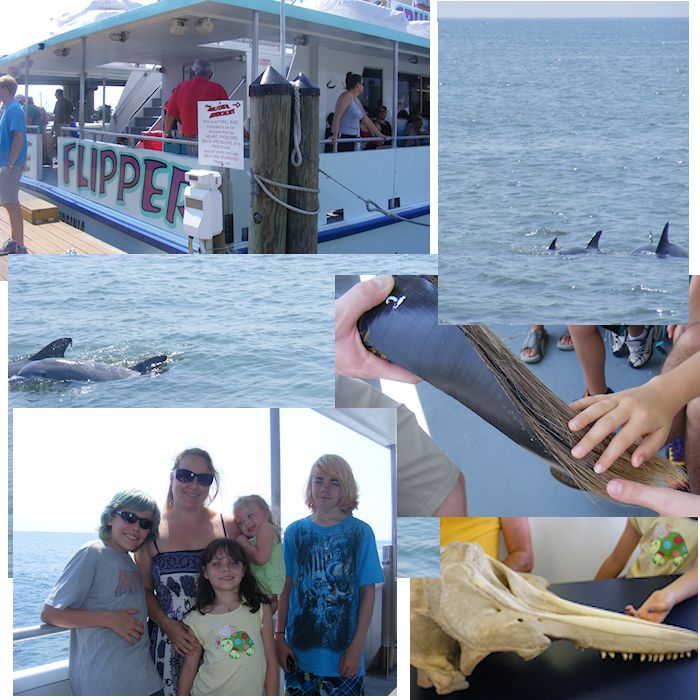 Thankfully, the crew of the Rudee is good at their job and knew exactly where the dolphins like to hang out, and the show is simply amazing and awe-inspiring. While my pictures did not do them justice, there were dolphins popping up all over on the sides of the boat. I was so busy looking at them, by the time I go the camera on them, the dolphins were heading back down again. It doesn't matter where on the boat you are, the dolphins are popping up and playing and trying to check out what is going on.
Our next trip down, this winter, is going to be to watch the whales during their migration and I won't take a tour with anyone else but Rudee. Honestly, being sponsored by the Aquarium makes all the difference.
While of course, Virginia Beach is known for their fresh, amazing seafood, my family is fussy and we just are not big seafood eaters. We did have a chance, however, to stop by Bubba's Seafood Restaurant and Crab house. They have a large selection of seafood, and Joey, being my only seafood lover, was in heaven. For those who might not be seafood fans, there is a cheese burger and a chicken option as well. If you are in town on a weekend, stop by for a Sunday breakfast. The prices are overall really great for seafood and you cannot beat local, fresh seafood.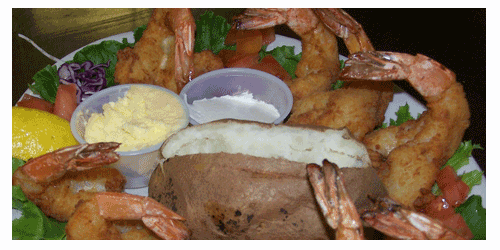 Like as said, with a hotel that is right on the beach, of course, we had to spend some time playing on the beach. The beach was so clean and pristine. The sand wasn't rocky and pebbly and there was almost no trash around. After hearing about some of the issues people have been having in the water with rip tides up north, I was concerned about having my kids swim if there were no life guards, but this wasn't a problem. There are life guards very often, almost as close together as they are at the pool where we usually go to. It was very reassuring, and I knew they were ACTUALLY doing their jobs. When we were there or at least the section we were at, it was so easy to go out really far. But the life guards were really on top of it. They kept whistling for people to come in when they went out to far. It reassured me that they are paying attention.
After a few hours of playing in the ocean and the sand, we cleaned up and went to try Pi-ZZERIA. My family loves pizza. I can't even stress it enough. I think my husband is a pizza connoisseur. He has worked in several pizza places, knows the ins and out of making pizza and, well, if I'd allow it, would eat nothing but pizza. This was a slice of paradise to him. Walking in, the place was hopping. The music was loud, not in a bad way, and it just had a fun feel to it. The kids were given pizza dough to play with while we waited, and the service was great. There were so many specialty pizzas to choose from. Hubby, being a white pizza lover, choose their white pizza; Anthony enjoyed a cheese steak, which had a bit of a kick to it, and Joey had a large house salad that was surprising big. I had the "Good for You" veggie pasta, which was really good and very filling. The girls shared a regular pizza. And while all the things were simply fantastic, I have to say, you must try their made from scratch mozzarella sticks. These were to die for! The kids devoured them and Jimmy and I barely got any. Pi-ZERRA also has drink specials and so I decided to try the Lemon Chill. Oh man, this was really yummy smooth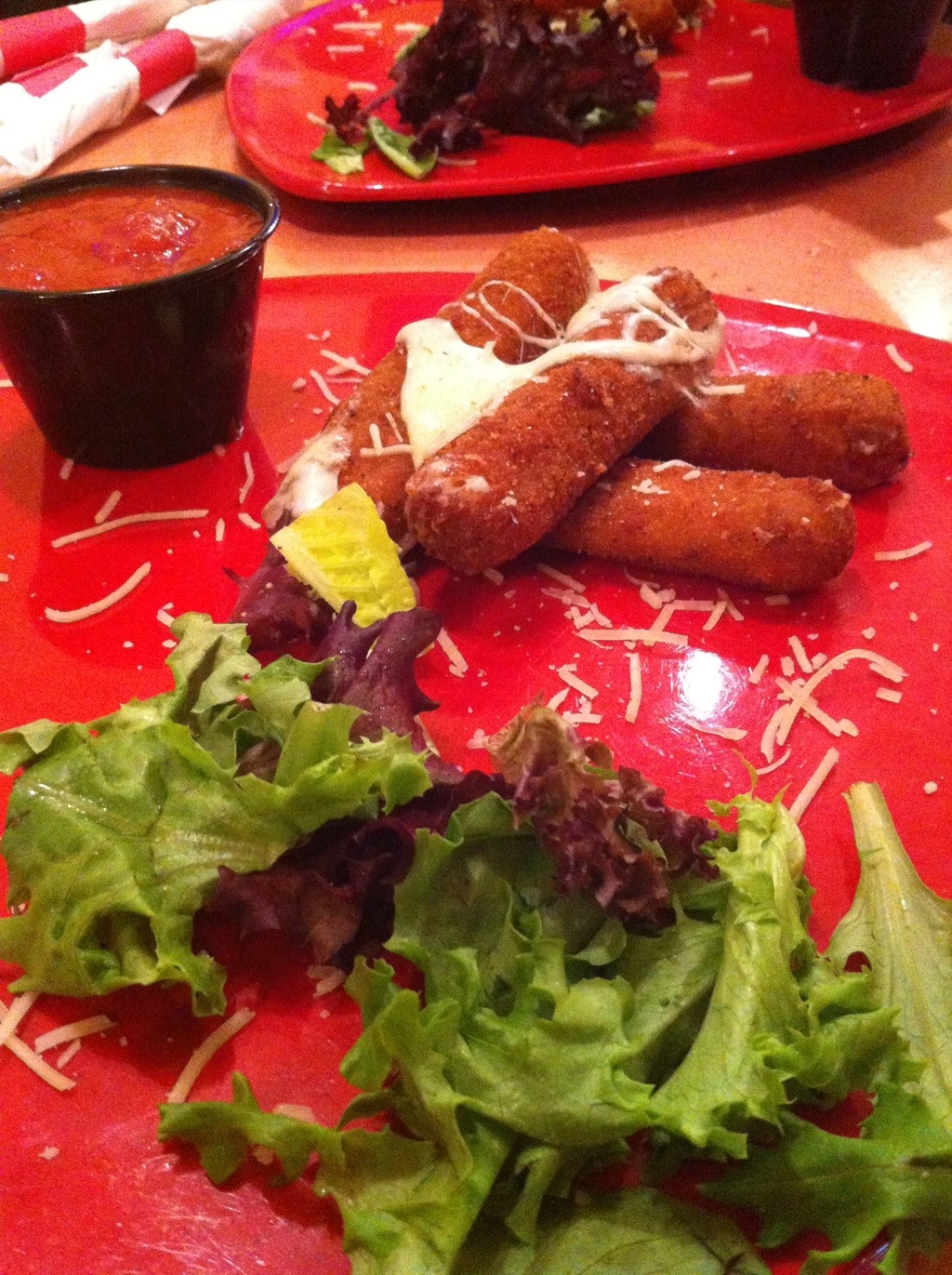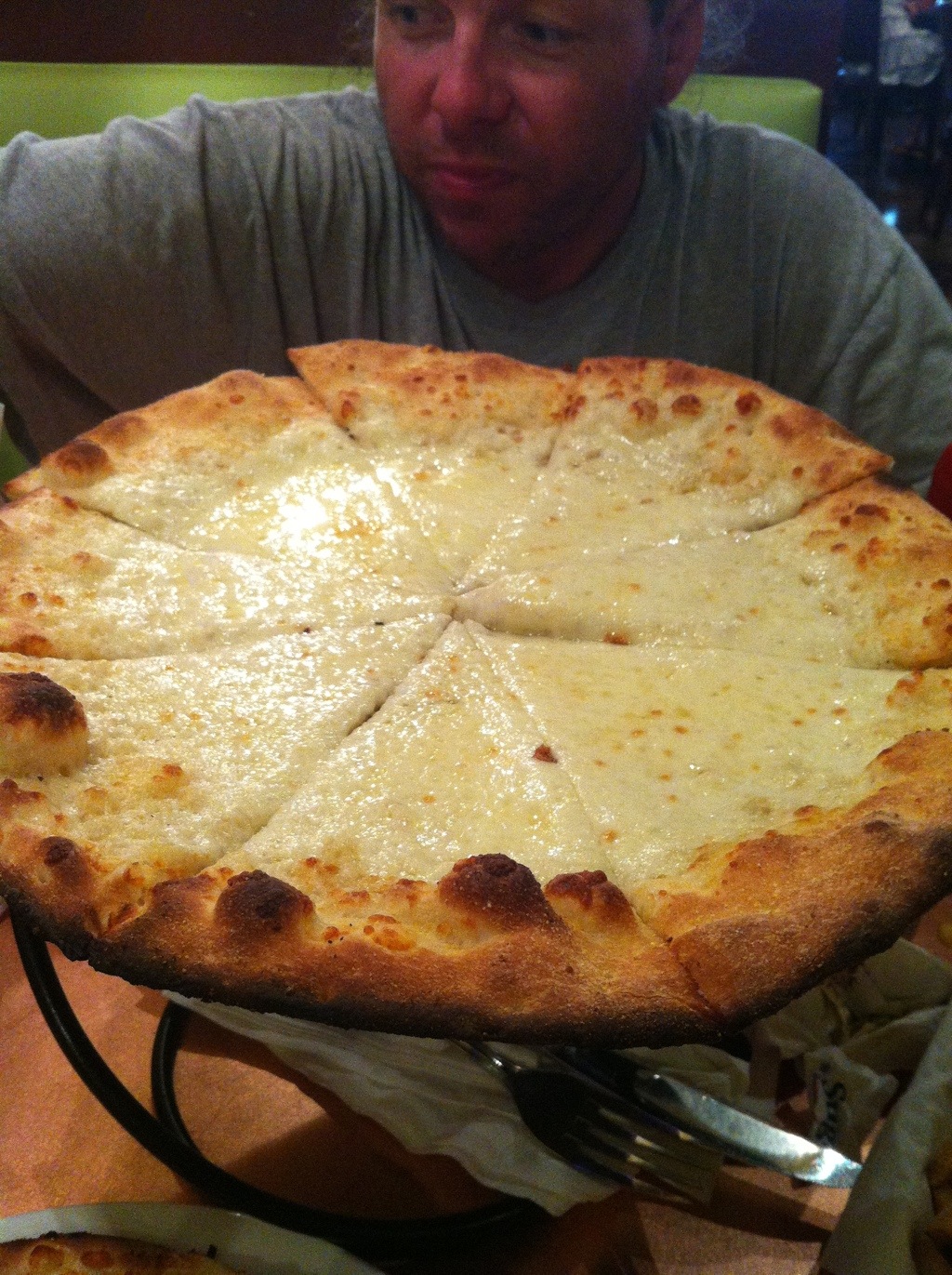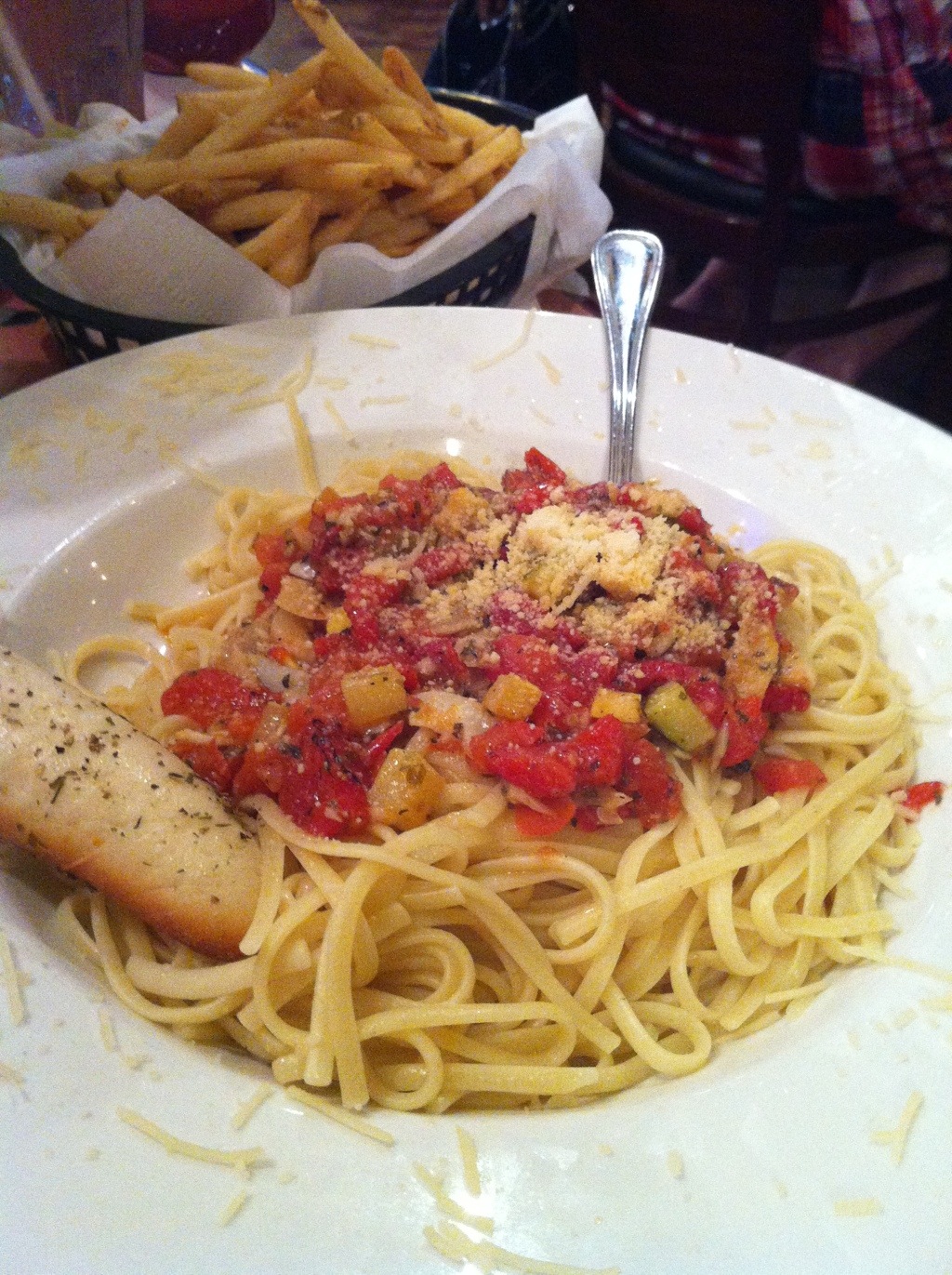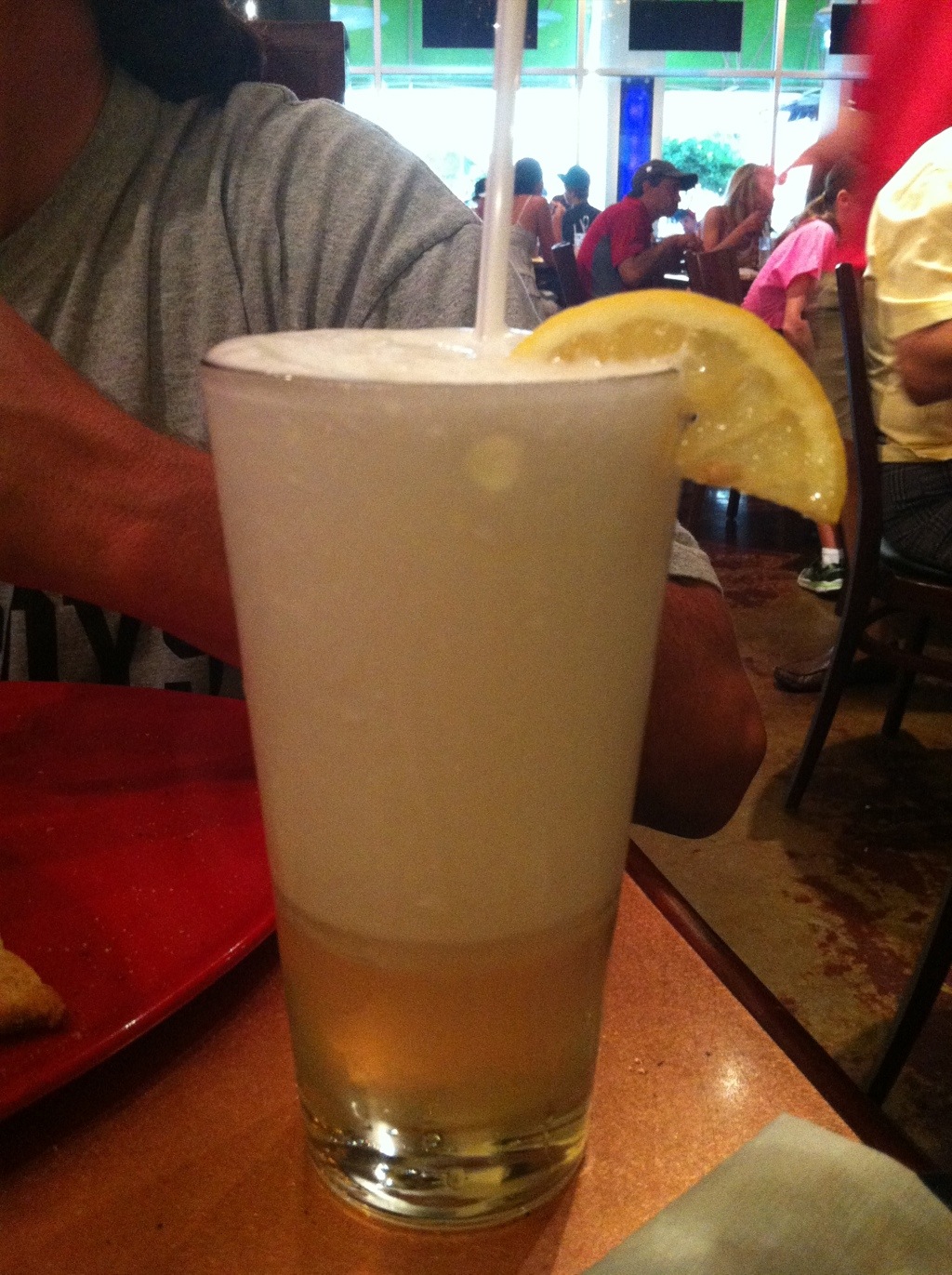 Our final day in Virginia Beach was spent at the Aquarium, but first we went for a surrey ride up the board walk. This was so much fun, and a great way to spend some time together. When we walked out of the hotel, there was a surrey rental available right there, Cherie's Bike and Blade Rental. They have several locations, up and down the waterfront, at 2nd, 8th, 19th, 22nd, 24th, 25th, 31st, and 34th streets. Pretty much wherever you are, you can decide to rent one to enjoy. We packed everyone up, and rode up the boardwalk, to 31st street, right near Catch 31, to see the giant Neptune statue. We choose a great time to see it too, because while we were there, there was a young man who decided to reenlist in the Navy. Part of the re-enlistment is to sign his paper work and take his oath in front of Neptune. It was a special thing to see. The downside for us, taking the surrey ride, was it was already 94 degrees even though it was only 11 in the morning, so needless to say, it was sweltering hot.
After our ride, we headed off to the Virginia Beach Aquarium, which besides the zoo, is one of my most favorite places to go. I was surprised to see how big the Aquarium was. I was picturing something much smaller, knowing it was also a research center. There were so many interactive sections to the aquarium, it was fascinating and the kids learned so much. I have told the kids for years about the Chesapeake and about the Sound, and brackish water, and all the things I learned growing up in the Outer Banks, but things took on a whole new aspect as the kids were able to "play" with the displays and see the things for themselves. Plus there were so many animals to see. Our favorite part of any aquarium is usually the Shark tanks and the turtle tanks, but the whole Virginia Beach Aquarium was simply amazing. There are so many guides throughout the entire place, which I am not used to from other aquariums I have visited, and they were so full of information and didn't wait for you to ask a question. They engaged the kids and showed them things in the tanks, or showed them specimens. There was one section when we were exploring that took my breath away. Watching the animals swim over my head and around me, everywhere except under my feet, was so beautiful. Willow was blown away and didn't know which way to look.
After the aquarium we went to Todd Jurich's 21st Century Burger Bar. When we left the Aquarium, it was down pouring, and sadly the Burger Bar was having an issue with their outside seating area roof, so we couldn't sit outside, but the seating inside has a nice view too. Looking over the Rudee Inlet, with all the boats in the harbor, it was nice to sit and watch as it rained on the water. The Burger Bar has 100 % grass-fed beef which is locally sourced, as well as locally sourced seafood. There are so many burger options, as well as a kid's menu that has things other burgers and there are vegetarian options as well. Joey had a bison burger which was simply out of this world. It was his first time having a bison burger, and after tasting a bite, I am not sure why I have not ordered one before.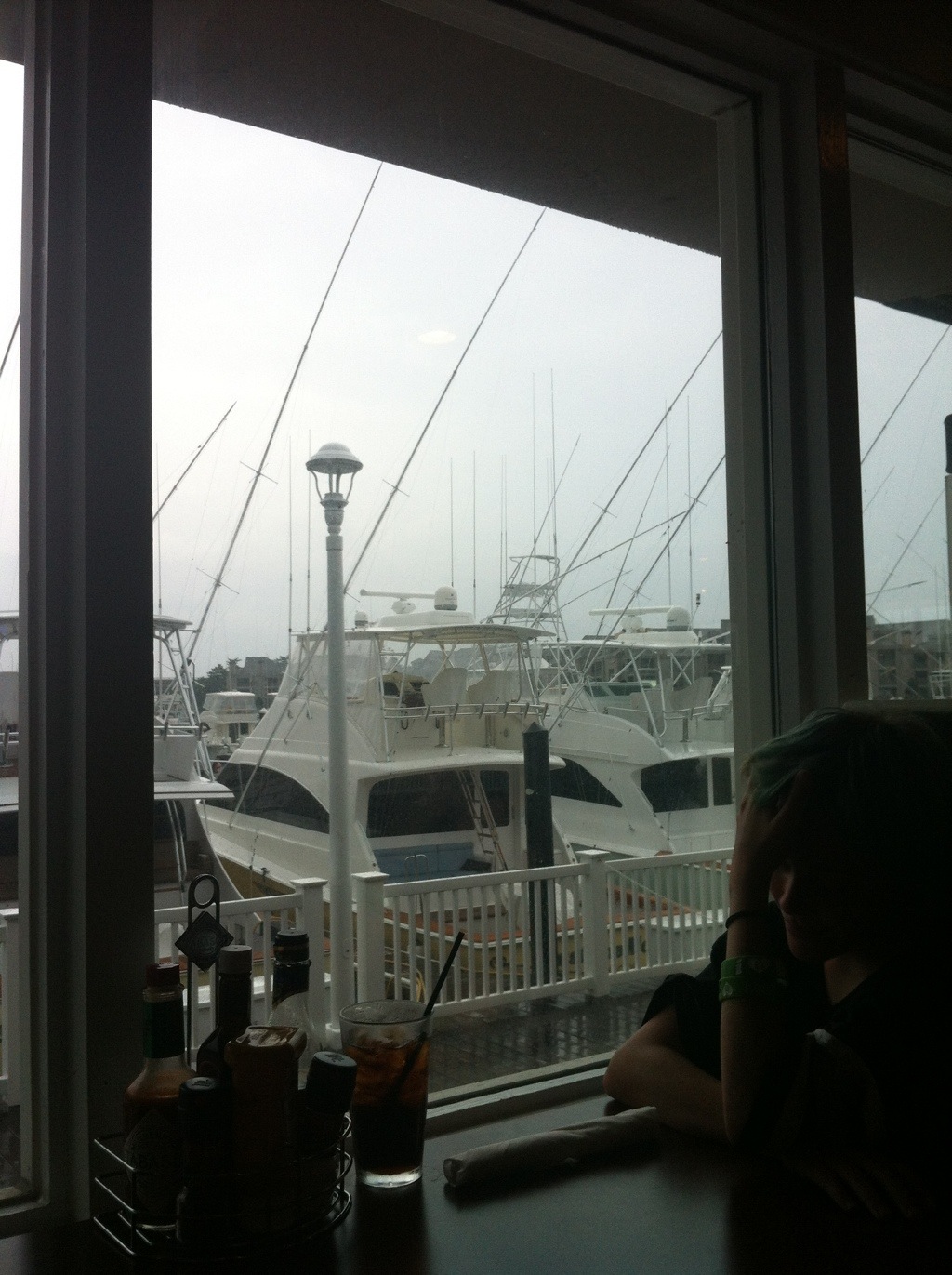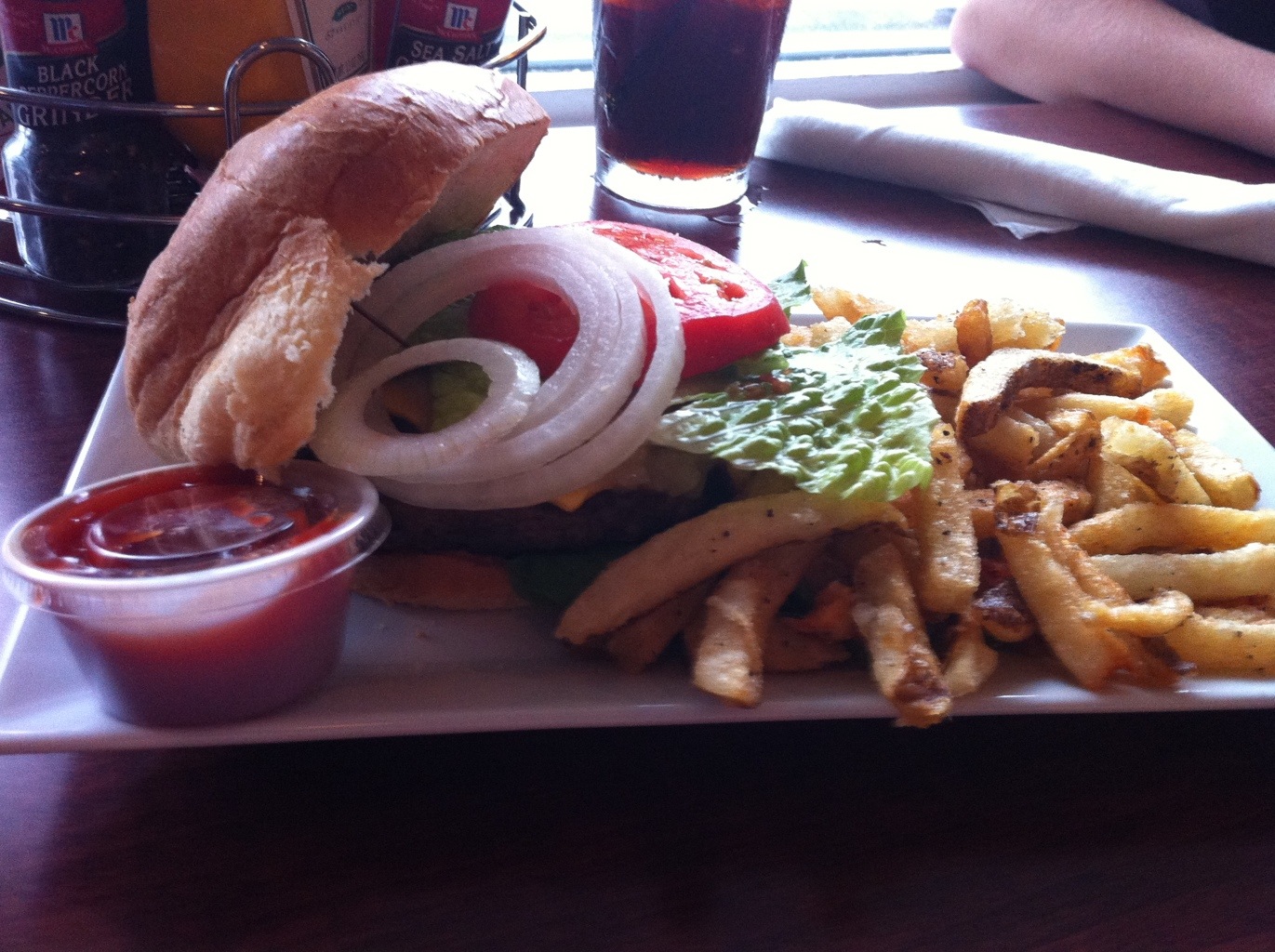 Every night, while we were in Virginia Beach, we were able to enjoy the free entertainment offered by the city. Walking down the beach road, every night, starting between 7 and 8, the city provides free street performers every few feet. Someone might be playing a guitar and singing, someone might be performing magic, and my favorite that we saw while we were there was Iggy. This little dragon was quick on his feet, and by far, amused everyone who walked by. Joey, with his blue hair that we are STILL waiting to fade out, has heard all kinds of comments. Usually it is the same ones over and over. But Iggy was original, asking Joey if he was dunked into a toilet bowl with blue cleaning liquid. What makes Iggy even funnier was that no matter who walked by he would come up with a comment, a guy walking by with a shirt that says he has swag, Iggy was all over it shouting was it to cover up his lack of swag or because he had too much to contain. What makes the whole street performing great is, it is absolutely FREE, provided by the city. You are actually not allowed to tip the performers, it says so under each one, and there is a variety. Also, it is all completely family friendly. Everything on the street itself is family friendly, the shops, the atmosphere, and there are even signs that say No #[email protected]$%. There are also fireworks every Wednesday and Sunday during July and August. It makes being able to find things to do, for free, with the kids easy. A vacation doesn't have to cost an arm and a leg with so many free things to do.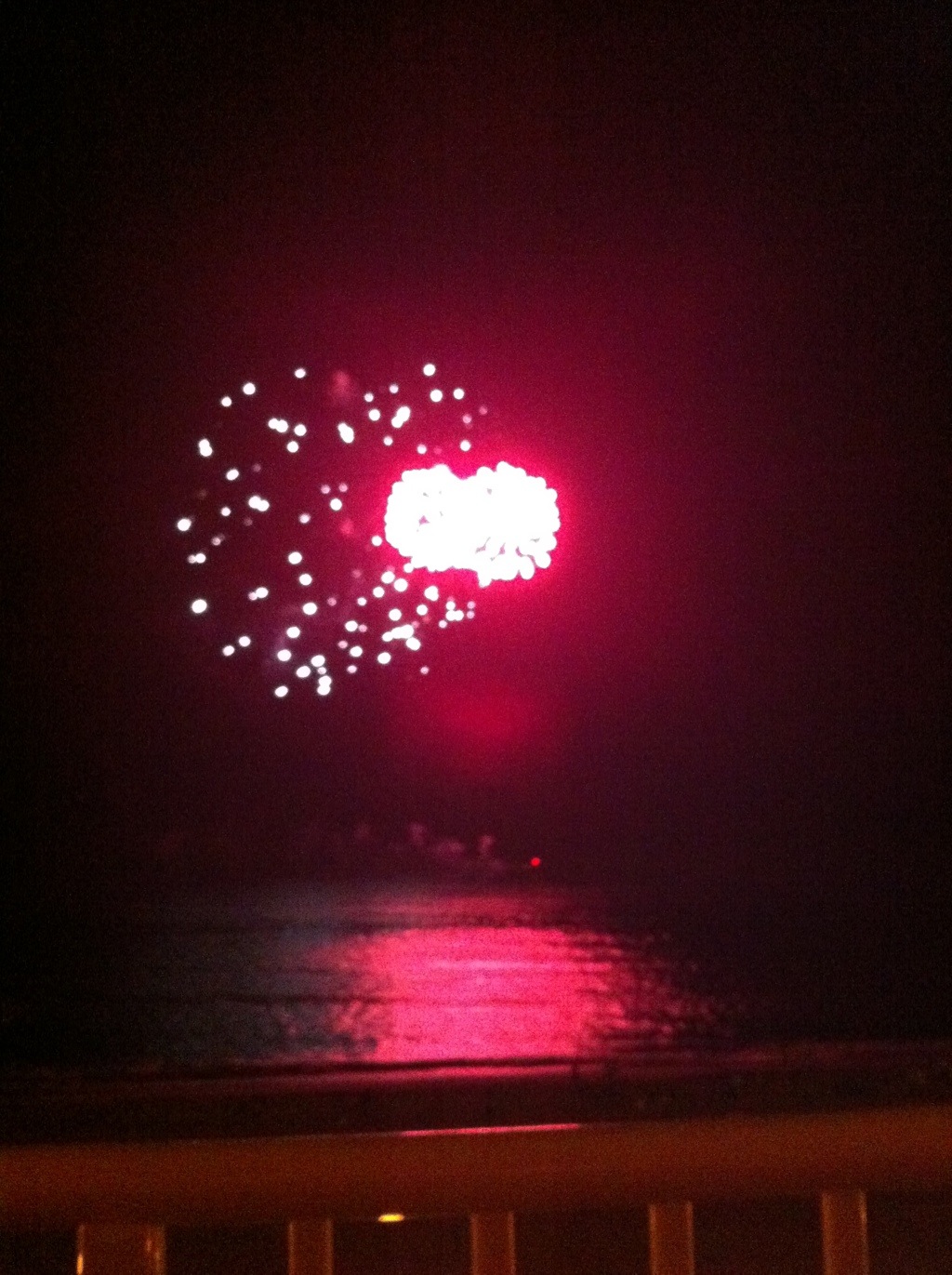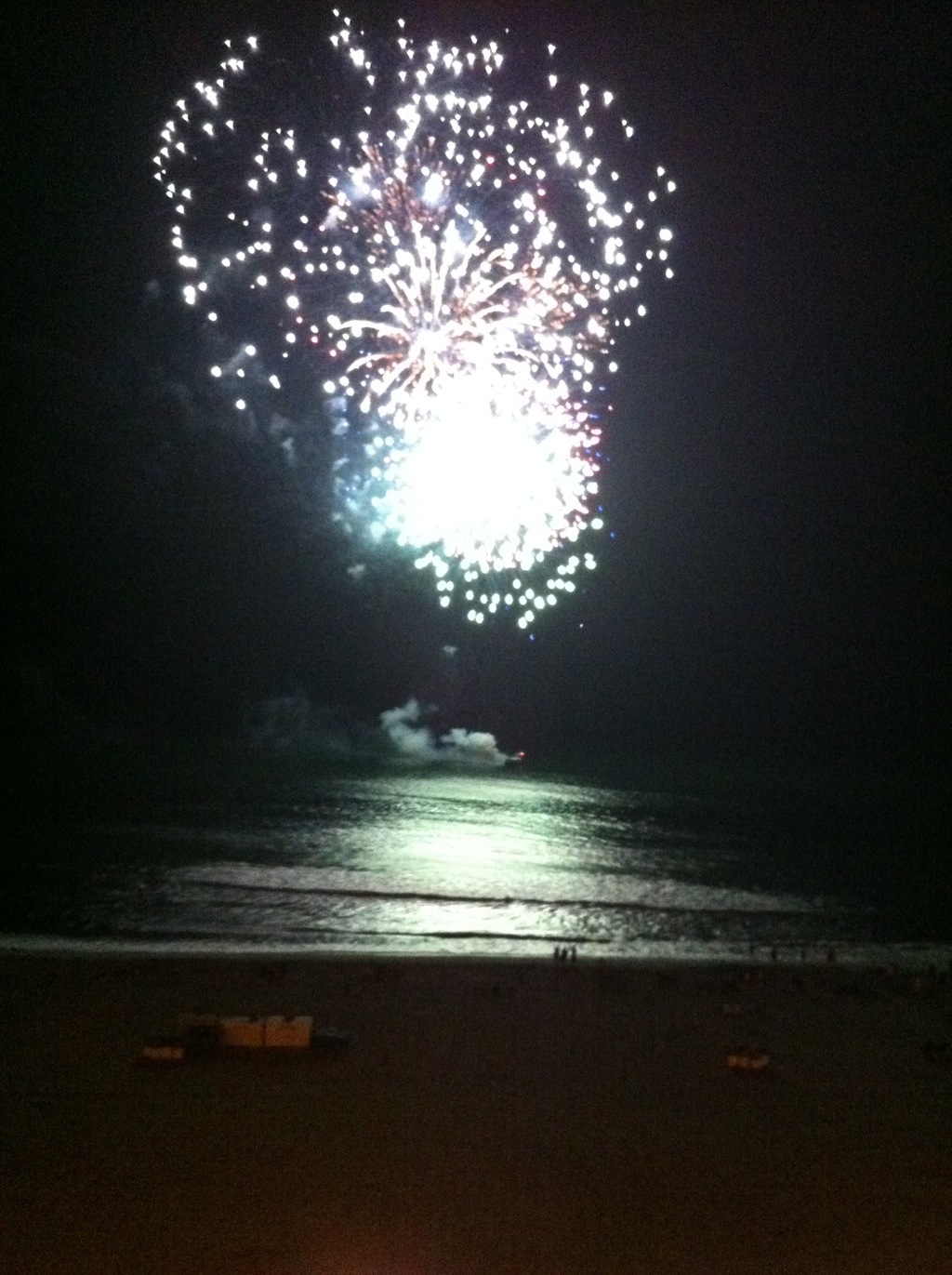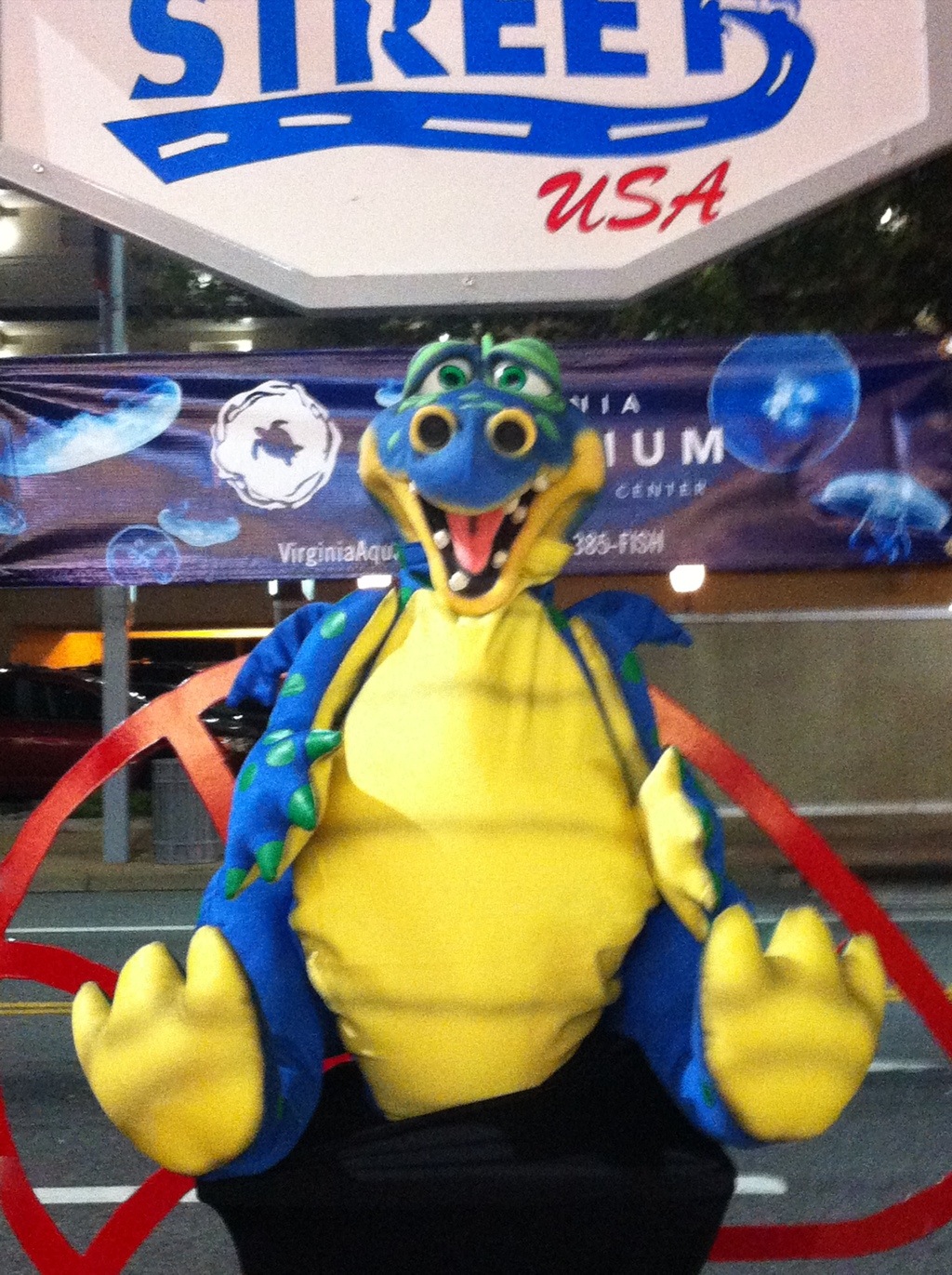 There is an amazing 15,000 foot playground that one of the developers, Bruce Thompson, recently built. His son, JT, was diagnosed with Lou Gehrig's disease, at the young age of 33, in 2006. This disease cripples a person. His son, once an avid surfer, was facing an illness that takes away voluntary muscle movement. Bruce noticed that there were no places that were fully assessable for disabled kids and adults. And so he created Grommet Island Park, the first fully assessable park for disabled people directly on the ocean front. It is the perfect place for people of all abilities to be able to play. It is easy for wheelchairs to maneuver, and the equipment is adaptive to fit the needs of everyone.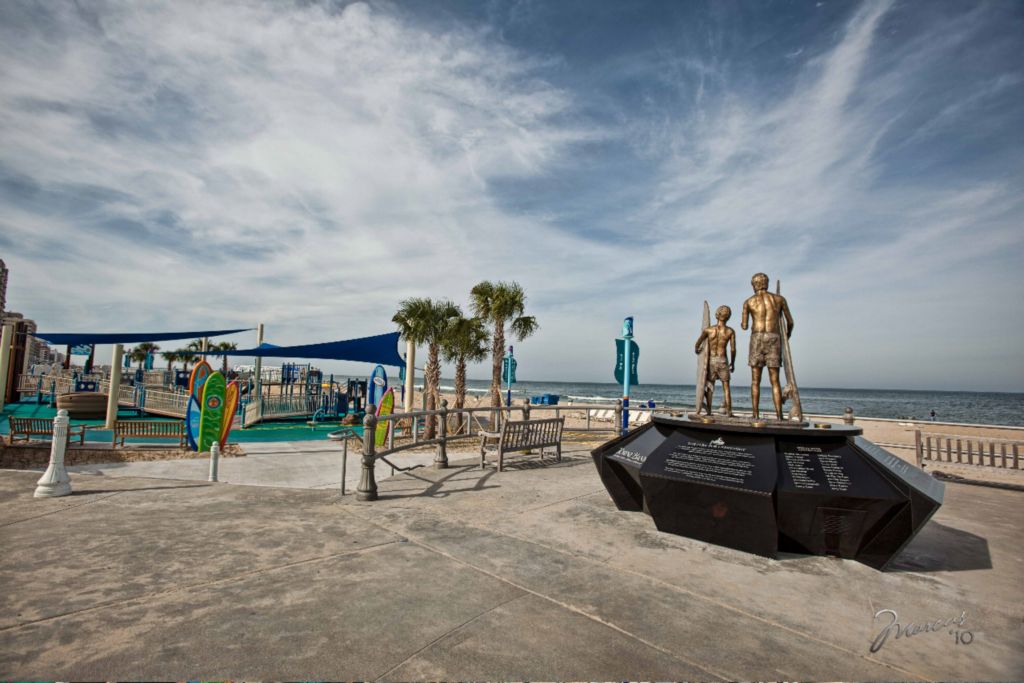 In 2011, JT Walk, in its 5th year, partnered with Children's Hospital of The King's Daughter. All of the proceeds of the walk went to the creation of a mobile pediatric intensive care unit, and was called the "Grom-bulance". It was completely funded by the people who participated in the walk and their donors.
There were so many things we wanted to do while we were in town but sadly, there just wasn't enough time. There is the 24 hour Mini Golf at Jungle Golf, the beautiful First Landing State Park, where you can hike and explore, and the Old Cape Henry Light House on Fort Story base, just to name a few. And they on my list for the next time we go back, which we are already planning.
If you are thinking about Virginia Beach for your next vacation or just want more information, the Virginia Beach Convention & Visitors Bureau's Website, VisitVirginiaBeach.com, is the official source for travel information to Virginia Beach – or call 1-800-VA-BEACH.