When Lupron stops working, what's next? For Prostate cancer, that means the cancer has become castrate resistant. What is the next step? For us, it's Zytiga.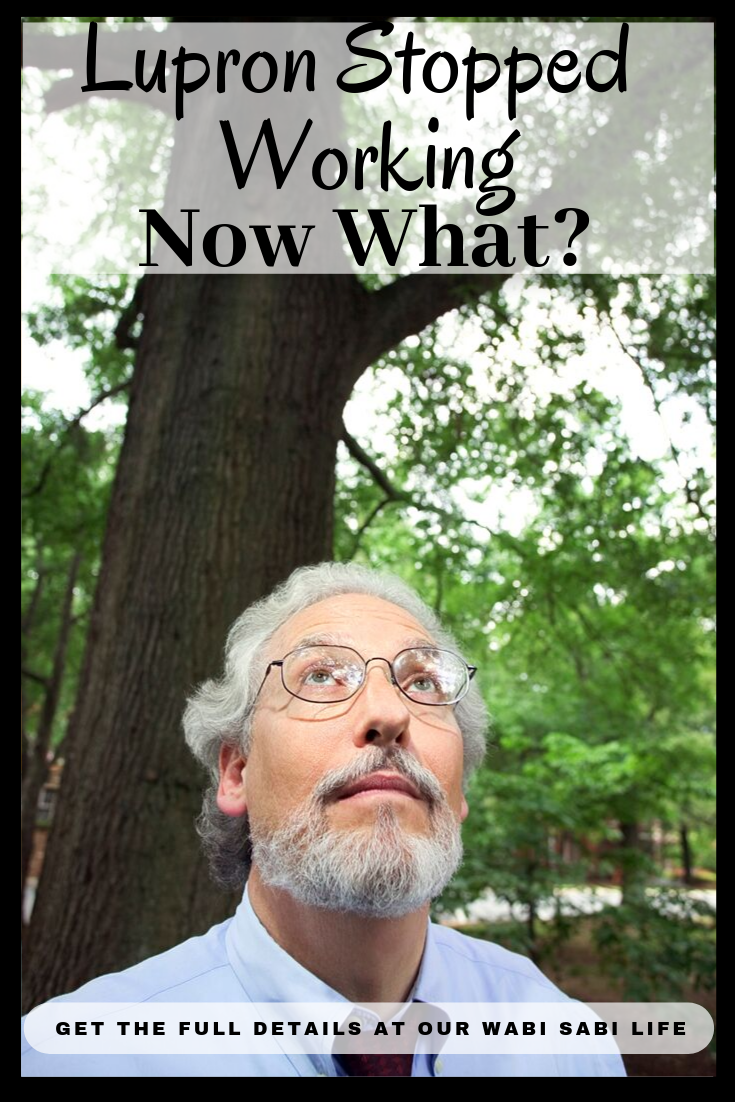 You know I started this post months ago. Hubby started to become castrate resistant in January. I have sat down to write this and stopped. And then I would start again and I stopped. Then he started doing well on his new medicine and the last thing I wanted to think about was cancer. Who wants that in your face every day? So the post never got written. Well, it is prostate cancer awareness month. And that is a reason for me to start writing. Will I finish it all right now? Honestly, I have no idea. But here goes nothing…
A Family Affair
Before I dive into what I wanted to say, someone once asked me why I saw we and us. While I am not the one with cancer, I go through every single step with Don. I have been there since the issues started, since the diagnosis, through the chemo, the mood swings, the sickness, and the crankiness. I am the one who researches everything to find out what is the best game plan. I make the appointments and schedule the tests. I make sure he has his meds and that he takes them. I am the one who picks up the slack when he is hurting too badly from his meds and I am the one who feels the heartbreak when I can't do anything to help him. So while I am not the one who has cancer, we have a cancer diagnosis. While I might not be taking the meds, it affects us all. And together we are fighting this vicious disease. Together we deal with the ups and the downs. Together we hear the clock tick. Together we deal with each new stage that comes out way.
Lupron Stopped Working, Now What? Zytiga
So last summer, we started to see those numbers rise. The dreaded PSA numbers. Not dramatically. But moving up. If you have a cancer diagnosis or love someone who does, you know, it doesn't matter what set of numbers you are watching each month when those numbers go up, the internal dread comes in full force. And nothing shakes it. Not knowing what the next step is, not knowing that the scans are still clear, that number means the cancer is back in your face.
The numbers were moving slightly so they said let's try 5 short shots of radiation as a preemptive strike. So the numbers going up might so don't worry. The numbers spiked up to 10 and we were freaking. But after his prostate calmed down the numbers drop to 2. Ok, not bad. We can breathe. Then the next month it jumped to 4.1. The dr said he was now castrate-resistant. So what now
When the cancer becomes castrate resistance, it doesn't matter that the body is no longer making testosterone. It means the cancer has found another way to feed. It means that it is time for a new medicine. Don was losing it. He was terrified of them saying chemo again. His body is still wrecked. He still hurts like hell. He still hasn't gotten back to who he was, physically or emotionally, from doing chemo the first time. But the dr didn't suggest chemo. He said Zytiga.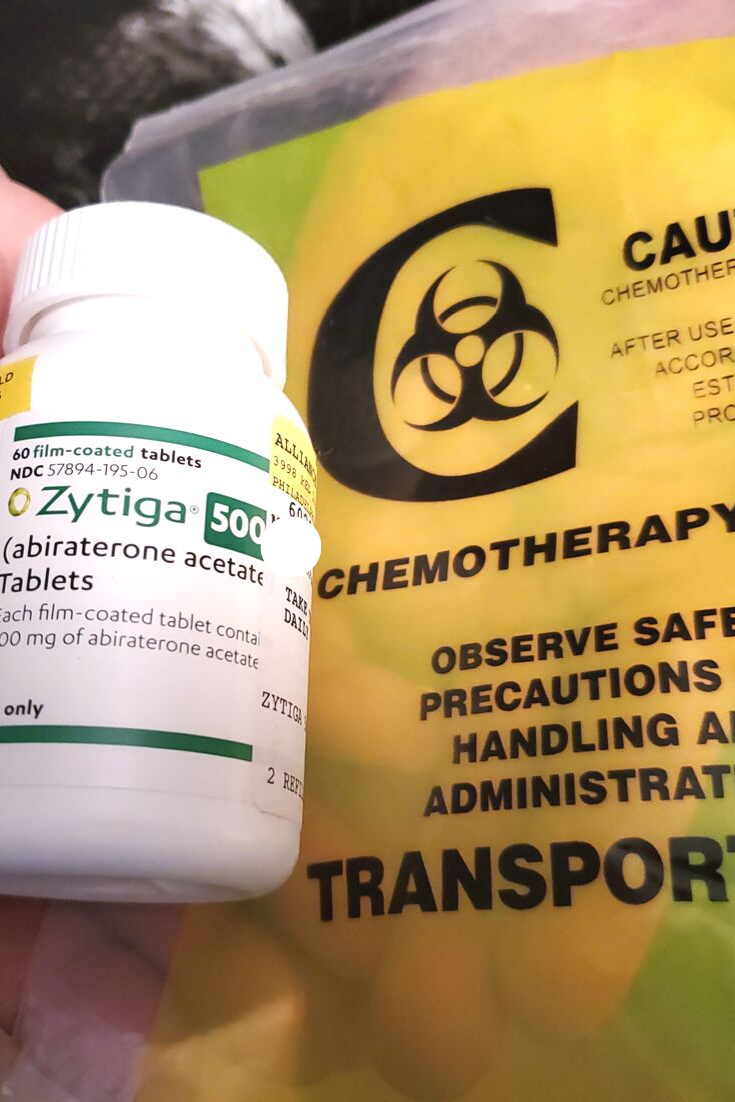 What is Zytiga
Zytiga is another form of hormone therapy, however, it does fall into a chemo category. It works by reducing androgens, which produce testosterone. Apparently, even when you are not producing testosterone in the prostate, it is still being produced slightly. (WHAT) Zytiga is taken with prednisone to treat cancer to prevent it from spreading.
So it gets really technical, and while I understand it, I would never try to explain it. Basically, when Lupron stops working, you switch to Zytiga or Xtandi. However, both of these pills are a form of chemotherapy. It is less brutal and less invasive than traditional chemo, but it can still wreak havoc. Of course, because why would any cancer treatment be easy?
So Don takes 1000 MG of Zytiga every morning before he eats or drinks anything. It needs to be 2 hours After he has eaten and 1 hour before. He takes prednisone twice a day to work with the Zytiga.
Don wakes up every morning at 5 to take his medicine so that when he gets up at 6, he can have his coffee at 6:30. This is every single day. From now until it stops working.
Side Effects from Zytiga
The list of side effects will make your head spin. Like many other medications, it almost sounds worse than the disease, except, this is cancer and without the medication, it will kill him. So, no matter the side effects, Don takes his medicine every… single… day…
Common side effects of Zytiga include:
joint swelling or pain
diarrhea
cough
sweating
hot flashes
weakness
swelling in your legs or feet
vomiting
high blood pressure
shortness of breath
urinary tract infection
bruising
anemia
low blood potassium
high blood sugar levels
high blood cholesterol and triglycerides
If the man is having sex with someone who can have children, it is harmful to the possible fetus because it is in his semen. Just another fun and scary fact to know.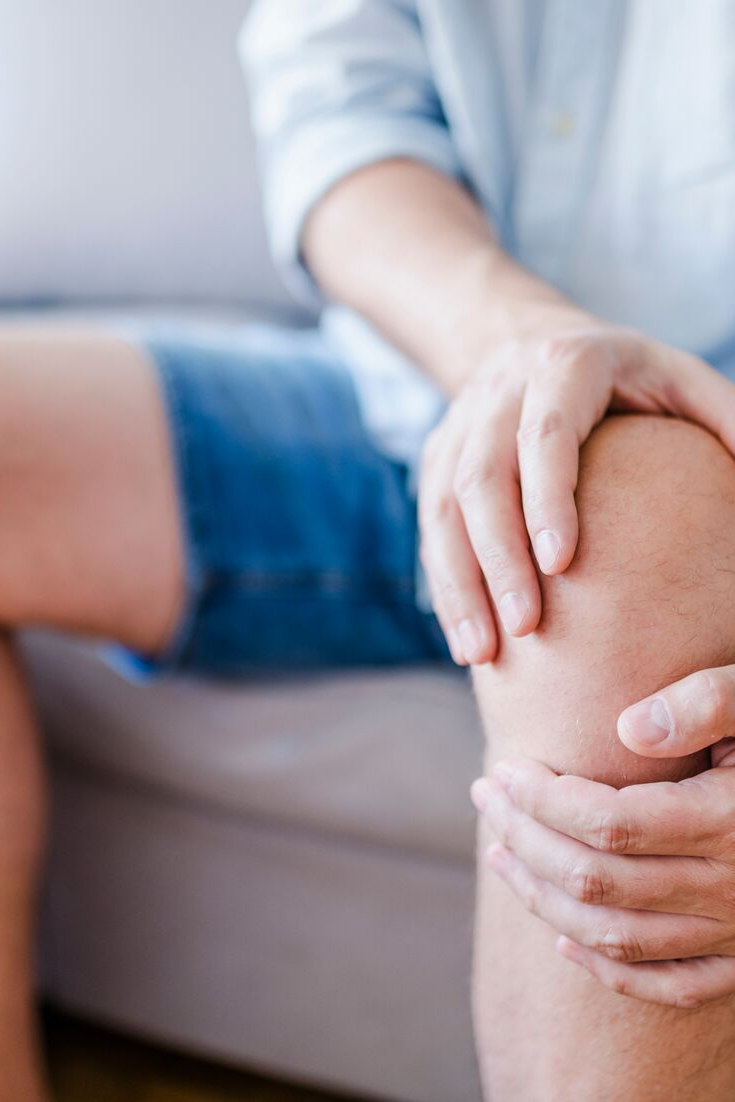 So what Side Effects Does Don Suffer
He is in constant pain. His joints ache horribly. Is that from the chemo side effects, the lupron or the Zytiga? Who knows. But he hurts every moment of every day. He has horrible hot flashes and he sweats like someone running through hell. It can be 60 degrees in the house and he is sweating like it is summer in El Paso at 110. He has weakness that can only be explained from his medication and he bruises. Don bruises all the time and he gets so upset by them because he can not understand why. I tell him it is the meds, but that doesn't seem to stick. We watch his blood pressure closely because while it hasn't started affecting it, it might and his family has a history of heart disease. And shortness of breath. He has asthma now that bothers him in everything he does. He is on medication for it, but to him, it is just one more med he doesn't want to take.
How Long Does Zytiga Work
Who knows. It depends on the person. Our doctor says he thinks it will work for about 2 years. 2 Years. We can make it another 2 years. 2 years before we start feeling full-blown fear again. 2 years before we are looking for the next bandaid. And there are a lot of treatments out there. There are a lot more to try. But 2 years isn't enough time.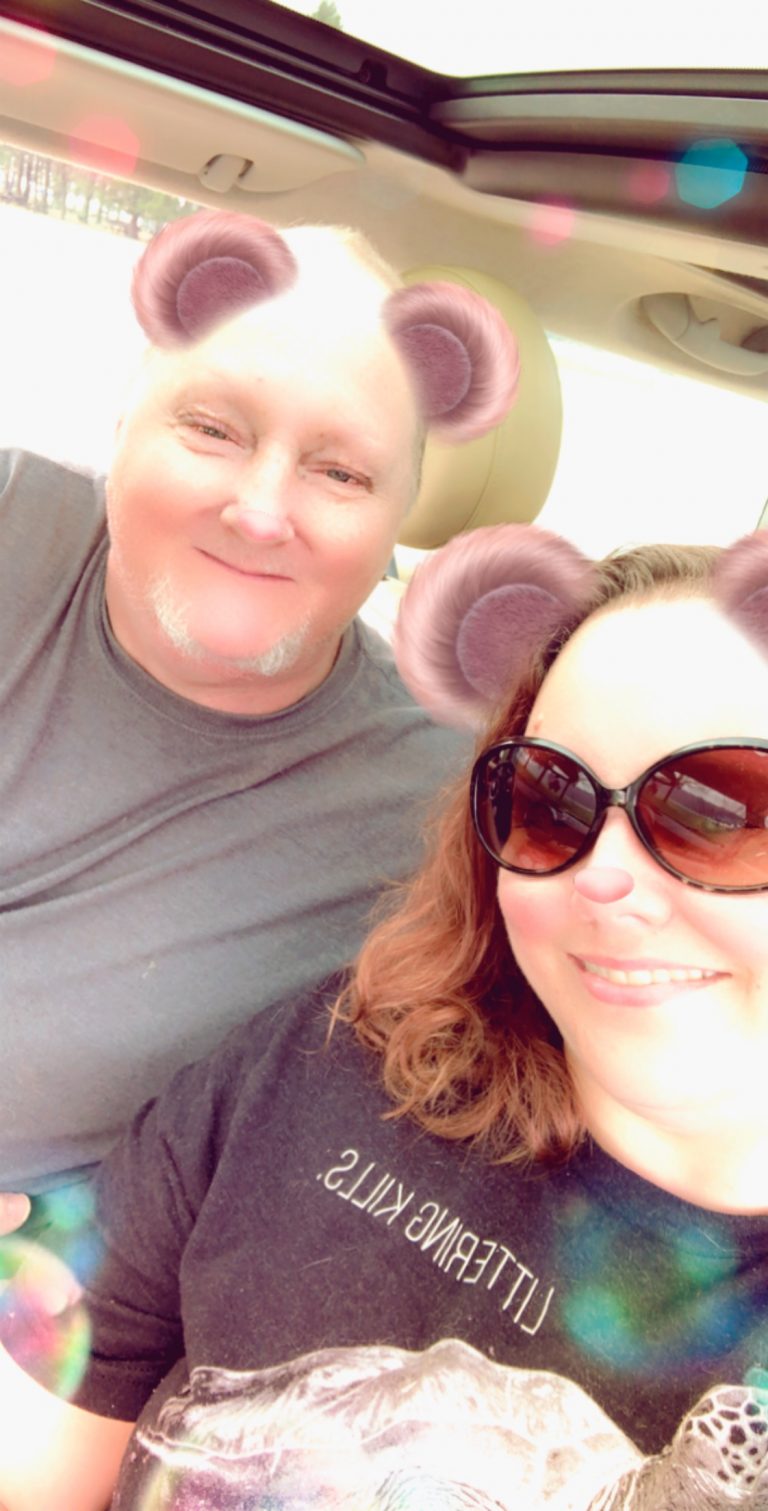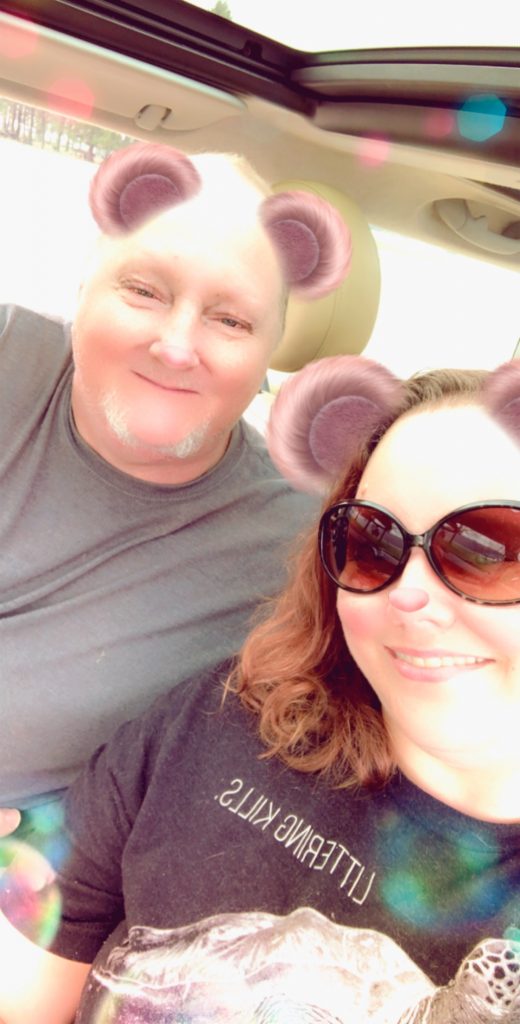 For now, we wait. For now, we try to push the cancer diagnoses out of our minds. We make the most of each day. We try to forget. until the next month when he gets his blood test done. And we wait and watch until the results are posted the next day.
More Cancer Related Posts