I received tickets for the show in order to share my experience with you. All thoughts are my own.
So it is no secret I love Monster Jam. I have loved it since I was a kid. Growing up in Kitty Hawk, we would drive past the Grace Digger garage and we would stop there often. Once I became a grown up with kids of my own, I would take the kids there too. I have pictures of the boys sitting inside of the Grace Digger tire. Those things are huge.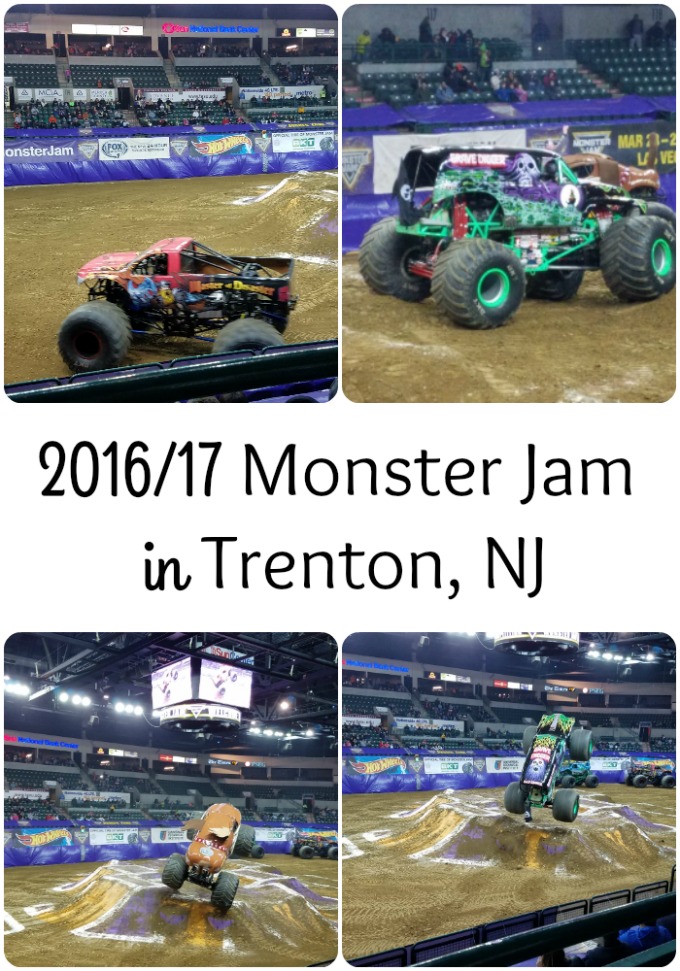 So every year we try to make it a point to see at least one Monster Jam show. In summer time, or at least in the warm weather, I love to go to the outdoor arenas. In the winter, cold weather, we go to the indoor arenas. These are for obvious reasons.
Each type of area has its own appeal. In the outdoor areas, there is more room for the trucks to race around, and that gives them the ability to do more extreme stunts. With the indoor arenas, there isn't a bad seat in the house. Since the stadiums tend to be smaller, every seat gives you a great view. Not that you can't see well in the larger arenas, but with a small arena, you feel like you can almost reach out and touch the truck.
This time when we went to see Monster Jam 2017, we were at the Sun Center in Trenton, NJ. It is an indoor arena and it is awesome.
It was a great night. The trucks were revving to go and Grave Digger was rocking every event.
Grave Digger and his partner in the ATV (also a Grave Digger) won every single event. That makes this Grave Digger Fan very happy.
My youngest daughter who love Monster Mutt was just happy he was there to show off his skills.
All of the trucks rock when it comes to Monster Jam and no matter who is in the line up, you are sure to love it.
Monster Jam is still touring, so be sure to find the location closest to you and grab your Monster Jam tickets. They start as low as $15, so it is a great way to have some inexpensive family fun. You can also find out more about Monster Jam though their social media sites Facebook, Twitter, Instagram and You Tube.