OK, as you know my Wordless Wednesdays are never wordless. I just can not seem to do it. But they are kind of wordless. So that counts, right? This past week-end we headed out to Metlife stadium to see Monster Jam Path of Destruction. (Check out the Monster Jam tour dates, because you really NEED to go see the show. Even if you think, but I am not into trucks. I am tell you it is amazing)


These are just a few of the awesome trucks. Our favorites are not pictured here, except for hubby's who love Northern Nightmare. For me, I am a Grave Digger girl all the way, so is Joey. Willow is all about Monster Mutt Dalmatian and Serenity is a SonofaDigger girl.
The Monster Trucks get some serious air. I don't think the pictures do it justice. I have watched Monster Jam on tv and never got the real feel of how amazing these jumps are or how high these trucks actually get.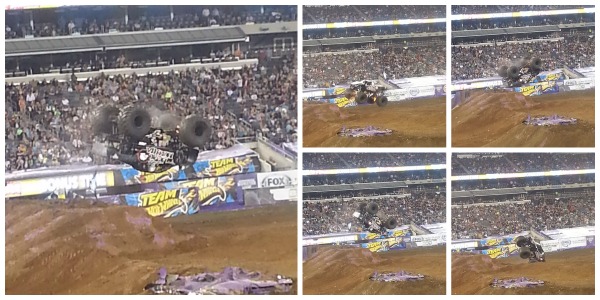 Are you wondering if you are seeing that right? Yes that truck is upside down, because it did a back flip. Many of the trucks pulled off amazing back flips, leaving me speechless. Hot Wheel even lost his wheel after its flip, SonuvaDigger landed his very first backflip even and went on the win the freestyle event.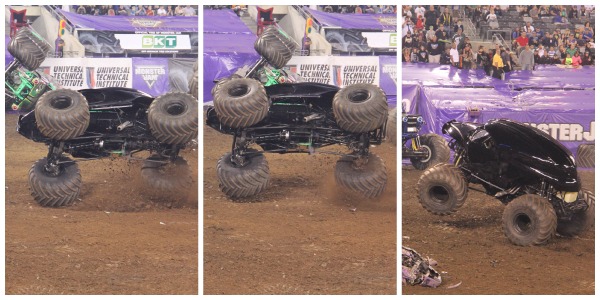 The show ended with a truck I have never seen before, Doomsday. He came out right at the end and just torn everything up. I always love it when the trucks really show off. Doomsday was completely on its side and bounced back up and went on do some awesome spins.
In full disclosure, I received tickets for the event for promotion I did before the show. I was not required to share anything about the show afterwards. As always, all thoughts are my own.