This post is sponsored by Lennox to help spread awareness for Movember and Men's Health issues. I am sharing this because this is a cause that means a lot to me.
It is November. Most people start thinking about pumpkin pie for Thanksgiving, November means something else too. Many men stop shaving their mustaches and purposely start shaving them out. Why, for Movember. What is Movember?
Movember is an annual event that involves men growing out their mustaches for the month of November to raise awareness for men's health issues. It includes everything from depression, to prostate cancer to other male cancers and associated charities. The Movember Foundation runs the  Movember charity event, housed at Movember.com. Their goal is to "change the face of men's health". Get it. Change the face, grow a mustache. Very clever.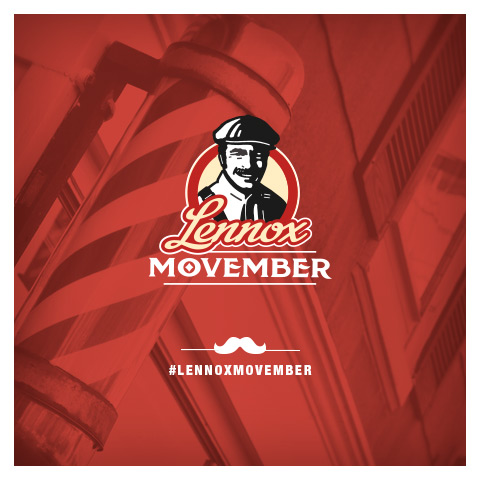 The Mo Bros, the men who participate, and the charity want to help raise awareness for men's cancers. They want to increase the awareness so that it can increase early cancer detection, diagnosis and effective treatments. That can help reduce the number of preventable deaths. Annual check ups, knowledge of family history and a healthier lifestyle are just a few of the things that Movember Foundation are trying to help with.
Raise Money for the Cause!
Lennox has an annual partnership with Movember. Dave Lennox, who rocks a great mustache, has been the face of Movember during their social campaigns. For every content share or RT on the Lennox Facebook page and Twitter page during November Lennox will donate $2 to men's health issues. Same with Instagram, for every like or comment, Lennox will donate $2. It is important to remember, that only those engagements on the Lennox FB and Twitter page will count, so follow and like the pages so that you can participate all month long.
The content will be worth following too. They also will be showcasing inspiring stories from men and women that have been affected by these issues, whether personally or by someone they know. The tagline, "Tell a guy you know" speaks to the Movember campaign.
Movember is an important time to me right now. So many guys and their families do not realize how important men's health is and it gets pushed aside. Help raise awareness and RT, Like and share, and give those hearts. Support the Movember Foundation and Lennox. Then, "Tell a guy you know"