I have received product in exchange for sharing this information with you. As always, all thoughts are my own.
As a parent, there is nothing scarier than thinking about your child getting hurt and knowing that you could have done something to prevent it. I remember when my son was born and laying him down in his crib, I knew I was putting him somewhere safe. I knew he was going to stay put and not get hurt. Then he got a little bigger and before he was a year old, he had figured out how to climb out of his crib. He hated sleeping even back then.I had no other choice than put him in a bed because I was terrified he was going to break a bone or break his neck when he climbed out of the bed. I kept asking myself, how do I keep a baby from climbing out of a crib?
This was before the nets and things like that. I never liked the crib nets that go over the crib even when they did come out. I could hear my mom telling me he was going to get caught up in the netting and choke himself. That scared me more than him breaking an arm. So what was I supposed to do. He slept in his toddler bed, which gave us all kind of other problems. At least he wasn't going to break any bones. That is until he decided to start climbing baby gates.
Parents are about to have a new solution. With the new DreamCatcher, babies and parents can sleep a little safer. The DreamCatcher doens't stop babies from climbing out of the crib, but if the baby does climb they have a safer place to land.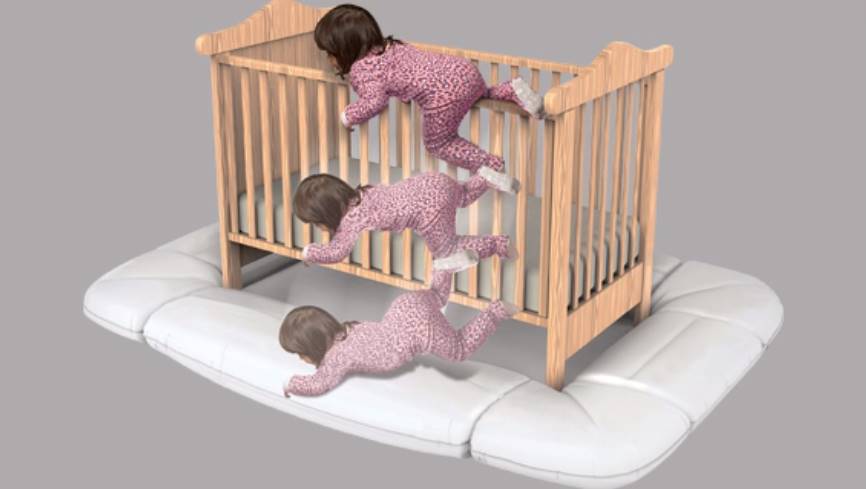 Fall injuries are the most common type of injury that children experience. Almost 80% of serious injuries in babies are caused by falling, with many of those falls occurring where you believe your baby is safest: in their crib. The inventor of DreamCatcher, routinely checked on her son from the monitor only to watch in horror as he climbed up and over the railing of his crib. Before she could get to him, he had fallen to the floor, landing on his face and leaving large bruises.
Parents can configure the DreamCatcher to whatever way works best for their nursery and be able to sleep better at night, knowing that if their little escape artist does climb over the crib, they will not the hard floor. Visit the DreamCatcher site in order to learn more and see video of how the DreamCatcher works.