Have you heard that there are Nile Crocodiles in Florida? Here is what you need to know.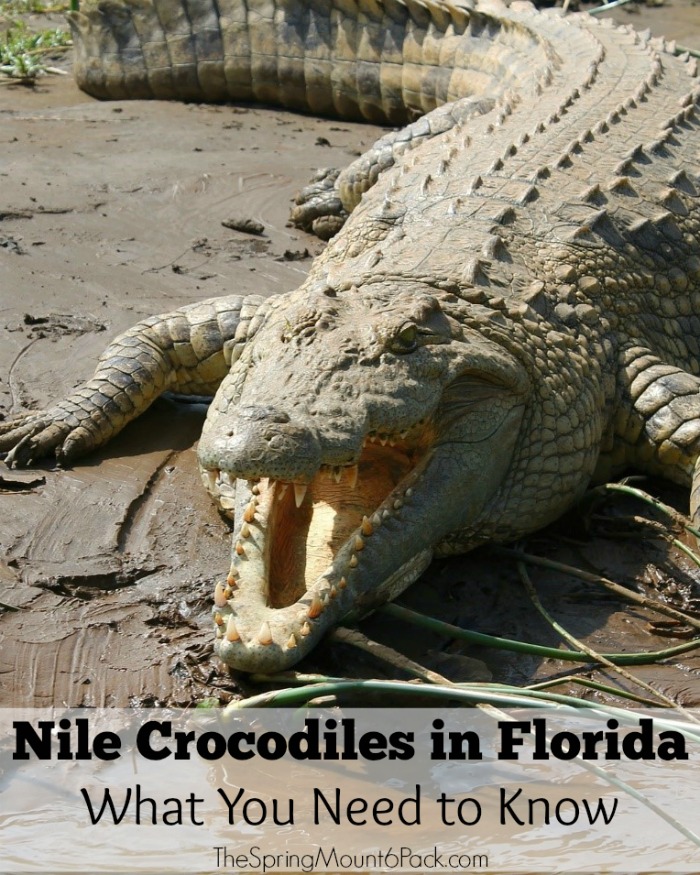 Featured Image Source: Pixabay
There are Nile Crocodiles in Florida? What you need to know.
The Nile Crocodile is a subspecies of crocodile whose natural habitat spans almost the entire continent of Africa, particularly in sub-Saharan Africa, as well as the central and southern regions. This reptile, which is also the largest freshwater predator in the continent, typically spends its life and hunts in a wide variety of aquatic environments, especially in lakes, marshlands, and rivers (although they were occasionally seen to roam in saltwater).
But as recent as 2014, researchers have identified at least two Nile crocodiles in the southern regions of Florida, as well as other crocodiles who were genetically related to the African species, which can only mean that the two types have started crossbreeding. While the two species share a few physical similarities, Nile crocodiles grow larger and are more aggressive than their American counterparts. Here is what you need to know about the Nile crocodiles in Florida.
The Differences Between the Two Species
The reason why state natives are not so concerned about crocodiles in Florida is because the American species is much gentler (as far as predatory animals go), and tend to avoid direct contact with humans. However, Nile crocodiles are extremely aggressive and prone to attacking people, even if their habitat provides them with enough non-human prey. They also developed a taste for cattle, which is already affecting the local farming businesses.
According to research cited by Newsweek, between 2010 and 2014, at least 354 Africans were killed by Nile crocodiles. By comparison, there have been just alligator caused deaths in America in the last six decades.  While Nile crocodiles have not killed any people in Florida yet, the local's familiarity with crocodiles and indifference towards them could serve as a curse, because apart from their size (Nile crocodiles can grow up to 16.5 feet), there are no other significant visual cues to tell American (Crocodylus Acutus) and African species apart, at least from a distance.
How Did Nile Crocodiles Reach the State of Florida?
As of this day, researchers are not entirely sure how the Nile Crocodiles reached the state of Florida. One popular theory that was circulating on the Internet once the story broke out in the media was that they swam across the Atlantic Ocean. While there is a case to be made about them migrating to Florida for various reasons, it is highly unlikely they could have managed this without being spotted beforehand somewhere in the Atlantic Basin.
Herpetologist Kenneth Krysko, the researcher who also debunked the whole theory, speculates that the Nile crocodiles probably appeared in Florida due to an unregistered reptile breeder who smuggled the crocodiles into the United States. At some point, the reptiles escaped either due to the breeder's inability to control them, or because they deliberately released them into the wild.
While the escaped Nile crocodiles might not be a cause of concern at this point, researchers have pointed out that the species has already adapted to the environment and their numbers might increase in the future. This could create a lot of problems both for the local ecosystem, and Floridians.
How Nile Crocodiles Could Affect Florida's Ecosystem
The Nile crocodile is not the first invasive species to enter the state's lines. The Burmese Python, a species native to Southeast Asia, was first spotted in the Everglades National Park in the 1980's. At first, scientists were not concerned about their presence, but they were eventually recognized as a reproducing population in 2000.
This is why state authorities and researchers should not take the issue with Nile crocodiles in Florida lightly: '' If you would have told me 15 years ago we would have an established population [of Burmese Pythons] in the Everglades, I wouldn't have believed you.'' as wildlife biologist Joe Wasilewski put it during an AP interview.
The issue is especially important since the Nile Crocodile is an apex predator capable of migrating between water types and adapting to a wide variety of environments. Florida is home to a diverse, but extremely fragile ecosystem that has been already damaged by other invasive species, like the Africanized Bee or the Cuban tree frog.
Moreover, there have already been signs of crossbreeding between the Nile crocodile and local crocodile and alligator species. This could eventually lead to the creation of more aggressive subspecies, posing a greater danger to both humans and local wildlife. The Florida Reef, the only living coral barrier reef in the continental United States, is especially exposed to the dangers of the invasive African Crocodile.
Conclusion
While Nile Crocodiles are not a cause for concern as of yet, the same has been said about Burmese Pythons and Cuban frog trees, which have been officially recognized as reproducing populations. Because it is extremely adaptable, this invasive species can greatly affect the already fragile ecosystem, as well as the Floridian coral reef. As for the state locals, they should be especially wary of approaching and interacting with local specimens in case they are Nile crocodiles. But until experts come up with new research, there is no telling if the Nile crocodile is there to stay or not.