This post contains affiliate links. If you buy something from them, I earn a small percentage that helps keep The Spring Mount 6 Pack running.
I received these craft kits from PomTree for free. All thoughts are my own
I love crafting with the kids. We do it all the time. And we have all kinds of supplies. We have paint and glue, glitter and sparkles, but there are days when I just do not want to deal with dragging it all out, mostly because I do not want to clean it all up when we are done. I do not want to drag out the smocks and floor coverings, and I do not want to drag out the vacuum. So there are times where no mess crafts for kids is the perfect thing for us.
We recently received 2 kits from PomTree. The whole idea of PomTree is that you can have all the fun crafting together and not have the mess. The kits are Stick On. The kits that are put together kind of kits are like stickers.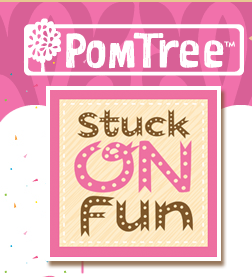 Willow has been so sick lately, and we found out that she has pnemonia now, just after I recovered from it. So she has been home from school for a few days and she isn't feeling well. When I add these things together, it makes for a very cranky 4 year old. And  a tired mommy. We wanted to spend some time playing but because her moods can shift on a dime, I didn't want to worry about cleaning up. When she is done all she wants to do is snuggle up and lay with me.
We pulled out the new kit from PomTree, Sunnyside Up Market Playset Kit. The kit has everything we needed to have fun crafting and then letting Willow have a toy to play with later on.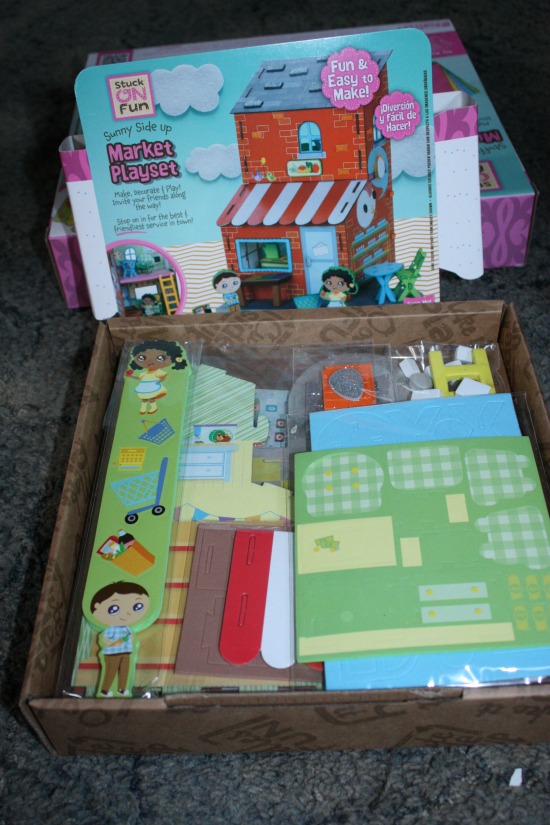 First, we needed to put the market Place together. Willow really enjoyed adding the roof squares on top and bricks on the sides. She also loved adding the stickers to different parts of the house.
I could not get over how many stickers and little pieces the kit comes with. Willow was over the moon that there was a ladder for her people to go up and down to get to the second floor.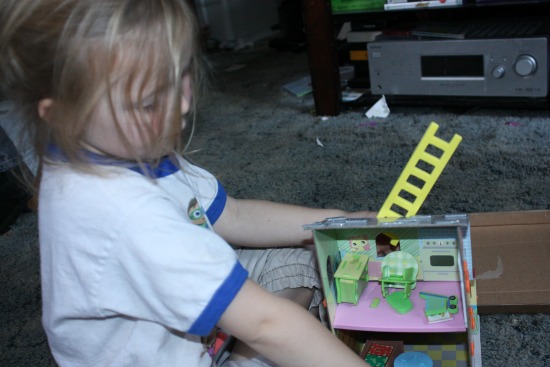 What really surprised me is how long she played with it. We took about 20 minutes together putting it together and exporling everything that came with it. Then she played with it for about a half hour by her self. When her sister came home from school, they played with it for another half hour.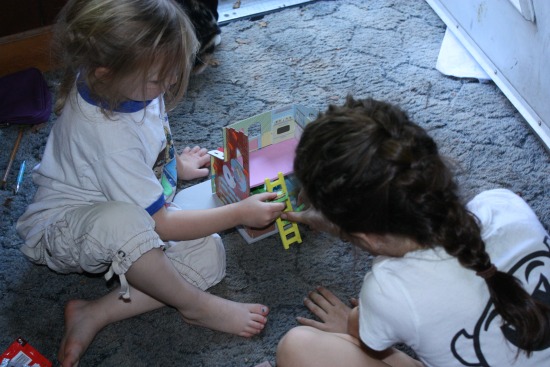 Since this kit has a price tag of $9.99, I can see me buying many more of them. I have spent that much for play kits that do not hold up as well, and have little play interest after the actual making of it. My only complaint is that it says there are instructions when I looked online and my kit did not come with any. 99% of it is self explainatory, but there are some foam pieces and a ton of stickers, and I wasn't sure if the stickers went on them, and if so why were there so many more stickers. Once I let go of the "but why" feeling Willow decided that some of stickers should go here and there, and the rest she should just play with. Problem solved by the 4 year old.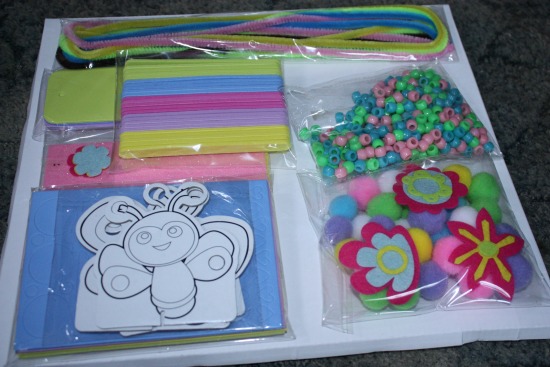 We also received the Playscape Mega Creativity Kits. This kit has over 1100 pieces for creating crafts. There are foam stickers, pom poms, popsycle sticks,  beads, and chenille stems. There is even some idea sheets to get started. The kit is perfect for making bookmarks, flower or little critters with the pom poms.
Willow wanted to make a bracelet like her sister makes. While the kit suggests twisting 2 different colors chenille stems together, but Willow is all about yellow. She would not hear of adding in another color to her bracelet. I did convince her to use pink beads on her "bunny" bracelet.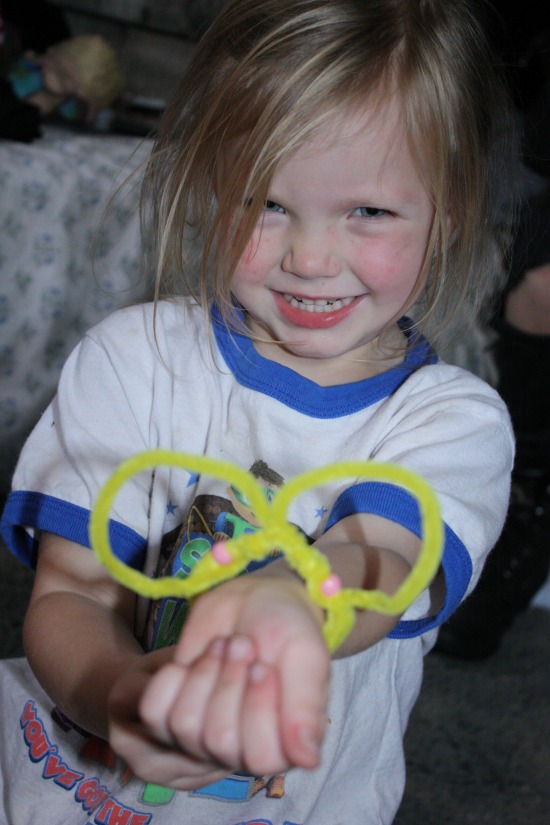 We love how easy this kit makes it for Willow to sit down and create something all her own. The kit is perfect for little kids who are just getting into making their own designs and crafts when given supplies to older children who have a bit more creativity and skills.  I love that the kit is available in a neutral tone, which makes it a great gift idea for the holidays or a birthday.
I would recommend these fun kits for anyone who loves crafts but does not love the mess that can come with it. They are great for an afternoon of fun or teaching kids how to create on their own.
Who wants to win a craft kit of their own? Giveaway is open to US residents, and ends Nov 17th, at 11:59 pm EST. Winner will receive one play kit from a selection provided.