Looking for a fun Christmas Book? Want a personalized book for your kids? Check out Willow's personalized book from I See Me. A Christmas Bear for Willow has quickly become her favorite book.  Thank you ISEEME.com for sending Willow this sweet Christmas book.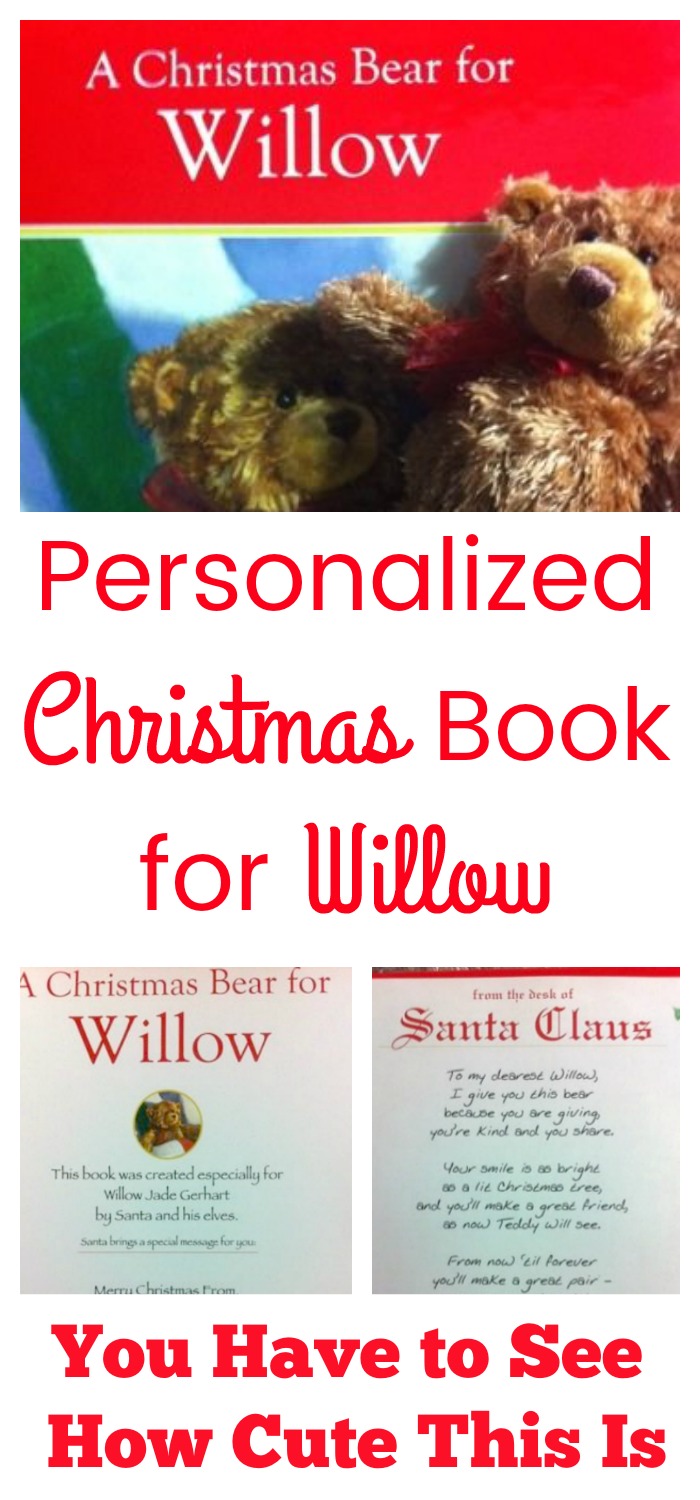 A Christmas Book For Kids
Every year, right after Thanksgiving, we pull out the Christmas books. Willow gets so excited. She has several books that she knows pretty much by heart. One of her favorite Christmas books is A Christmas Bear for Willow.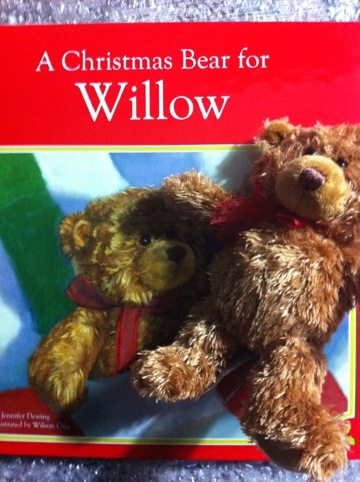 All kids get excited when they see their name. Whether it is on a key chain, a bike bag or a book. Imagine the excitement kids will have when they see their name on the cover of a book and on the pages inside.
One child is the "star" of the Christmas book and his or her name is featured throughout the story
The child's name and the names of his or her siblings or relatives are incorporated into intricate illustrations of stockings across the mantle and more
Add a cuddly, mini 6″ Gund plush bear for an additional $5.00
Includes a personalized letter to the child from Santa!
Personalized Book for Kids
So, the story is about a little child who is waiting so patiently for Christmas morning, but it feels so far away. While waiting, she (in my case) decides to write a letter to Santa for her very own teddy bear.
She wonders where her name will be on the list, if the sleigh will have a small present for her… then she awakes on Christmas to a sweet letter from Santa.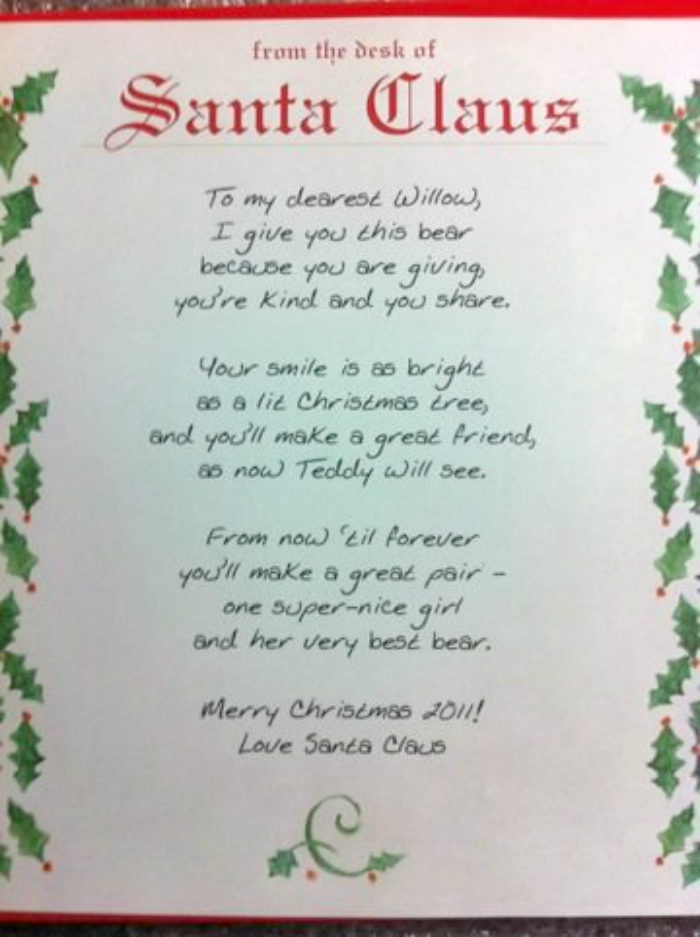 This is the Personalized letter that is included. It is so sweet to see Willow light up as I start to read this letter to her. She loves that Santa wrote to her. I made a copy of the original because she likes to keep it in her book so she can see it everytime we read it.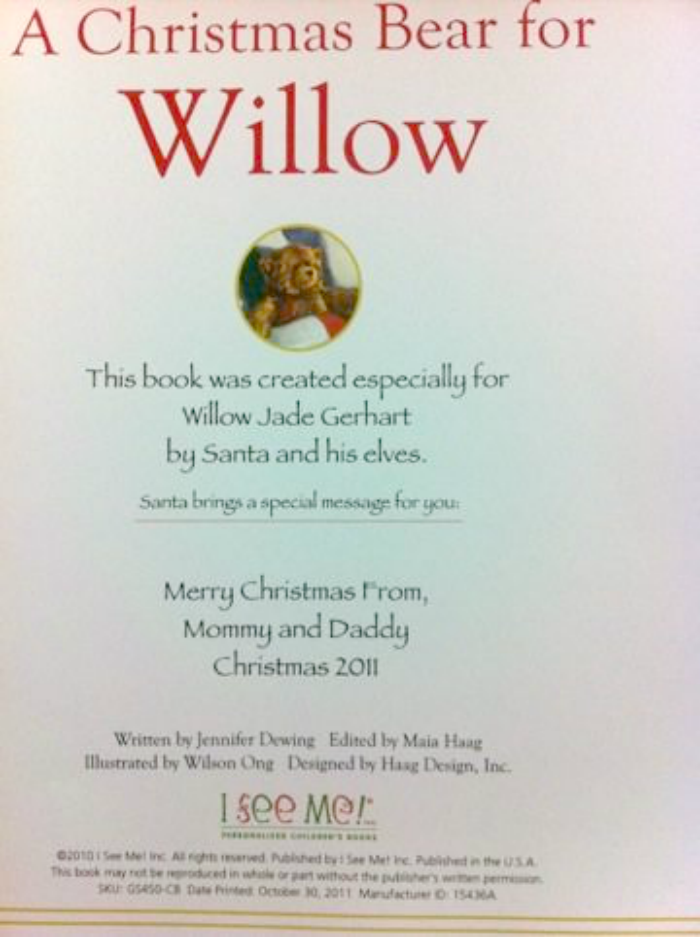 We can not skip the dedication page when we are reading. She wants to make sure she doesn't miss a single page that has her name on it. I love that it has a message from us and it has the year. With 4 kids, it is not surprising that I easily forget when we gave someone something. Serenity gets bent out of shape because it is important to her and that means it is something I should remember. I wish everything we gave to the kids had a date on it. So when we read the book to Willow, I even read that.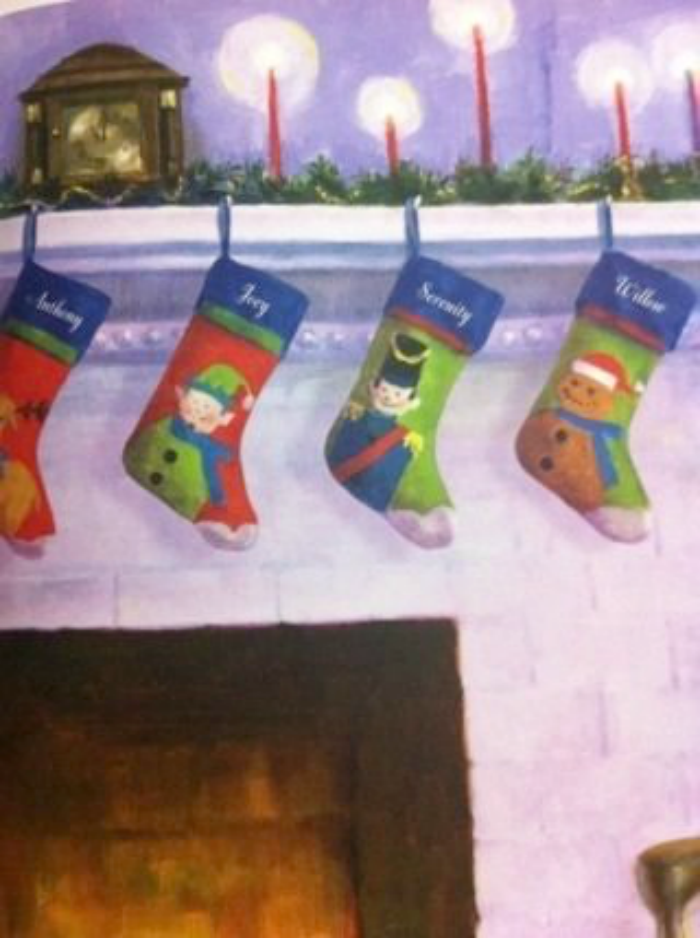 This is probably my favorite page in the whole book. I love seeing their names on the stockings. I know this is a little blurry but I wanted to make sure you could see the names of the kids on the stockings. I love this little extra.
You can have up to 12 names for the stockings. It is great for large families who might need more than 4 stockings like we did. Include siblings, parents, cousins, grandparents, as many as you need.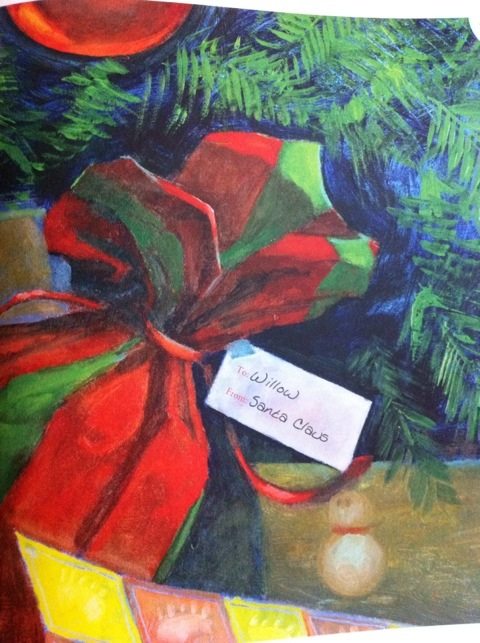 This is one of the final pages of the book. Willow gets so excited to see the picture of a present from Santa with her name on it. It just pulls the book together in a perfect way for kids.
We have several books from the I See Me collection and we have never been disappointed with any of them. We have them for both Serenity and Willow. Even though Serenity has outgrown them, she cherishes them so much that she has them in her special box, where she stores things that have special meaning for her.
If you plan to buy this personalized book for kids, you will want to make sure you give extra time with your order. Do not wait for the last minute or else you might not receive the book in time. These books make such a great gift idea for kids that you will want to make sure you have given enough time.