Everyone knows… bridesmaids don't exactly get to wear the kind of dresses they'd choose themselves for their friend's, sister's, whatever's big day. That's all well and good, but you're not doing anyone a favor by forcing them into an unflattering dress.
Here's a guide to help you keep bridesmaids happy, and looking their best.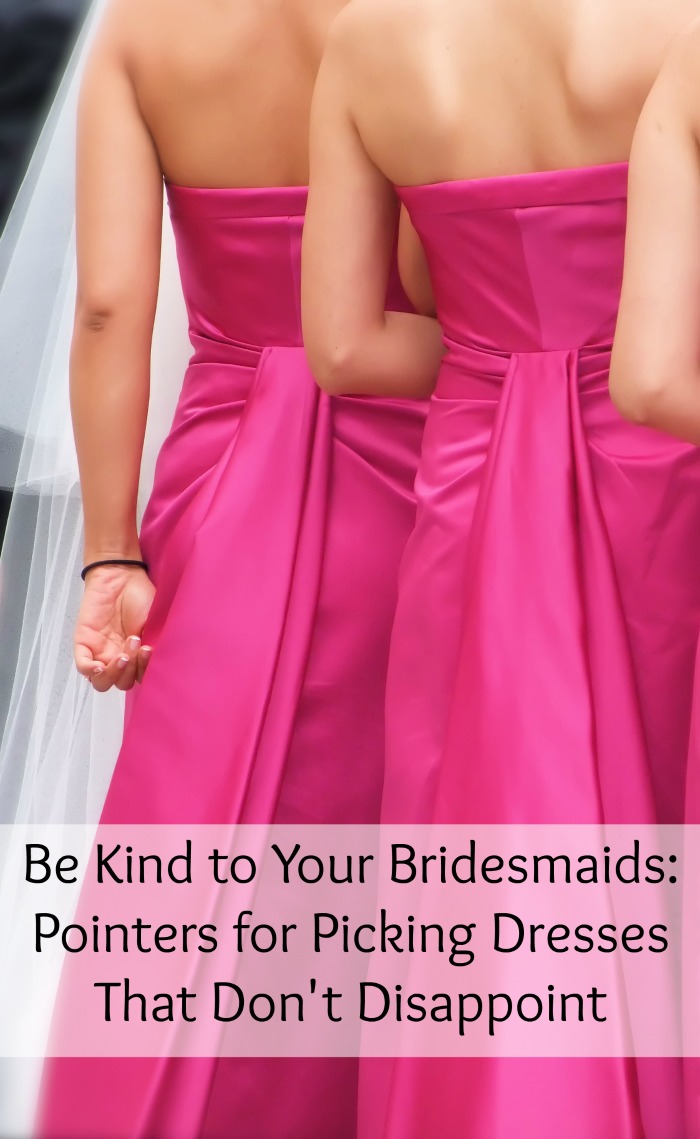 Make Your Mood Board
Get an idea of what your vision is before you start broaching the tricky topic of dresses with your gals. Start with a few colors, or a pattern you like, and go from there. Keep a record of styles, fabrics, and more you find inspiring to start building out the aesthetic of your wedding.
Establish whether you want your maids to mix and match colors and shades, wear the same color, but different styles, or go the traditional route with everyone in the same dress. Need some ideas? Check out these styling tips to help flesh out your vision board.
Consider the Costs
Unless you're planning on covering the cost of the wedding party's dresses, asking bridesmaids to plunk down a few hundred dollars on a dress is kind of a big ask. Especially if they are travelling to attend your wedding.
Let bridesmaids weigh in with options. This way, you'll give them the chance to find something they love that also fits into a budget that they feel comfortable with. Here's a look at bridesmaid dress listings to help you get a sense of what's out there.
Look into pre-owned dresses. As you might imagine, bridesmaids' dresses don't usually get ton of mileage, and going with a gently used version helps save some money, as well as offers a greener solution to wedding fashion.
Styles to Consider, and Ones to Avoid
Length — Even with more relaxed weddings, you may want to play it safe with longer hemlines that offer a more classic look.
Fit — Consider bridesmaids may have vastly different body types. Be flexible, and think about either erring on the more modest side, or allowing maids to pick a style most flattering on them.
Undergarment issues — Don't force your bridesmaids into dresses that require complicated lingerie.
Fabric — Leave heavy fabrics to the cooler months, and save the breezy pastel palette for the classic June wedding.
Accessorizing —Choosing the right shoes and baubles for your bridesmaids should be done at least a few weeks in advance. Check out these tips for easy accessorizing if you need some help.
Plan in Advance
Like many things involved with planning a wedding, you'll want to figure out your dress situation at least three months in advance. Ideally six. This will allow plenty of time to place orders and make alterations if needed.
Happy Bridesmaids Make the Whole Day Run Smoothly
No need to dress your girls in an unflattering outfit more suited to a child beauty queen. Look, if you offer a flattering option, your wedding party will likely to return the favor when their big day rolls around. A real win-win for all parties if you ask us.
Liam Pearson is a wedding planner who writes articles which cover all aspects of wedding planning for an online audience.