I received a doll from Adora Dolls for this review. All thoughts are my own
My girls love to play Mommies. It is the thing they are most often found doing. even when they start off playing other things like school or restaurant, somehow it always comes back to Mommies. It always seems kind of funny to me how much they are into playing Mommy and dolls. It just wasn't something I did as a kid.
Being that they love playing with dolls, I am always looking for ones that I know they will LOVE. On one hand there are the 18 inch dolls that they can model after themselves and accessories but they do not look like babies, more like small children. Then there are dolls that look like babies. not just a baby doll but dolls that closely resemble actual babies. These are one of the girls' favorites.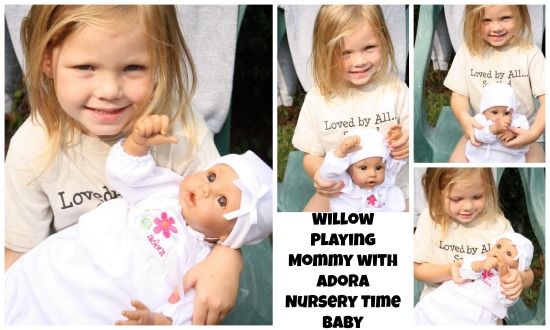 I alternate which of the girls gets the new doll when we get one even though they share them all, as siblings go, there is something about being able to say, "This is mine" I guess. This time it was Willow's turn to get the new doll, as we have added several new ones to the collection over the summer.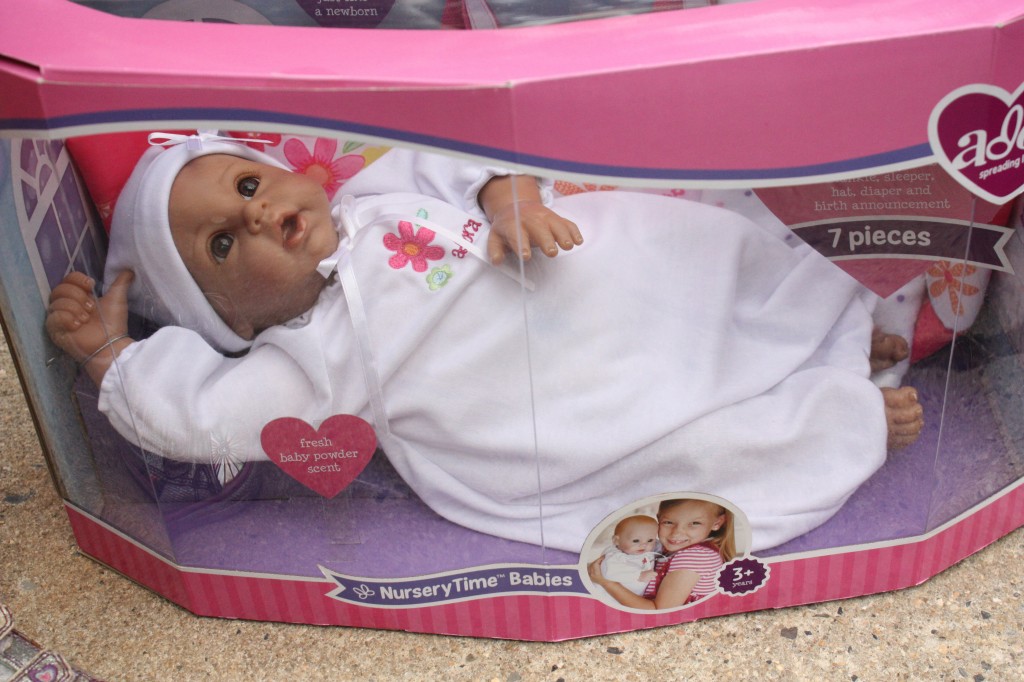 Our newest doll to come make our house home is the Nursery Time Baby from Adora. This is a "real" looking baby that offers a real feeling when held as well.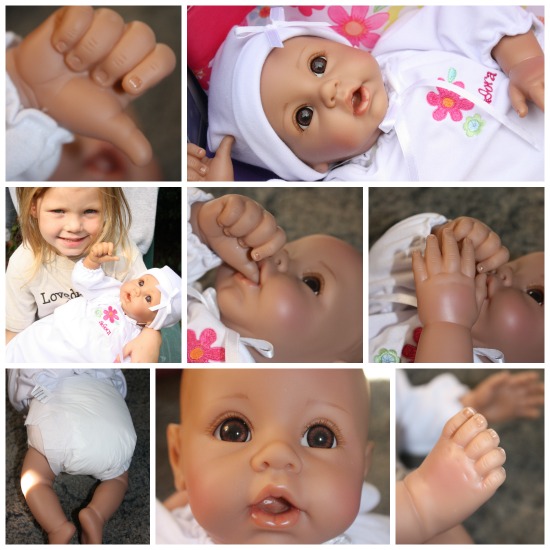 These dolls have life-like features from their little buttons noses to their tiny little hands and feet. Each doll is handmade and created in an exclusive, lightly baby powder scented, Gentle Touch™ vinyl. The babies weigh in at 2lbs 7 ounces and have a weighted bottom.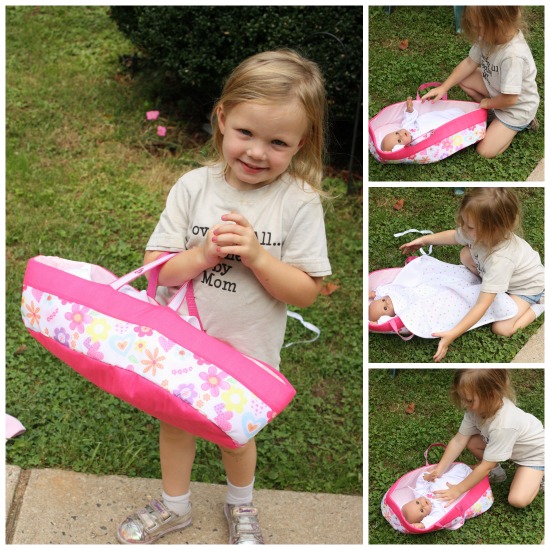 Willow loves the accessories that come with her new baby. She is able to be swaddled with her own soft blanket, and placed in her own carrying cradle, like a Moses Basket.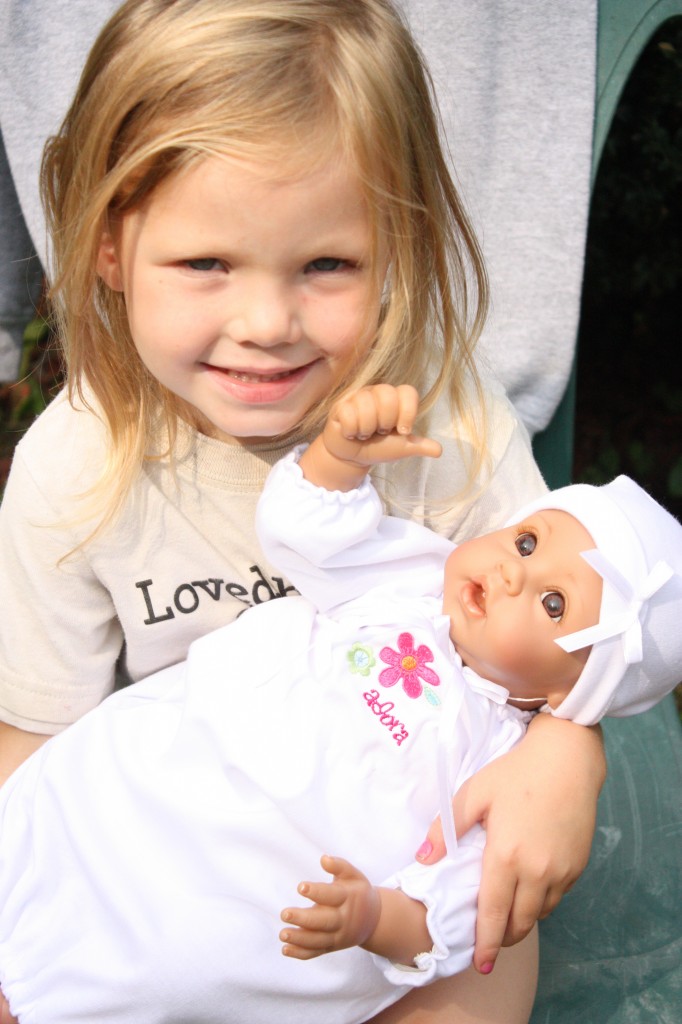 Willow loves her tiny hands and loves how she can move them around mimicking a real baby. As we played outside, Willow took her baby everywhere we went and she set her up to watch her while Willow rode her bike. And when Uncle Bob gave her a piece of candy, her new Baby held it for her.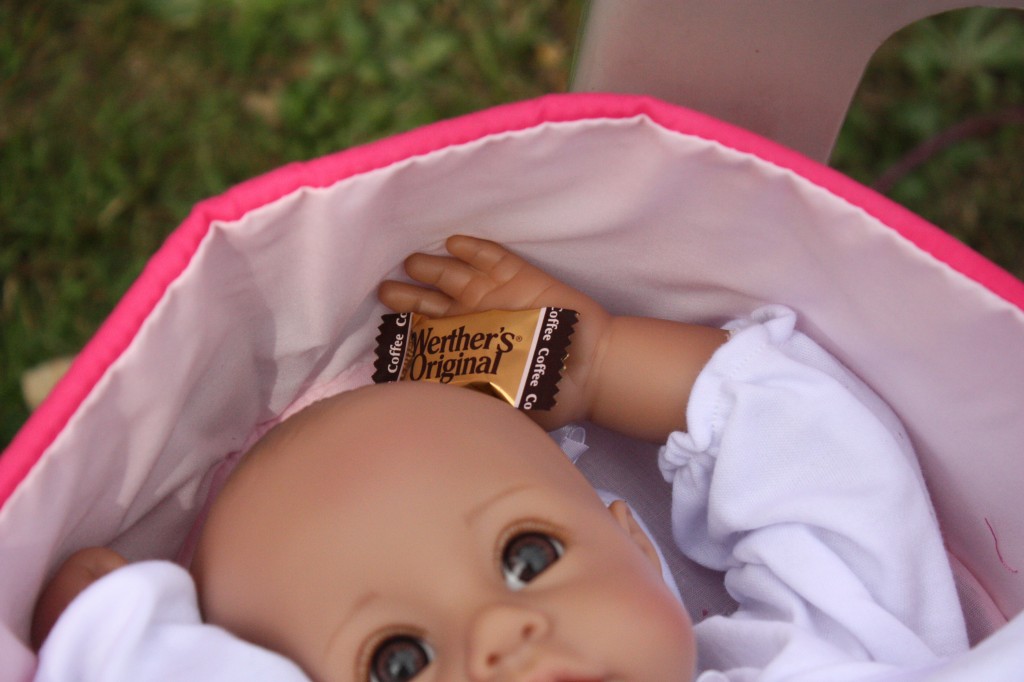 If your little one would love a new real-like baby to snuggle and play with, there is a wide variety of babies to choose from Adora. There are babies for each age group, but also from in a variety of skin tones and eye colors. There is a baby for every child. There are also, a range of accessories for the babies that make playtime even more fun.
Do you kids like to play parents to their toys? Do they prefer play dolls, real looking dolls, or stuffed animals?