Working from home has several benefits, and one of the significant benefits is the time we save on commuting. However, you are of the wrong notion if you think that working from home is convenient and comfortable, instead of working from a proper workstation is much more convenient. Workstation makes a person more productive, whereas working from the bed, the couch, or backyard may become hectic at times.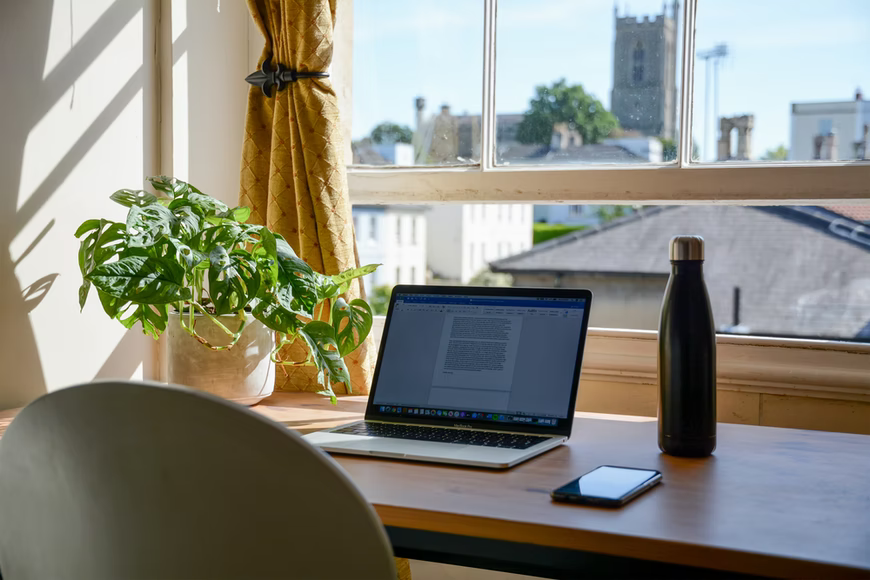 If you are setting up your home office, you have many options to choose from, and you get to enjoy freedom as well. For instance, if you are fond of colors? Go for a purple table and an orange chair. Do you want striped walls? You can get them painted in stripes. However, no matter how properly you furnish and decorate your home office, you will always find some room for improvement.
Let us go over a few home office and knickknack tips that prove to be the most effective without further ado.
Suppose you are fortunate enough to have a big house and a dedicated room to work from home, prioritize privacy. That room should have solid doors that get closed, and hence, you will have complete privacy while working. Until you have your office inside your room or the bedroom, you will find it challenging to work peacefully.
If you don't have a separate room for office work, we recommend adding a privacy divider to the home office. You can also choose to hang a curtain to separate your desk from the rest of the room.
Make Some Investment in Yourself:
Investing in some valuables for your home office, in several ways, is an excellent investment in itself. It would help if you created a professional environment for yourself where you will be productive and comfortable at the same time. However, just like any other investment, you will get what you pay. Bargaining for the furniture may seem tempting initially, but at the back of your mind, you should know the quality you are getting at a bargain price.
If your office demands 40 hours of work a week, do not compromise on quality. The cheapest desk you buy will not provide significant benefits in the long run, and rather you will have to replace that in a few years.
The idea of sitting on a chair in the dining area and working from there can be tempting enough. However, it would help if you didn't switch the home office too often. For utmost convenience, you can choose to have a snacks corner where you will have some dry snacks and other knick-knacks to munch on when hungry. For tea and coffee, choose to have drinking cups so that you can have them several times during the day, without worrying about doing the utensils.
Also, when you sit for hours on the same chair, choose a comfortable chair and supportive back. Sitting on a chair without proper support will soon give you posture problems. We recommend investing in ergonomic chairs since they offer the required support even when you sit there for long hours.
Consider If Someone Else is Using the Space:
If you are setting up a home office, you should consider that there is anyone else from your family who will be using the same space. This is to know if you will need extra furniture and a chair along. That said, know if the kids will be using the space for completing their homework or if your spouse will be using it for their office work.
If this is the case, you should consider setting up a partner desk where you, along with the other person, can easily carry out your respective works. Also, will you have clients dropping in your home office? There is no denying that you can arrange the meeting in your living room, but it is not a good idea. If you have clients, make arrangements for their seating as well.
When you think of a work-from-home setup, what are the things that come to your mind? Usually, it is just the laptop. However, several other things are required to carry out your work without any hassle. Based on the type of job you have, you may need some other things that include pens, papers, and several other supplies. You may need some paper files as well to maintain documentation.
It is advised that you use dedicated storage options. They are not only good for your household items but are the best option for office supplies as well. However, it doesn't have to be large cabinets used to store the files or huge drawers. It can be something of adequate size to store all your official valuables. You can use a glass bottle to store your eatables.
You can choose to use the plastic storage tubs for packing things up when you are done with your office. Also, if you clear up only a small area and keep the space empty for work items, you will feel much more organized.
No denying the fact that everything has its disadvantages, and the same is the case with a home office. There are some downsides too. One of the major problems that people usually face is that the home office setup is usually smaller than needed. When you are setting up your office at home, don't think of side-to-side only.
You should think up and down as well so that your storage option gets maximized. Tall bookcases, a hutch, or floating shelves as well provide more and better storage options. The best part about it is that it will not take up much space as well.
Conclusion
You can easily set up your home office anywhere you want to. You can either set it up in a cozy corner or spread it around in the living room. The only thing is that you should be comfortable enough.