I received a copy of Ripley's Believe It or Not- Dare to Look for review. All thoughts are my own.
I have always loved Ripley's Believe It or Not- Dare to Look. I remember watching the TV show when I was a kid. Jimmy and I even went to one of the museums when we were on our honeymoon. We loved all of it. The  we started a collection of the books with our kids a few years ago.
This year, we have added Ripley's Believe It or Not- Dare to Look to our collection. This book features all new stories and tales of bizarre, incredible, and TRUE stories from around the world. It has 100s of full color pictures that bring these amazing tales to life.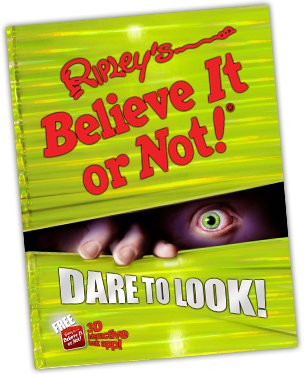 And keeping up with technology the Ripley's book has an app. As people view the book, there are SCAN featurettes. Use the app that can be downloaded from the Ripley's website. By scanning the image, the app brings the stories to life with a short video.
Ripley's fans of all ages are going to be delighted with the bright green foil cover and the stories of near-miss accidents, extreme dare devils, amazing artwork, fantastic sport feats and more.
Dare to Look makes a great holiday gift for everyone from the reluctant reader, those with a curious mind, or the thrill seeker.