Safety Tips for Family Road Trips
Are you thinking of hitting the road this summer with the whole family? There's nothing like the freedom and spontaneity that a road trip provides! Whether you plan to visit national parks or national museums, spending long hours on the road requires a bit of vigilance. Your car will essentially become your second family home, so subject it to the same rigorous child-proofing that you would at home.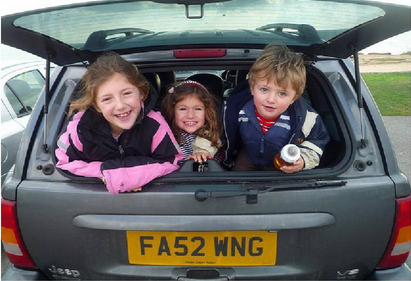 Image Source: Ben Francis/Flickr
Take Car in for a Tune-Up
The first order of business is to choose a car for your road trip that ticks all the boxes in terms of safety, efficiency, and comfort. Mid-size SUVs like the Kia Sportage or minivans like the Honda Odyssey are typical choices for road trips. You can take a look at this in-depth Kia Sportage review on Motoring for a closer look at its features. No matter what type of car you're driving, however, it's important to make sure that it's in top working order. Take it to the mechanic's a couple of weeks in advance to have the air conditioning, fluids, belts, battery, and tires looked at carefully.
Get Plenty of Sleep
Driving while drowsy is a major safety hazard, so for the sake of you and your children you'll want to make sure you get plenty of sleep the night before you set out on the road. It's best to have two drivers available to alternate driving duties. Rather than trying to pack too many miles in a day, think about breaking up the trip into smaller, more manageable chunks.
Double Check your Safety Seats
How long has it been since you've installed your child's car seat? An estimated eight out of ten car seats are installed incorrectly, which can be a major safety hazard on the road. Give your safety seats a second look and book a safety seat inspection if you're unsure.
Bring an Emergency Kit
Although it's unlikely that you'll have any problems, you want to prepare for the worst. Bring along a full emergency kit with basic supplies including the tools to change a tire, flares, and jumper cables. It's also helpful to have spare food and water, plenty of warm blankets, flashlights, and batteries. Finally, don't forget to bring a first-aid kit with basic medical supplies.
Keep Essentials in Easy Reach
Keep a cooler filled with ice within easy reach, so that you can dole out treats and drinks without having to pull over every few minutes. You'll also want to store your medical kit, mobile phone, maps, and other essential bits of gear somewhere handy so that you have them available when you need them.
Protect Children from the Sun
Little ones can be particular sun-sensitive, so take the measures necessary to avoid heat exhaustion, sunburn, or dehydration. Bring along plenty of sunblock, sunglasses, and sunhats for protection. Even if temperatures outside seem pleasant, the interior of the car can reach dangerous temperatures when left parked. Never leave children unattended in the parked car. (Ditto for pets!) A sunshade can help block the glare and keep temperatures comfortable inside while you're on the move. It doesn't hurt to bring plenty of water bottles to encourage the family to stay hydrated during summer fun as well.
With a bit of precaution, you can focus on creating lifelong memories and enjoying all the thrilling sights of the open road with your family.