Even if you don't really like basketball, you will love the Harlem Globetrotters. These guys ( and I mean that as in hey you guys, because there are women on the team too) are like watching kids play while adding in some comic relief and some serious skill.
What I love about the Globetrotters is that they truly speak to family fun. The game is fun to watch, as a parent of a large family, I love the tickets are always reasonable. On top of the low prices, I have a coupon code for you to save even more.  SAVE 25% for ALL Harlem Globetrotters Games with promo code FUNFAM http://harlemglobetrotters.com/tickets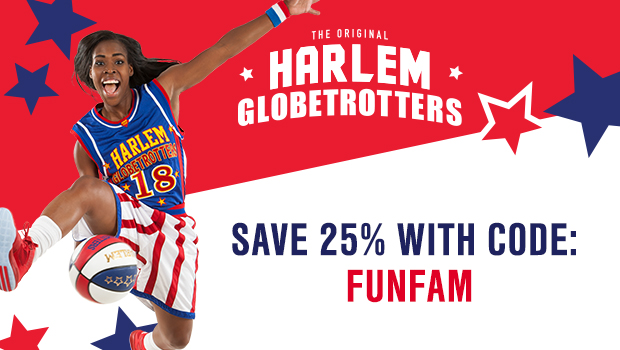 We are excited to be attending one of the shows in this years season. With a star-studded roster featuring Big Easy Lofton, Ant Atkinson, Hi-Lite Bruton, Thunder Law, Bull Bullard and Cheese Chisholm – plus female stars TNT Lister, Ace Jackson and Hoops Green – the Harlem Globetrotters' show is unrivaled in the world of family entertainment. Their 2018 World Tour will showcase incredible ball handling wizardry, rim-rattling dunks, trick shots, hilarious comedy and unequaled fan interaction. After the game, Globetrotter stars will sign autographs and take photos with fans.
SAVE 25% for ALL Harlem Globetrotters Games with promo code FUNFAM http://harlemglobetrotters.com/tickets