I am a huge cook book fan. I love having tons of them to choose from. So adding the Savory Pies book from Greg Henry to my collection was a no brainier. But when I agree to check out the book, I wasn't really sure what would be in it. When I think if savory pies, all I could think of sells was a chicken (beef, turkey) pot pie. Now I love, LOVE chicken pot pie, it is one of those down home comfort foods, but how can you fill a whole book of it. I was so surprised with the recipes included in the book.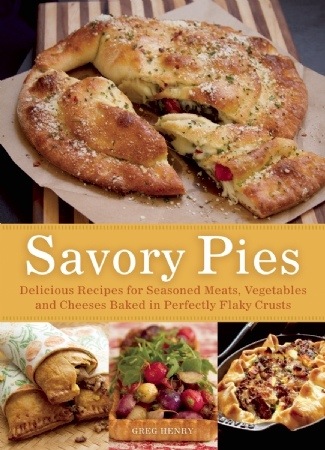 Savory Pies has taken the idea of a savory pie and made it simply elegant. One of they things I love about a pie is how it can stretch a budget. It makes the food on hand or the ingredients I choose to use go further. When I am feeding a family of 6, or my kids and their friends, or my extended family, 4 big brothers and their families, it can get expensive fast. But I don't want anyone to know that is made a meal that was cost effective.
With pies like Braised Short Rib Shepherd's Pie, Duck Confit Taquito Pies or Chickpea Samosas with Spicy Mint Sauce, no one will wonder if this was a meal you planned because it stretched the ingredients. They will be wondering when you learned to cook like a fancy restaurant. And while there are many fancy version of savory pies included in the book, there are much simpler versions too like a Classic Chicken Pot Pie, Asiago Mac 'n' Cheese Pie, Left Over Pot Roast Hand Pies and Bite-Size Beef Wellingtons. There are so many variety of large family style pies and hand held size pies, of all kinds, including vegetarian, that there are pies for everyone to enjoy. There are also recipes for many types of crusts, so if a traditional crust isn't up your alley, try one of these new crusts.
If you are looking for a new cook book, or some ideas to branch out of what you usually make, Savory Pies is a great option to add to your collection. And 3 lucky winners will be able to add this recipe collection to their kitchen. Contest ends March 12, 2013