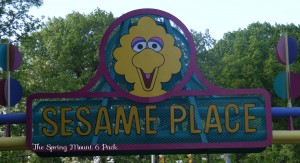 We spent the day at Sesame Place yesterday to enjoy the park and one of the new shows in Sesame Place's concert series, Max and Ruby's Musical Play Date.( See the review and pictures to learn more about Sesame Place's summer concert series)
We had the best time. We had a bugger of a time getting there, thanks to the worst GPS system on the planet. What should have been an hour drive, took us almost 4 hours. So that part, was not so much fun. But once we got there, we were very excited.
No matter how old you are, if you have ever loved Sesame Street, you are instantly turned into a little kid as soon as you enter the park. Everywhere you look, it is colorful and happy. There are characters painted everywhere, even the little doodle bugs. There are Sesame Street characters walking around.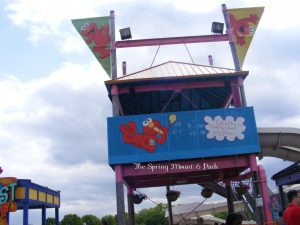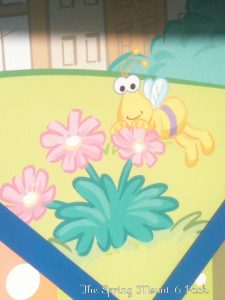 Before we arrived I had downloaded the Sesame Place app so I had the map right on my phone, which was great. I didn't have to worry about trying to find a map or keep track of it. It also helped me keep track of where the characters were, where we could find the bathrooms, and places to grab a bite to eat. While I didn't need them, I loved that there were rooms for nursing mother's so they had a nice comfortable place to nurse, since the benches seemed to always be taken when we walked by them.
The rides were so great. The boys went off to ride the roller coaster.  Serenity went straight for the swings with her Dad and I took Willow to Elmo's Flying Fish. This was Willow's first time on a real ride. She has a sense of adventure. Every time the ride went up, she was quick to want it to go down so we could make it go up again.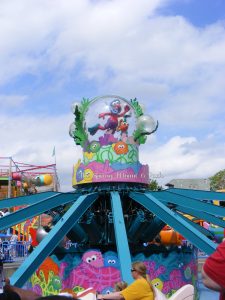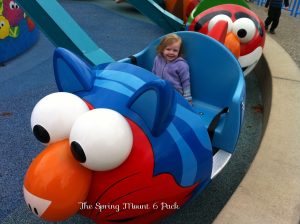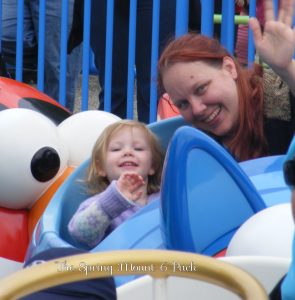 The kids loves the Big Bird's Balloon Ride. Anthony spun the balloon so many times, poor Joey started to look almost as green as his hair by the time he was getting off the balloon. Our balloon was a much more mild ride with the girls but we had ours spinning a bit too. Serenity loved being up high and seeing out over the park.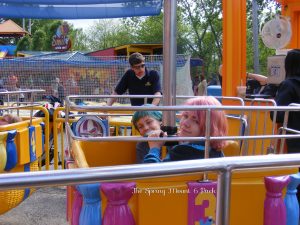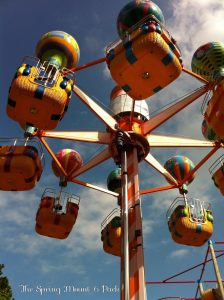 The monster maze has everything a kid could want. Big cushion-y boulders to ram into, sand to run through and no time limit and no lines. The kids get to run back and forth, making their way through the light weight punching bags. It was fun for all the kids.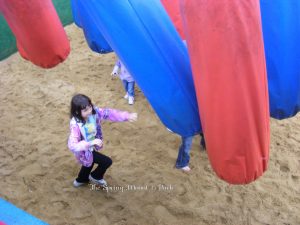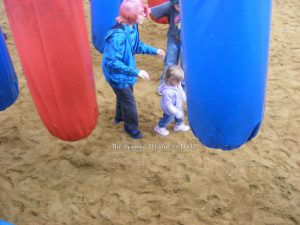 Anthony and Joey liked the Blast off. Serenity wasn't quite daring enough for it this trip, maybe next month when we head back to see Strawberry Shortcake.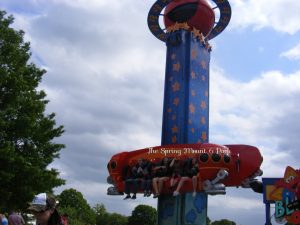 The boys enjoyed playing the games and winning some prizes while Jimmy and I took the girls to the Meet and Greet with Max and Ruby. I was pretty impressed, they even won a frog for Willow and a penguin for Serenity.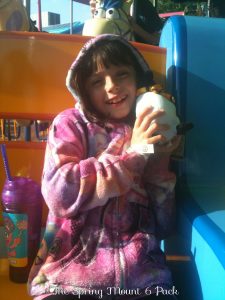 We didn't bring our bathing suits to enjoy the wet rides, because it wasn't that nice of a day. It was only 70 degrees. There was lots of people who were splashing and enjoying them, but that is just too cold for me. I still had my jeans on and my sweat shirt. But we are palnning on it for next time.
After meeting Abby Cadabby and Bert and Ernie, we had time for one last ride on the carasel.
Anthony took Willow on a horse, Daddy and Serenity shared a bench and Joey and I were an horses together.
It was a shame to see the park closed, but everyone was pretty beat. Needless to say everyone passed out in the car ride home.
We can't wait to head back next month.
If you are looking to visit Sesame Place, and want to know their hours or admission, or just more about the park in general, visit them here to learn more.