I received copies of these titles for review. All thoughts are my own.
My family has certain things that we do during every Christmas season. We decorate the tree. We put up the decorations outside. We have a cookie making day with my mom. We drive around and look at all the lights and we go to the special houses that set up their decorations to music. It is those simple things that really MAKE our holiday.
Another tradition is we always watch the classics together. We love to hang out in the living room and watch Frosty, Rudolph and Santa Clause is coming to Town. I remember back when the boys were very little, one year, we missed them. It was a crazy month and the TV schedule was off that year. We just missed them. And we were all so sad. It just didn't feel like Christmas. That was back before the DVDs were everywhere and way before the existence of DVR.
Now, if we had to try to watch the movies, together while they are on TV, we would never get to watch them. Most of us are barely home at the exact same time, except for usually Sunday nights. But with DVDs we can watch our movies on our time.
The Original Christmas Classics are available on DVD. Not only does it have Frosty the Snowman, Rudolph the Red-Nosed Reindeer and Santa Clause, but it also has 4 more classics, The Little Drummer Boy, Cricket on the Hearth, Mr. Magoo's Christmas Carol, and Frosty Returns.
It is so nice to be able to decide to have  movie night and share these movies.
To add to our holiday fun, this year, we are adding a new collection to our tradition. A limited Edition set from Dreamworks, this collection has some of the kids' favorite characters. Dreamworks Holiday Collection has Kung Fu Panda Holiday, Merry Madagascar, Dragons Holiday: Gift of the Night Fury, and Shrek the Halls.
I have seen the some of the DreamWork holiday movies before with the kids, but I had not seen the Dragons Holiday feature. It was fun to share these new movies with the kids and their dad, and some of our old favorites too.
When you settle in to watch movies together, why not share a special treat? Here is a special recipe, Julianuray Coals.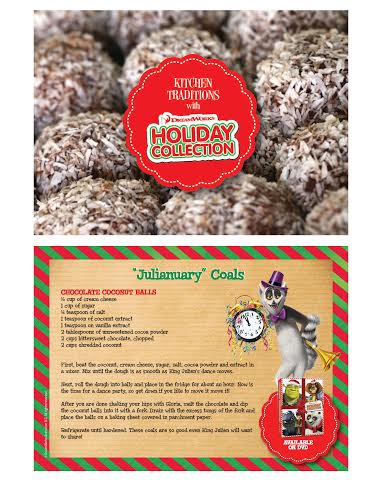 What holiday movies do you watch together? Have you added them to your collection so that you can have a fun movie night? What is your favorite Christmas movie?