This post contains affiliate links. If you buy something from them, I earn a small percentage that helps keep The Spring Mount 6 Pack running.
If you have been around The Spring Mount 6 Pack for a while, you have read, I am seriously a cookbook junkie. I love them. I am always looking for new recipes to try. Of all my favorite cooking gadgets, I really love my slow cooker. It gives me the ability to throw everything in, do what I need to do, and come back to amazing meals. But it never ever occurred to me that I could make desserts, like cakes in my slow cooker.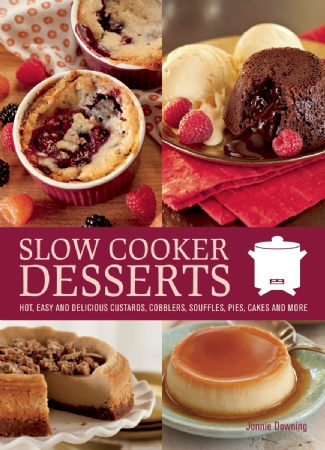 Slow Cooker Desserts is one of my newest obsessions. I mean it has all of my loves all in one: A cook book, Desserts, and my slow cooker! Wahoo happy dance, I'm telling ya! So I opened up my new cook book and basically it went like this: Oh I need to make this. Oh my god a cheese cake in the crock pot. Oh I have everything I need for this one! And brownies and strawberries, all in a crock pot.
The desserts are both the ordinary and things I never would have even though of in the oven, forget about in a crock pot. There is a Classic Chocolate Cake to Mini Blueberry Cobblers, to Cherry Crisps and Apple Brown Betty, to Bourbon Custard with Nutmeg to Sticky Toffee Pudding, a Sweet Potato Bread Pudding or a Kahlua Bread Pudding, to fruit compotes, sauces and spreads. There is also a section for emergency desserts.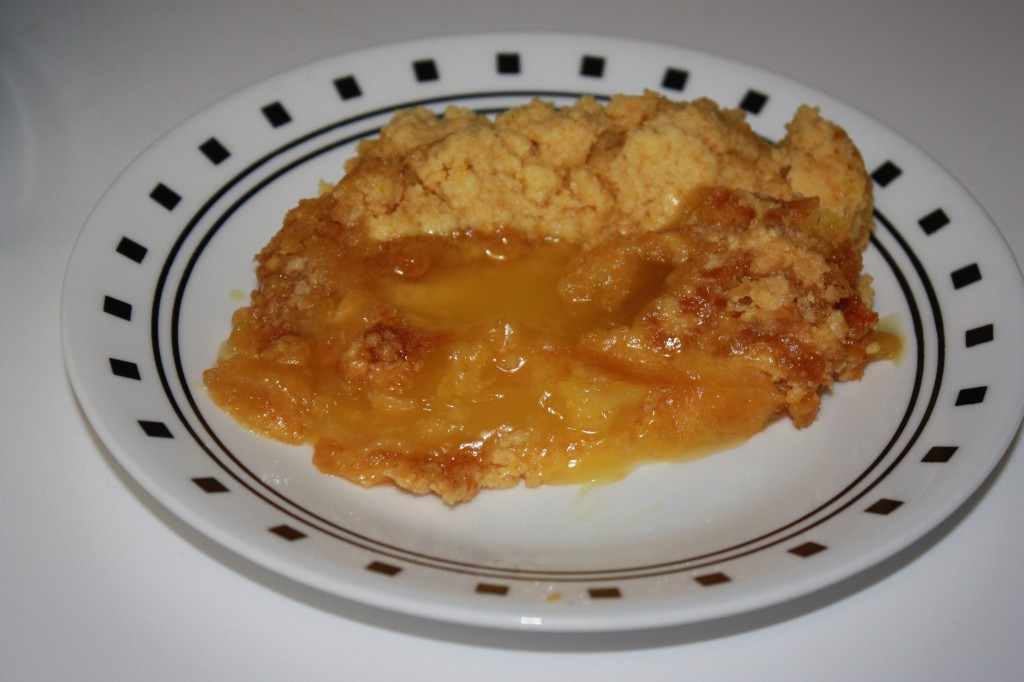 I decided to try one of the emergency desserts. I wanted to try the Easy Day Blueberry Cake. It sounded amazing and I loved the concept of it. But, well, I didn't have vanilla cake mix and I didn't have blueberry pie mix. So I changed it up a slight bit. I used a lemon cake mix and lemon pie filling. So I kind of changed the whole recipe, BUT because it was such an easy recipe to make, and such a yummy concept, it was easy to do. And if it wasn't for the book, something like this would never have occurred to me, so I give total credit to this recipe. But let me tell you, it was AMAZING! This is like a dump cake almost. basically open the pie filling, toss it in the bottom. Mix the cake mix with the called for butter and add to the top. And tada, amazing, yumminess. This would be a perfect dessert on a hectic afternoon. Toss it in, make dinner and then by dessert time, it is ready. No extra work, but it will taste like you were slaving in the kitchen.
This is going to be one of my most favorite recipe books in the house from now on. There is such a great variety to choose from, things most everyone will love and even though they are easy to make, they are elegant enough to serve to guests.