With bellies still full from Thanksgiving last night, and, hopefully, all the reasons to be thankful still fresh in everyone's mind, parents can use the Dinosaur Train website with the menu planning and shopping list as the upcoming holidays approach. It is a great way to reinforce counting and basic math skills, and provides a visual example of how to combine things in ways that will make something totally different. Sometimes, that is all that is needed for the most picky eaters to try new foods.
Actually, the Dinosaur Train webpage has a great, fun family project called Hungry Herbivores, that can be used to create a holiday dinner for modern-day animals that enjoy a plant-based diet (herbivores). It will also encourage your kids to eat their veggies.
Willow loves Dinosaur Train, (see her in Tiny costume) and recently got a Dinosaur Train Buddy pajamas and slippers.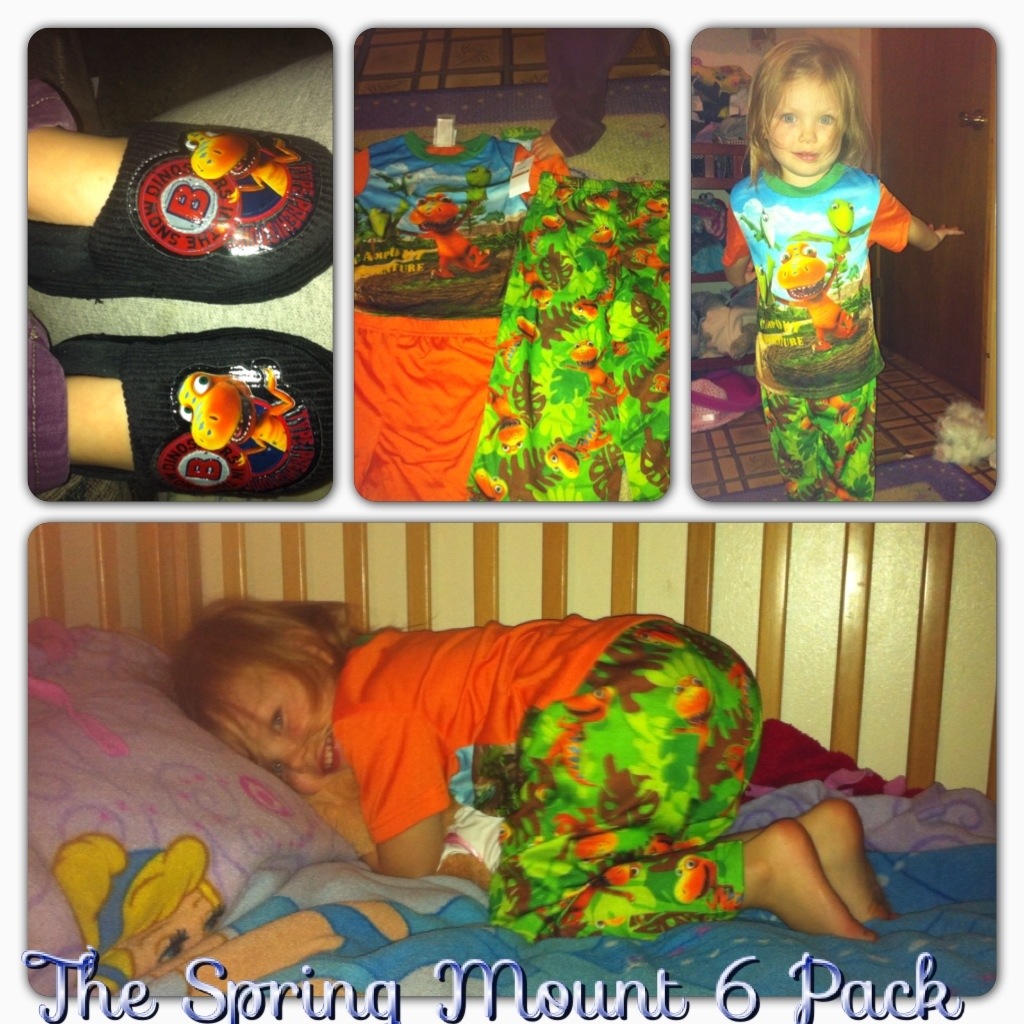 The slippers are so comfy. In a moccasin type style, with Buddy on the top, they have thick, padded soles and are covered in a striped material with textured nubs for slip resistance. Willow, who usually will not wear socks, slippers or shoes, will wear her Buddy slippers all day because she loves to stomp around being Buddy.
Willow loves her pjs. It is a 3 piece set, a short sleeve shirt, shorts and pants, which I love because that means it can be uses year round. They 100% polyester, which makes them flame resistant for safety and have a  covered waistband. Willow loves that her pajamas has Buddy on the top and the bottoms features an all-over Tiny in the leaves camouflage print. And the Dinosaur Train pjs are perfect for snuggling in.
The pajamas are the perfect thing to wear while sitting together reading the newest Dinosaur Train book in our collection "A Holiday with Buddy"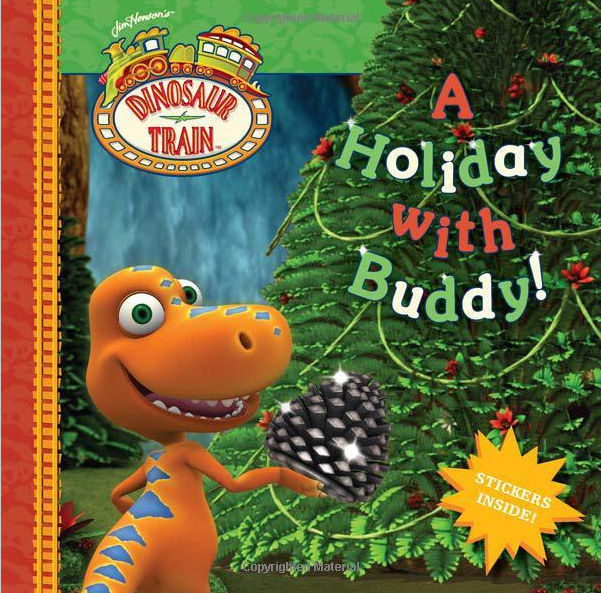 The new book is all about Buddy and his Pteranodon family getting ready for their mid winter celebration: the winter solstice, the shortest day of the year. They search for the biggest Cretaceous conifers, what we call a Christmas trees, so  they can decorate their nest for the holiday. At the end of the book is a collection of stickers, which of course every kid loves.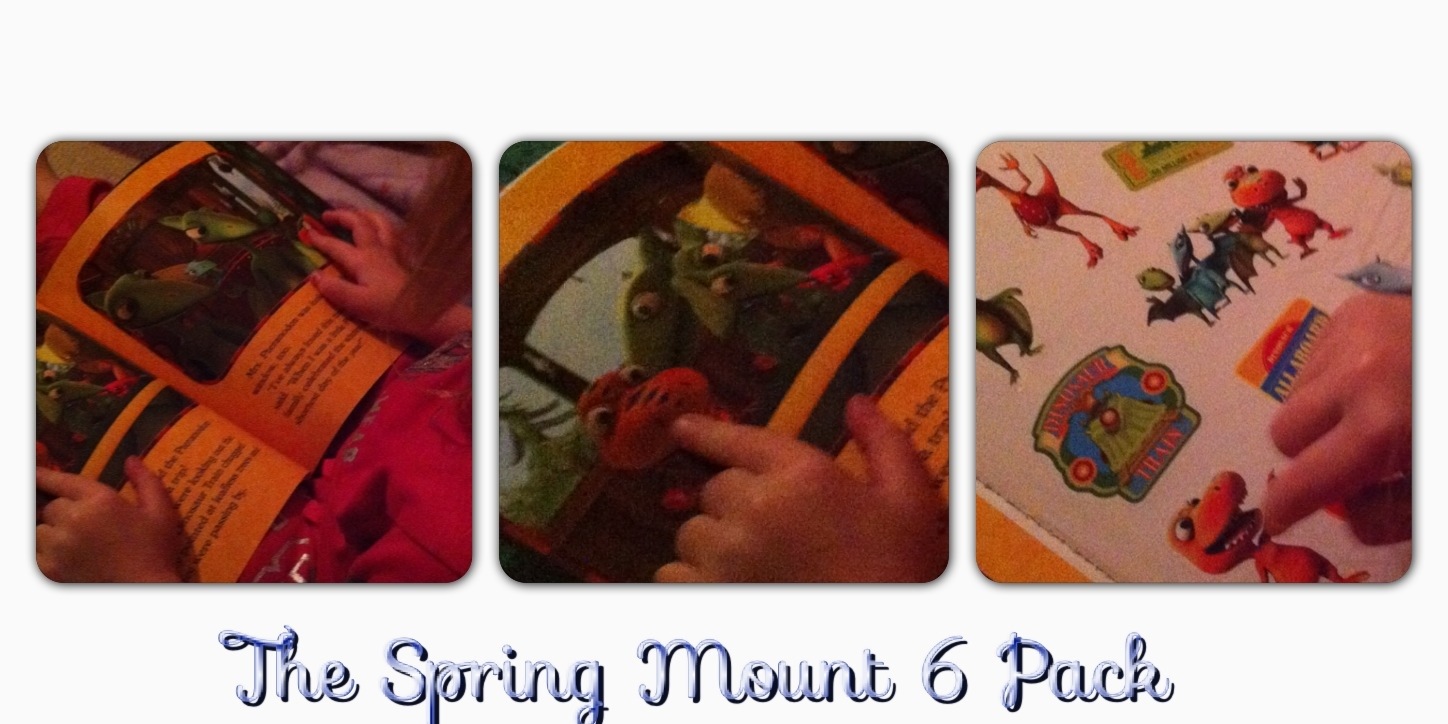 Want to know what's coming up on Dinosaur Train? On December 10 is a week of all-new episodes. New characters will be introduced – The Grandparents! Have your little ones snuggle up in their PJ's and Slippers with the entire family to watch these fabulous new episodes! On December 10 tune in to PBS KIDS for "Tiny and the Crocodile"/"Meet the Grandparents" and on December 11 for "The Egg Stealer?"/ "To Grandparents Nest We Go!" the new episodes continue on December 12 with "Double-Crested Trouble"/"Erma and the Conductor" and "Dome-Headed Dinosaur"/"Treasure Hunt" on December 13. Be sure to watch.

Want to stay connected: Dinosaur Train on Facebook: The The Jim Henson Company on Facebook
and on Twitter Follow PBS Kids on Twitter and Facebook and Follow Penguin Young Readers on Twitter and You Tube