The holidays are right around the corner, and that means you may be starting to think of gift possibilities, dishes to prepare, and how on earth you'll fit 10 extra family members into your home this year. Before this hectic time gets underway, read about how you can keep yourself happy and healthy throughout the holiday season.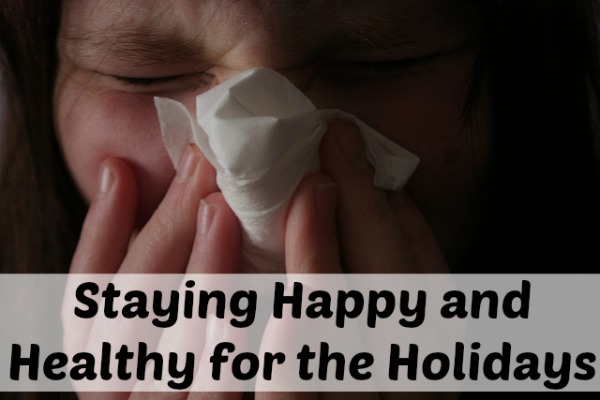 Stop Bad Habits
If you're a smoker, there's no better gift than quitting, for both you and your family. There are a variety of products that can make it easier, like e-cigarettes that don't produce smoke and don't contain the thousands of nasty chemicals that tobacco products do. Recent studies purport that these alternatives are up to 95 percent safer than traditional cigarettes, meaning you'll be doing your body a huge favor while still enjoying the feel of smoking.
Travel Wisely
For many of us, the holiday season means traveling, and bad travel habits can have a major effect on our health. Long bouts of sitting, terrible airport food, and plenty of germs spread among thousands of fellow travelers combine to make illness likely. Take disinfecting wipes and use them; before you settle into your airplane seat, run the wipe along remotes, arm rests and touch screen televisions (if you luck out with a new plane!). Plane rides can also deplete your body of water, so make sure you stay hydrated to feel your best.
Holiday Food Choices
It can be hard to avoid fatty, unhealthy foods when everyone around you is digging in. If you're preparing the holiday dinner, enjoy some of your hearty staples but also plan for some healthy alternatives. More greens and less fats is a good rule of thumb to follow when trying to determine extra plates for a holiday spread. If you're attending a celebration, bring your own healthy dish to share, and be sure to eat a hearty snack before attending—trust me, it will help you avoid binging on all the delicious dishes sure to be staring you in the face.
Get Moving
Preparing for the holidays is a busy time, but don't think planning gets to knock exercise off your list of priorities. Be sure you give your body the attention it needs. A regular exercise regimen will also provide you with more energy overall, meaning you'll have an easier time dealing with the hustle and bustle of the season.
Avoid Colds
Proper hygiene could be the thing to save you from a cold or two this year. Wash your hands multiple times a day, but make sure you utilize moisturizer as this can be very drying for your skin, especially in dry, cold weather. Avoid touching your face or eyes as this is a surefire way to spread germs and contract a nasty virus. Dress appropriately for the weather, and make sure your chest is always covered from the cold. The same goes for your little ones; bundle them up in layers to make sure they always have enough warmth on the playground at recess.
Don't Ignore Mental Health
The holiday months are unfortunately associated with rising rates of depression and suicide. Being aware of this can keep you and your loved ones safer. Extend a helping hand to anyone who seems to be struggling, and invite anyone who may be spending the holidays alone to join in your festivities. You never know who could be hurting, and being there for someone else can help you in turn. If you yourself are struggling, let family members or trusted friends know so that they can provide you the support you need.
Get Some Rest
You may be running around frantically to get everything done in time for the holidays and missing out on necessary sleep. Make it a point this year to get the adequate amount of rest. Good levels of shut-eye can do amazing things for our bodies, including lowering the risk of catching an airborne illness, and keeping weight under control.
Limit Your Drinking
The holidays are filled with alcoholic beverages, and too many parties can mean too many drinks, which will no doubt have an effect on your waistline and your overall health. Limit yourself to two drinks per event to ensure you don't overdo it. You'll feel better the next day and still be able to immerse yourself in the celebrations.
The holidays are a wonderful time, but they require a lot of energy. Make sure you're ready to go this year by keeping yourself happy and healthy no matter the weather.