I received samples to help facilitate my review. All thoughts are my own.
Up until a few years ago, I only thought about sunscreen to protect my kids on those really hot, really sunny days. If they were not going to be out for long, or if it was overcast, or in the middle of winter. I grew up on the beach and would be fried every year and we never thought anything of it besides that it hurt.
Now I know. I know how important it is to apply sunscreen all the time to protect me and the kids. Whether we are heading to the park or packing our bags to head to a snow-covered mountain, the sunscreen needs to come with us. I have learned the hard way that the sunscreen is important all year round.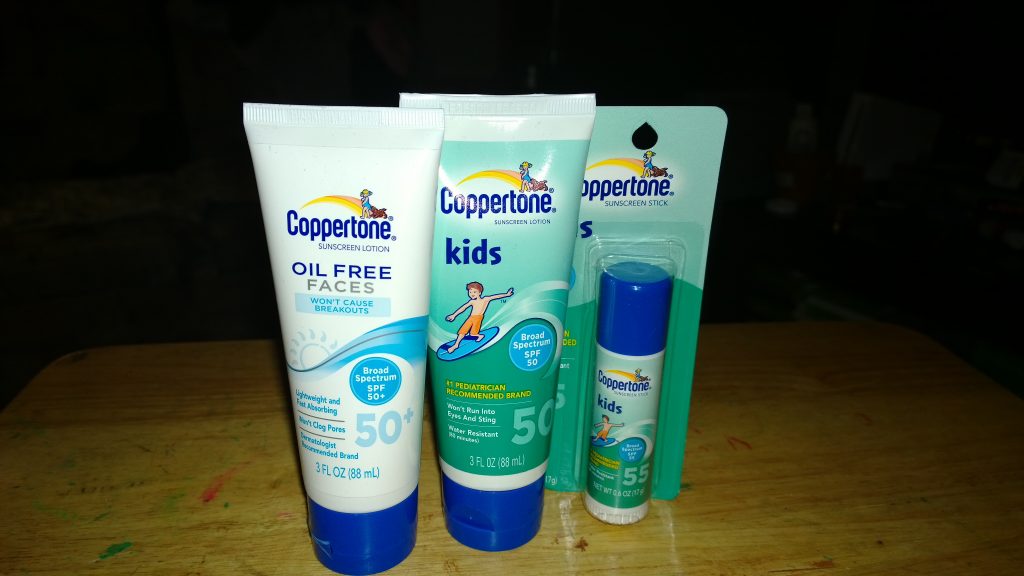 Packing creams can be a pain when traveling. First you have to worry about what if they pop open and spill all over your clothes. Also, if you are traveling by plane, there are limits to the liquids (and that includes creams) you can pack in your carry on, and I like to keep essentials with me. For the perfect travel sunscreen,  Coppertone Travel Size Lotions are perfect for your  getaway because they can easily fit in a purse or carry-on bag for on-the-go sun protection.
And if your kids are like mine , they hate to sit still and let me smear "that stuff" all over their face. So I love  the conveniently quick application of Coppertone Kids Sunscreen Stick SPF 55.  Is designed to provide spot protection to sensitive areas such as the ears, nose, and face and the kids are not worrying that I am getting it in their eyes and mouth..
I have started to use sunscreen in the morning, but I have noticed that it can often cause my skin to break out.  For a simple beauty regimen, Coppertone Oil Free Faces SPF 15, 30 and 50+ is an easy add for me. It is a fragrance free, hypoallergenic sunscreen lotion specifically designed for my face. It helps prevent premature skin aging and won't clog pores or cause breakouts. It can go right into my makeup bag and come with me where ever we go.
Need to learn more about WHY you need to use sunscreen and if you are doing everything that you should? Coppertone recently launched  Making the Sunscreen Grade program that educates parents with tools and information on how to help protect their children from the sun.
Packing sunscreen does not have to be a bother and when things are easy, you are much more likely to take them with you on your next vacation. It is a way to keep your family's skin safe, no matter where you.