Have you seen them? The Girls Scouts are out in full swing. Hanging outside of the stores. Filling my Facebook stream with talk about cookie sales and how many boxes they have on hand. What kind of cookie they love. Here is the problem. I LOVE TAGALONGS!!! I can eat a whole box. At once. I love them. In hopes of not eating the whole box at once, Tagalong peanut butter cupcakes came into my life. A great way to get all of your peanut butter and chocolate fix, without going through boxes and boxes of Tagalong cookies in one sitting.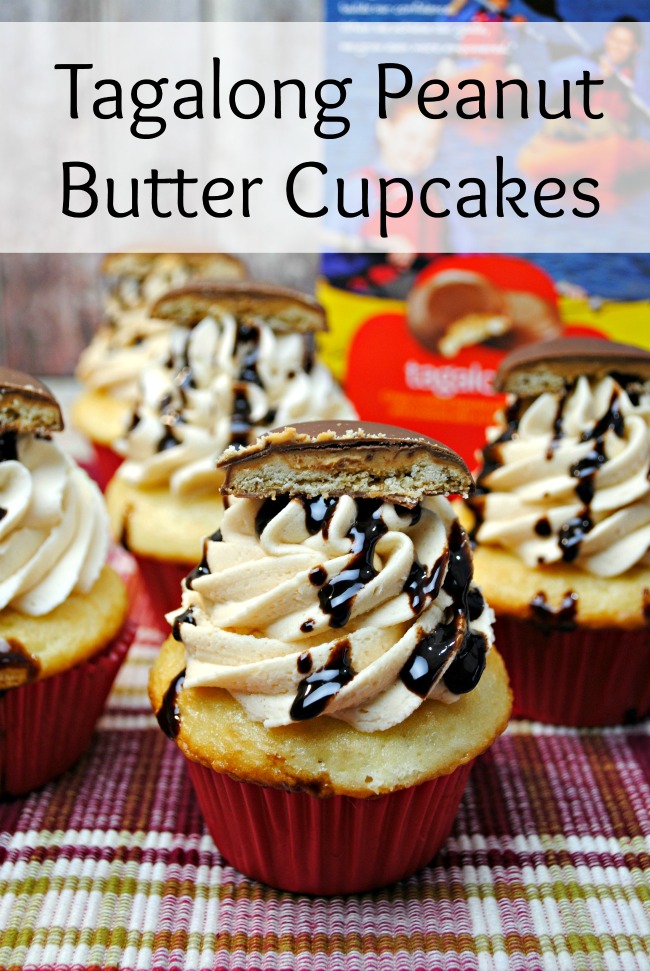 Want more peanut butter recipes? We have a peanut butter chocolate chip oatmeal cookies. Also try Peanut Butter Chocolate Lava Cake, Honey Peanut Butter Granola Bars, The best Peanut Butter Cookies Recipe, Chocolate Peanut Butter Overnight Oats, and Chocolate Peanut Butter Chip Bread Pudding Recipe, Peanut Butter Banana Cupcakes
Tagalong Peanut Butter Cupcakes
Ingredients:
For the Peanut butter cupcake:
2 c flour
1 1/2 C sugar
2 tsp baking powder
1 C unsalted sweet cream butter softened
4 Eggs
1 C water
2 tsp vanilla
1/4 C peanut butter
1 Box of Tagalong Girl Scout cookies
Frosting:
2 C unsalted sweet cream butter
5 C powder sugar
1 1/2 C peanut butter
8 TBS heavy whipping cream
2 tsp vanilla
Chocolate sauce to drizzle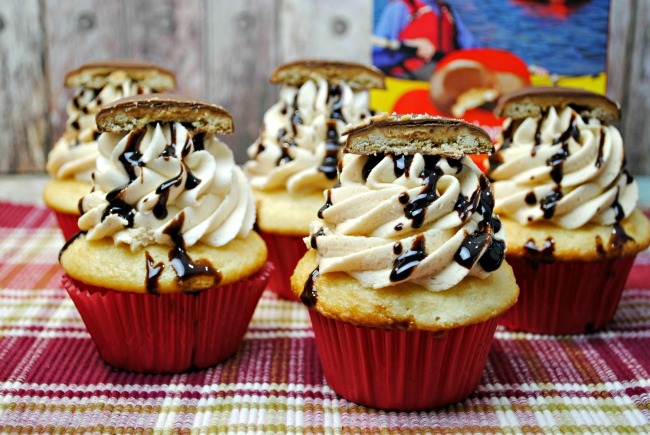 Directions:
Preheat oven to 350 and line cupcake pan with liners.
In a medium bowl, mix the flour, sugar and baking powder.
Add in the butter and mix until it looks like coarse like sand.
Using a hand mixer, add the eggs, vanilla and water.
Mix for a few minutes. Add in the peanut butter.
Place a cookie unit the bottom of the cupcake liners.
Evenly distribute the batter into the liners and bake at 350 for 21 minutes
While cupcakes are baking, make the frosting
Add in all ingredients into a standing mixer and mix until combined and stiff peaks form.
If powder sugar pebbles form, add in 1-2 more tbsp heavy cream.
If thin add in 1/2 C powder sugar.
Mix until stiff and doesn't fall off a spoon.
Once cupcakes have cooled, Add frosting into a piping bag with a star tip and frost the cupcakes.
Drizzle the chocolate sauce onto the cupcakes and then place a Tagalong that has been cut in half on top.