I received The Art of Cake Pops- a book that teaches how to make cake pops. All thoughts are my own.
I spent years working in a bakery. I have been making cakes and decorating them for years. But back then, people were not making these super cute lolly pop sized cakes. When I first started seeing them, I really had no idea how to make them. Recently I have learned how to make a basic cake pop, but then I started seeing these really cool cake pops. Made into different shapes and molded after all kinds of things. That is what I wanted to learn how to do next.
Recently I received a copy of The Art of Cake Pops by Noel Muniz. This book features 75 designs to make cake pops into. There are so many to choose from and once you have learned to make these, it is easy to jump-start your own creativity.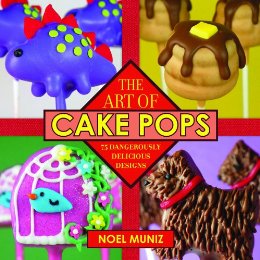 The book covers different cake recipes and then walks you through forming the cake pops. Then you can scroll through the designs. There are designs are broken down into categories like, Around the World, Baby Shower, Dinosaurs, Enchanted, On the Farm, Fun Designs, Garden, Nature, Pets, Sports, Sweet and Treats, Special Occasions and Under the Sea.
Just imagine throwing a party and having cake pops that look like buckets of sand to celebrate a beach party. Or cats and dogs for the little animal lover in your life. Or for a bridal shower or even a wedding reception, little wedding cakes that are 2 tiers and decorated beautiful. Or cute baby boys and girls, ready to celebrate a baby shower.
Anyone can make these cake pops and start bringing the cutest cake pops to the party.