This post contains affiliate links. If you buy something from them, I earn a small percentage that helps keep The Spring Mount 6 Pack running.
This news just in; lounging on the beach is out, and adventure vacations are firmly in. More Americans than ever before are choosing to leave their comfort zones behind and embark upon the adventure of a lifetime, but just how does one pack for such an occasion?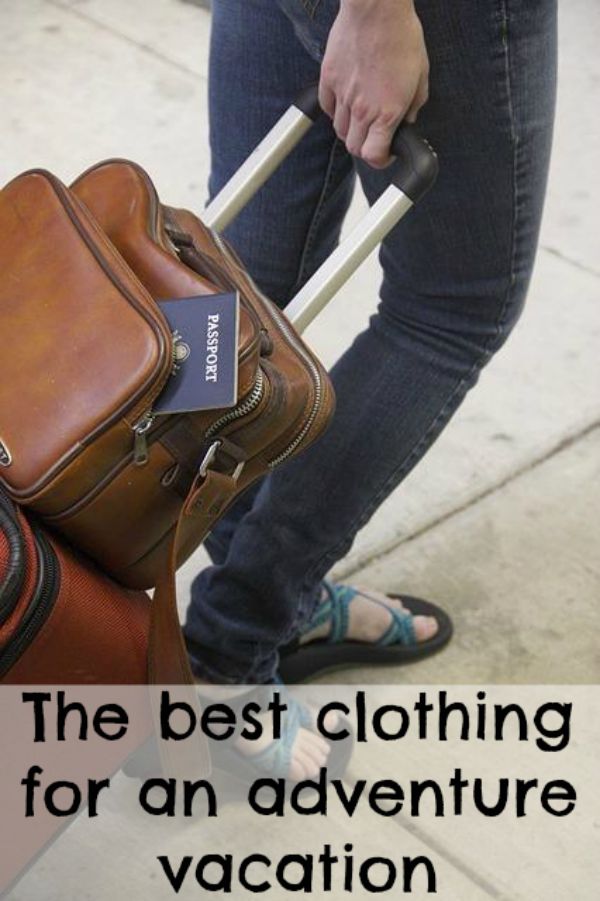 Choose your own adventure
There are numerous outlets for adventure worldwide, you just need to know where to look. For example, have you ever considered a surfing vacation, exploring vast forests on a mountain bike, kayaking, canoeing, or rafting along some of the world's most exciting waterways, horse riding, rally driving, exploring the deepest gorges or highest peaks on foot, lake swimming, or full-on adrenaline seeking, by way of bungee jumping, abseiling, rock climbing, or cliff diving? All of these activities, and more, are quickly becoming popular vacation pursuits, with many countries offering variations of the same – wherever you want to go in the world, you're likely to find an adventure. The main thing to consider when booking such a vacation, though, is whether you'll be likely to require any specialist luggage; adventure vacations, more often than not, will require tailored equipment or clothing, such as helmets, sturdier footwear, or extreme weather garments. Will this be provided, or will you need to pack rather cleverly to include everything?
Packing for your adventure vacation
One of the most important things to remember when you begin to pack for your adventure vacation is to go easy on the luggage. Chances are, you'll be on the move a lot of the time, and so it is essential to keep it light. Besides, who wants to be weighed down by loads of clothes that you won't wear or accessories that just risk getting lost?
First thing's first – what do you actually need? Consider the climate of the destination you're heading to, the types of activity you're hoping to undertake, and any essential equipment that won't be provided once you get there. If you're hoping to surf in Australia, for example, think beachwear, waterproof clothing, plenty of sunscreen, and a hardy camera to catch those waves. Meanwhile, if you're going hiking in the mountains, be sure to pack sturdy footwear, loose and supportive clothing, a weatherproof coat, a first aid kit, and safety equipment such as a compass, GPS, and a cell phone.
Wherever you're heading, it can be a good idea to create a capsule wardrobe; that is, a few key items that can be teamed with everything else in your luggage – that way, you'll create a few stylish looks, but won't end up using your luggage allowance on shoes. Dual-purpose clothing, such as trousers that can be unzipped into shorts, light waterproof jackets, and layered tops that can be worn as insulation or a warm-weather garment, always work wonders on an adventure vacation.
One item of clothing that is always advisable to take with you, regardless of the adventure you're about to embark upon, is compression wear, particularly if you are recovering from an injury or are mindful of any accidents that may happen along the way. For example, a full arm sleeve or compression leggings are a comfortable way to relieve joint and muscle soreness, as well as offering support to your limbs, whether you have suffered a previous injury or merely want to reduce your chances of a mishap; arm sleeves in particular are often overlooked, but can be endlessly beneficial if you're climbing, rafting, surfing, or undertaking any sport in which your arms take a lot of the brunt. Compression clothing is also typically lightweight, so it won't take up much room in your luggage; can you afford to leave such an essential behind?
Whether you're trekking through the mountains, sampling the sights on a sea kayaking vacation, riding bare back across the dessert, or canyoning, it is important to pack the right clothing for the occasion; making sure you're supported and protected will dramatically increase your chances of enjoying yourself. Packing can seem a daunting task, but as long as you remember to keep things simple, include only the essentials, and bring supportive garments, you're well on your way to a fantastic adventure vacation.