I received a copy of  The Mixer Bible recipe cookbook for review. All thoughts are my own.
As long as you are not new around here, you probably know my obsession with recipe and cook books. I have an overwhelming amount. I have them al because I am always trying to find something new to make.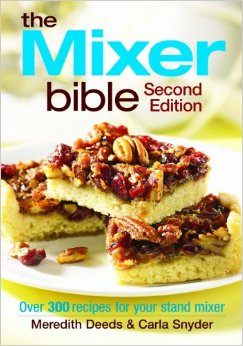 Well the newest addition to my collection is The Mixer Bible.  The Mixer Bible has 300 stand mixer recipes. I have always had a stand mixer, since I was way back in high school and I was making icing on a routine basis. A stand mixer just makes like easier. But really I have always associated my mixer, whether it is a hand mixer or a stand mixer, is desserts. There were a few meals that I have used my mixer for but not 300 recipes worth. So of course I was intrigued.
The first thing I saw when I started looking at the book was all of the attachments these recipes use. Did you know that a good stand mixer can make pasta, ice cream, grind grain and so much more? NO? Me either. I was blown away. Think about all of the things that I have missed out on doing with a stand mixer.
My stand mixer is just a basic guy. It sits there and makes my life easier when I am baking. But the idea of making a vegetarian roasted Red Pepper sausage with a meat grinder attachment for a mixer is amazing.
Want Fried Zucchini? Grab a rotor slicer or shredder and get ready. This recipe shows how to make them in a snap and they sound amazing. Want to make fresh pasta? Yep there are recipes for fresh pasta, like cilantro and ancho chili pasta and even gluten-free pasta.
Of course there are amazing dessert recipes to choose from as well. There is the Ultimate Chocolate chip cookies, Peanut Butter Cookies, lemon drop cookies but also, spiced pumpkin and walnut cookies, almond biscotti with cinnamon  and cream cheese pastries.
Included with the 300 recipes included in this book, there are also 175 step by step photos. This book is honestly like having 2 books in one. Besides the incredible mouth-watering recipes, there is so much information to learn. I could not get over all the things that I can do with this mixer that I just never knew.