I remember the first time my boys saw the Wiggles on TV. The Fruit Salad song became the hit of the house and was sang ALL the time. Heck, even now with the boys being almost 16 and almost 15, someone says Fruit Salad, and they will always say Yummy, Yummy, in the deep voice like the song.
Of course they grew up and outgrew all the fun Wiggle songs, but Serenity soon grew into them. I was even able to take her to see them in concert. She had a complete blast and loved every second of it. Even though she is 9 now, she still loves the songs and will dance right along.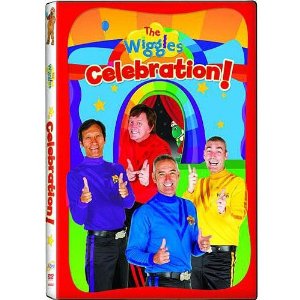 Now it is Willow's turn to fall in love with the Wiggles. A new Wiggles DVD was released at the start of 2013. It is "The Wiggles' Celebration," and it will give the kids a chance to sing and dance along with Anthony, Greg, Murray, Jeff and all of their Wiggly friends! But this DVD will have something else with it too. The kids will be introduced to the newest Wiggles, Emma Watkins, Lachlan, Gillespie, and Simon Pryce who will step in as the new Yellow, Purple, and Red Wiggles, when the last 3 of the founding Wiggles say goodbye to the roles, and take over a stronger behind-the-scenes presence. They will be developing content and writing new songs.
The live concert was filmed during the groups Celebration tour from around the world. It features a song line of:
The Wiggles Celebration DVD  includes the following tracks:
* Wiggly Circus Jubilee
* Here Comes a Bear
* Rock-a-Bye Your Bear
* Ooh It's Captain Feathersword
* Occi Tocci Onga
* Here Comes Our Friends
* Getting Strong!
* We're Dancing with Wags the Dog
* Henry's Dance
* Romp Bomp a Stomp
* Dr Knickerbocker
* Teddy Bear, Teddy Bear, Turn Around
* Up, Down, Turn Around
* Ooey, Ooey, Ooey Allergies!
* The Monkey Dance
* Wiggle 2012 Medley
* Let's Have a Party (Instrumental)
And as an added bonus, it  features: A goodbye message from Greg, Jeff & Murray, song clips featuring the new Wiggles, and a special photo gallery!
This DVD is sure to get your kids and everyone else in the house, up and wiggling along with the songs and enjoying themselves. The new DVD from NCircle Entertainment is available on Amazon, as well as other retailers, online and off, and retails for $12.99 SRP.