I received this book for review. All thoughts are my own. This post also contain affiliate links. This means if you purchase from the links in this post, I earn a small commission that goes to keeping this site running.
I have been wracking my brain on things to get my step son for Christmas. He is technically an adult now and he is getting so hard to buy for. One thing that he loves is just random facts. He has this ability to remember things that most people barely even notice. So when I came across the The World Almanac® and Book of Facts 2016,  I knew it was something that he would love.
The The World Almanac® and Book of Facts 2016 features things like some of the most memorable milestones in 2015. It also features things like what caused the biggest uproar for fans at the Women's World Cup or how did the U.S. immigration policy evolve to where it stands today.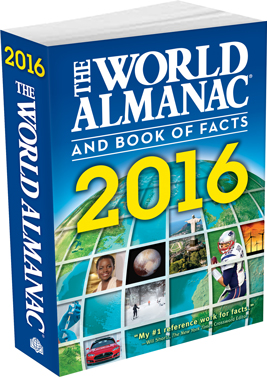 While 2015 may be coming to a close, the events will endure in The World Almanac® and Book of Facts 2016, available in print on December 1 and as an eBook for all platforms on December 9. This latest edition of America's best-selling reference book contains thousands of facts that are unavailable publicly elsewhere, and will quickly become your go-to source for the upcoming year.
Looking for some new features in the The World Almanac® and Book of Facts 2016?  New features include "U.S. Immigration: A Statistical Feature," covering the historical background, statistics, and legal issues surrounding immigration; "World Almanac® Editors' Picks: Most Memorable Super Bowls," in which the editors revisit the most unforgettable "big games;" as well as brand-new employment statistics and a 2016 election guide. Making their return are the popular sections "Year in Sports," "Top 10 News Topics," "The World at a Glance," and "Time Capsule."
"The World Almanac® and Book of Facts has remained a constant, authoritative source for well over a century," said Sarah Janssen, senior editor of The World Almanac®. "Although our world is constantly evolving and breaking news is always a click away, there are some events you want to keep in a tangible record. With The World Almanac® and Book of Facts 2016, the events, places, and people of 2015 will be documented for all generations to come."