This post brought to you by Gulf County, Florida. All opinions are 100% mine.
I am a beach girl through and through. there is nothing better than sand between my toes. Growing up on the beach was the best place I could ever imagine being. Since becoming a mom, I have deiced that it is my goal to show my kid sthe beach in every state that has one. One of the places on our list is Gulf County in Florida.
With no high rises, no highways and gorgeous white-sand beaches that have spectacular sunsets. The Gulf County is 43 miles of natural shoreline located at the Gulf of Mexico and St. Joseph Bay. Since Gulf County sits in two time zones, with only two stoplights and spotty Wi-Fi, the natural landscapes like bayous, unexpected wildlife encounters and the mysterious Dead Lakes have their chance to shine. There are seaside bike trails, kayaks, stand-up paddleboards and snorkeling. There are places, like the historic Indian Pass Raw Bar and flavors like Tupelo Honey. It defintely makes for a "no worry, no hurry" way to spend your time.
The Come visit GCFL site offers so much information for planning a trip to the area. I am making my ideal itinerary. It will be hard for me to narror it all down to do in a short amount of time. Water activites like, fishing, snorkeling, diving, kayaking, paddle boarding and boating. And lots of outdoor activities like camping, biking and walking trails and beach horseback riding. And of course, the amazing sunsets.
Right now, you can enter to win one of 5 long weekend getaways for Spring to Gulf County using #GCFLnofilter. GCFL will be drawing a new winner every week, plus an additional winner at the end of the sweepstakes. The getaway will include aplace to stay in some of the unique places along the Gulf and each package include $200 to help for travel and $150 towards your choice of activities or use it once you are back home.
Want to know how to enter? That is easy. Using Instagram, take a selfie of yourself doing something outside that you love. It can be anything, like hiking, biking, running, fishing or playing a sport. Be real. Be messy. Just you doing something that you love. As you post you selfie, be sure to write what you are doing when you share it. Also, include #GCFLnofilter and use @gulfcountyfl in the caption!

Like This: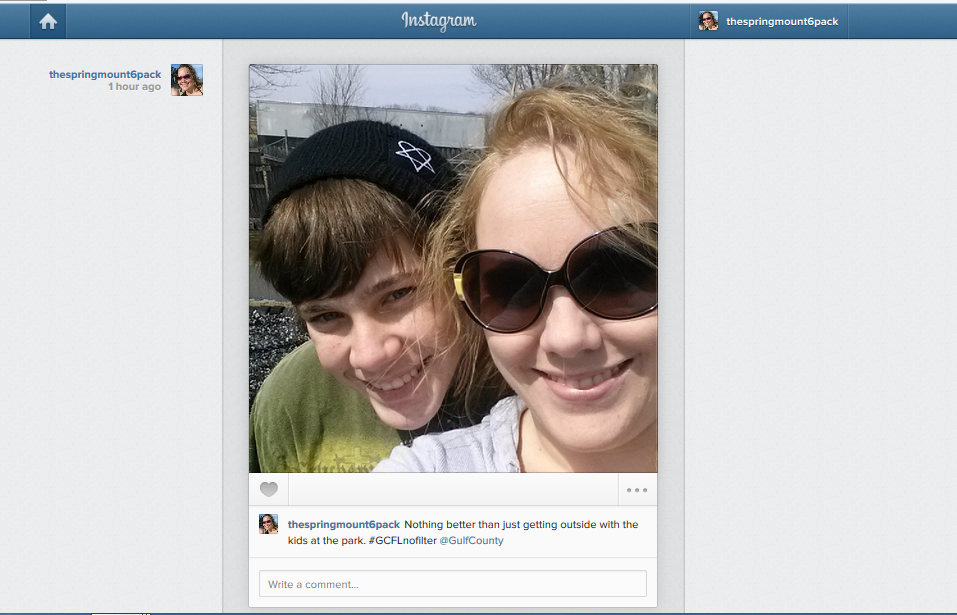 This is my son and I hanging out at the park. Just running around, getting some sun and having fun together. We just love being outside and horsing around.
As an added bonus: GCGL will donate $1.00 to Outdoor Nation (up to a final donation of 5,000!) Outdorr Nation is a movement helping to connect kids and teens back to the outdoors.Out Door Nation belives in helping the Milennial Generation to the outdoors. They fully believe that the health of all the communities and the health of the planet deoend on it.That by itself is a reason to take a selfie.
Be sure to Like GCFL on Facebook and salute real beauty!
So, tell me, What would your favorite thing to do at GCFL be?