I was provided a sample of Thundershirt for our dog to facilitate this review. All thoughts are my own honest opinions.
It is late at night, and I am settling into work. Everything is quiet and peaceful and then BOOM, CRASH. The thunder has started. Poor Angel is now shivering and this sweet little dog who could have been sitting so quietly and sound asleep a minute ago, is not trying to see how far she can get into my lap, while shaking like a leaf.
Angel didn't use to be afraid of thunder. It use to come and go, and she barely noticed. Then one night, there was a huge crash that seemed to come out of nowhere, and it caused everyone in the house to jump, and someone yelled. Pretty loud. When they did, they scared the dog and the cat. Now, both are scared of thunder.
I kept seeing the Thundershirt advertised on TV. It was supposed to help solve the anxiety issue. By putting the special shirt on the dog during a thunderstorm, the puppy was supposed to feel better and relax.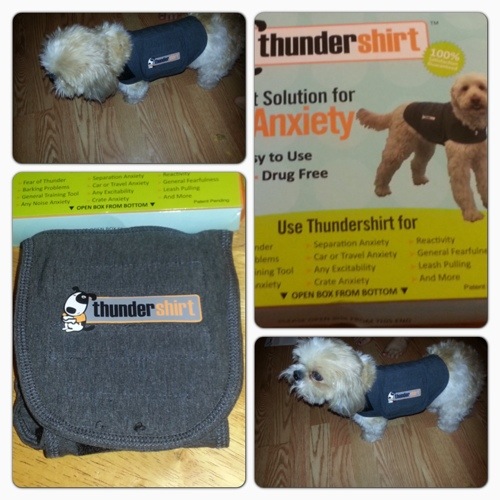 We gave the Thundershirt a try. While Angel only has anxiety during a storm, and when she thinks we are leaving without her (not a real anxiety but she will follow us around, the shirt is also great for other anxieties too. Whether your dog has anxiety about traveling, being in a crate, or being separated, the shirt is supposed to cover those problems too.
When you get the shirt, it says to have the dog sniff it, maybe use it for as a plate for a treat. Then have the dog wear the Thundershirt around, while it is not a scary situation. This way, they do not associate the shirt with something scary. With Angel, she seemed to love the shirt right away. It took a little while for us to have a "good" thunderstorm and really give the Thunder Shirt a real go. So thanks to summer being full of storms, we were able to get a doozy of a night to try it out.
We had already spent a few trial runs in the shirt, and Angel was pretty used to it. She got very upset as the thunder started and we wrapped her up in it as the storm started. She settled right down and relaxed. While she still wanted to stay close by, she was not a shaking mess and didn't seem terrified.
There is a lot of science behind the Thundershirt. The shirt goes on very easy, so there is no added stress of trying to get it on. It doesn't go over the head, but simply wraps around the chest and belly of the dog. Like a hug. This kind of pressure and hug-like sensation is used with infants and with children who have autism.
We are loving the Thundershirt for Angel and since they have Thundershirts for cats I am thinking about getting one for the cat soon. They also have Thunderleashes, treats, toys and caps. You can order your Thundershirt online through their website. And I think it is worth every penny.