Over past year my life has changed a lot. The blog has started producing an income and my husband has a much better job. And while our money issues are not as severe as they use to be, it doesn't mean we are rolling in it. In addition to all of the bills we normally have, we added a new car payment plus my son has started taking college classes while in high school (AHH!). So there is no throwing out our frugal budget. Actually it feels like I have had to get a little tighter on the purse strings.
But being frugal does not mean that I can't buy the girls and I fun girly things to keep up feeling pampered.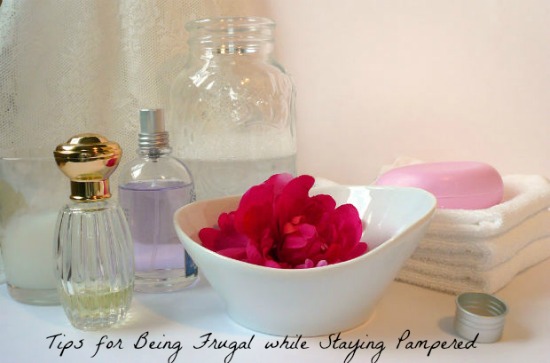 Tips for Being Frugal and Staying Pampered
The girls love nail polish. I mean they love it. They will paint and remove the polish from their nails a few times a week. It is kind of crazy actually. But I can grab nail polish from the dollar store, or buy some of the extra special kinds from CVS or other drug stores. They are cheaper there, but when I use the reward points I get from buying things I already need or use some coupons, I can get the girls some of the nail polish that they absolutely love.

Make Up- Again, my little girls are nuts about it. They are only allowed to wear it while playing dress up, in the house, when we aren't going anywhere for the rest of the day. But the love it. They love to add lip stick and or eye shadow. I often get them makeup after holidays. Since we are not fussy about the type, kind or color, I have no issue grabbing whatever colors they have. If you are selective, like I am for myself, it just takes a bit more searching. At Christmas I was able to get the girls, and even myself, some great makeup kits. Those giant make up kits that are made to give as gifts. I got the girls 3 sets for $2.50 a piece.
Use a great discount perfume site. This is where my way of pampering comes in. I love to have a pretty, light scent. Back when my oldest was a baby, my husband bought a giant bottle of Obsession and paid over $100 for it. I still have half a bottle. I use it sparingly. But there are only a few perfumes I can even handle the smell of. And those cheap dollar store brands just do not agree with me. They tend to give me headaches. I just can not do those cheap ones. But buy buying them on sale or from a discount site, I can grab some when we have a few extra dollars and feel like I spent a fortune.
Buying clothes from a second hand, gently used store. While I am only just getting into the whole looking fashionable and being a mom, I do not have the budget to redo my wardrobe. I depend on these type of store. Many times, I have found that there are beautiful clothes that look brand new, and even ones with their tags on. I get clothes like this for my kids too. They can wear all of the big priced brand names they love, and I can pay discount store prices.
What are you tips for saving money without losing on on the pampering you deserve? I would love to hear them.