Disclosure: This post about Family Debt is sponsored by Philadelphia Federal Credit Union.
If you are looking for ways to get out of debt, you might feel overwhelmed. Use these tips to help you manage family debt and to stay on track.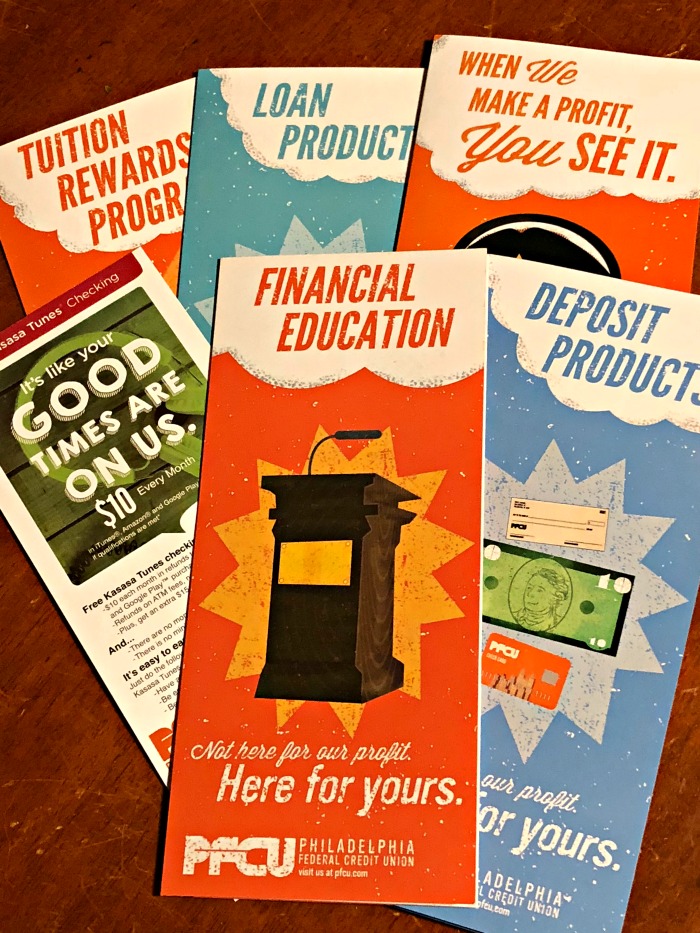 There are many kinds of debt that a family could be facing. It could be credit card debt, dealing with loans and mortgages, or just everyday expenses that you are not able to pay. You might also be looking at trying to save for the future, like retirement or college. No matter what the debt is or how you got it, you want to get a handle on it and get out of debt.
Why You Need to Work On Getting Out of Debt
No one likes the stress that comes with being in debt. It can be the biggest worry you face. It can interfere with your health, because stress can take a toll on the body after time. It can also be a point of contention in your marriage or relationships. Most couples fight about money more than anything else. Being in debt can also get in the way of saving for retirement or college.
Strategies for Dealing with Debt
One of the first things you want to do when dealing with debt is to know exactly what you owe. You want to gather all the bills, creditors and loans to know exactly what has to be paid each month. The next step is to figure out exactly how much income you have to cover these debts. Then create a budget.
For many people this is a struggle. They want to create a budget, but they have no idea where to start. While there are a lot of resources online, some people still struggle to come up with a real budget and a plan they can stick to. Sometimes it helps to see a professional. PFCU, the Philadelphia Federal Credit Union, offers financial counseling and education. We recently sat down with one of the educators to learn ways of dealing with different kinds of debt. Read more about it here.
Credit Cards: When dealing with credit card debt, the first thing to do is to stop using the cards. If you are trying to eliminate debt, and you keep using the cards, it doesn't matter that you are making your minimum payments on time. The balance continues to go up, and the debt is still there.
Loans: When paying off a loan, you know what the payments are each month. You know the balance isn't going to keep increasing, like with credit cards. As long as you are making your payments, the loan decreases and the debt will eventually be paid. This includes mortgages, car loans, even college loans.
Having a financial counselor who helps you through the steps of looking at each bill and your income can be more helpful than anything you read online. That is because the person who is helping you knows the strategies and can apply them to your unique situation. We recently sat down with one of the financial educators at PFCU to learn more about what the Philadelphia Federal Credit Union has to offer and learn how we can get a better grip on our debt, and ways to help our money grow.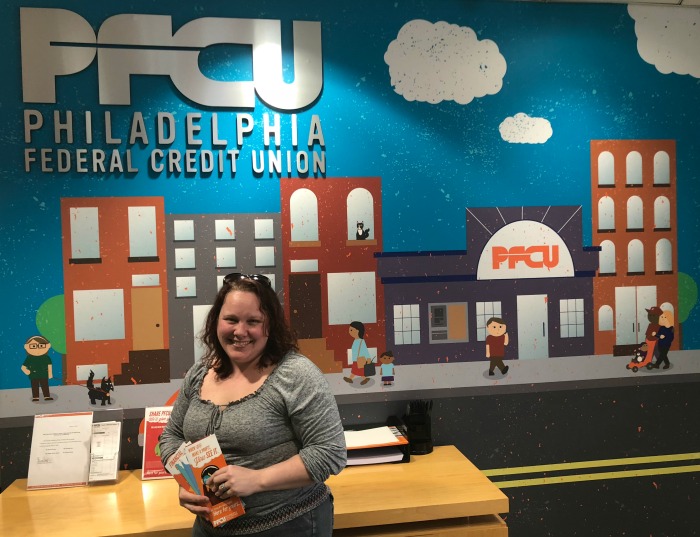 Emergency Fund
If you are a follower of Dave Ramsey's budget and money programs, you might already know that you need an emergency fund. This is one of the key aspects that you must have when getting out of debt. Erin, our counselor at PFCU, mentioned this too. See, if you are working to clear the credit cards and loans, and then have an emergency, like the car breaks down or something in your house breaks, or even an emergency medical bill, you have to find a way to pay for the emergency. If you don't have an emergency fund, you are going straight for those credit cards. And while it is a bandaid on the immediate problem, you are right back where you started. You have more credit card debt. This can lead you right back down the same path.
How Can I Create an Emergency Fund
One of the first things I hear from people who are dealing with debt is, I have nothing left to save each month. You finacial counselor can help you find the room in your budget. Another option, especially for people who have a hard time saving, out of sight out of mind is the best policy. There are several ways to save without even noticing it.
Payroll Deduction
If you have a savings account, or if not, open a new one, and then have a portion of your paycheck sent directly to that account. You can set it as low of $10 a paycheck, depending on your company's rules. But it can be a small amount you won't really miss. This goes to your savings account and is there when you need it. The money can add up fast.
Secured Loan
I recently found out the PFCU offers a secured loan, but not like traditional secured loans. With a secured loan, you normally must give the bank or credit union the money up front and then you pay for it each month. Why would someone do that? Because it can be a way to raise your credit score. Since you are paying the loan payments each month, you get a raise in your credit because you are making on time payments, and at the end, it shows you have fulfilled your obligation. That is great, but if you are struggling with money, who has that kind of money to put out. ? With PFCU, you get the loan, and it doesn't matter your credit because they do not even check it. The loan money is placed in a savings account, that you cannot access. Then you make the payments each month. When the loan is paid off, you get the money from that account. Yes, you have paid a little more than what you receive, because of interest, but the interest rate is low, sometimes as little as $6 over the amount of the loan. Either way, now you have that money and your credit has gone up.
These secured loans can be a great idea for trying to build your emergency fund, save for something special and fun, or get started on saving for a house or a car.
Once you have gotten the debt under control, you can start to look forward for ways to save. One of the ways we are starting to save is by opening an account with PFCU. You qualify to have a PFCU account if you live, work, study or do business in Philadelphia. That is a very broad way to become a member. We wanted to bank with PFCU because there are no hidden fees, no monthly maintenance fees and better interest rates.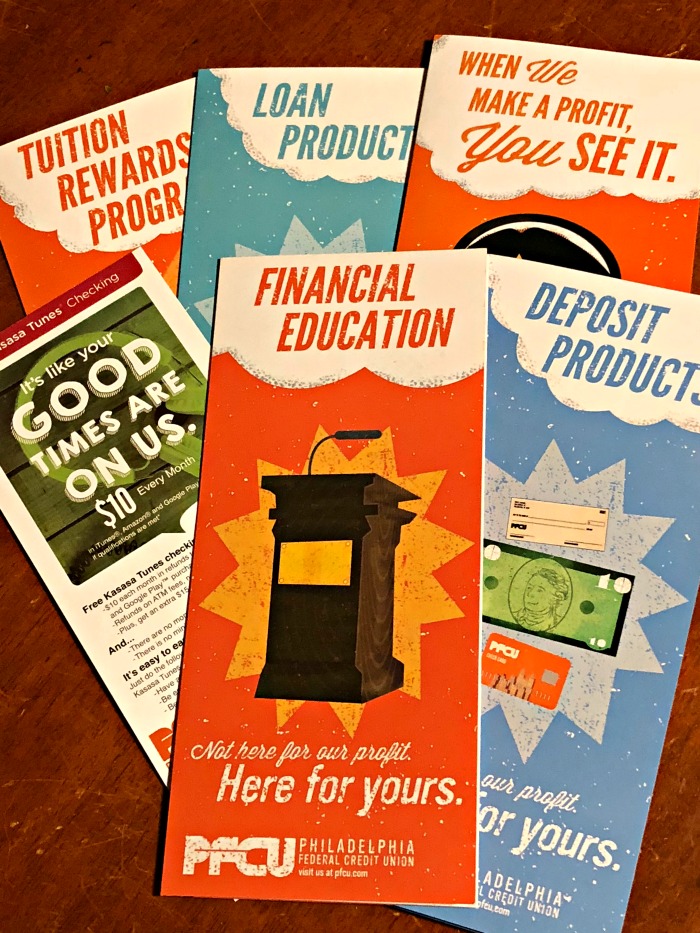 Why Become a Member of PFCU
The Philadelphia Federal Credit Union isn't motivated by profit. They offer personal service, fantastic rates, and exclusive member benefits. The money they make goes back into the services they can offer their members, like higher dividend (the credit union version of interest) rates on your savings and lower loan rates.
Once you are a member of PFCU, there are many programs that can help you save money. We are excited to open our new checking account that has free ATMs at most other credit unions and anywhere the ATM is free, like Wawa and 7-11. Also, if you have an Kasasa account, you can get ATM fees from other banks ATMs refunded in your account at the end of the month.
What PFCU Offers
In addition to the financial counseling and education, PFCU also offers:
Saving Accounts – There are many ways to save with PFCU. There are regular saving accounts, Holiday and Vacation Savings accounts, High Yield saving accounts, Money Market savings, Saving Certificate and even Health Saving Accounts to help supplement high deductibles health plans or to save for future health care expensive.
Checking Accounts- There are several checking account options at PFCU. There is a regular checking account, two Free Kasasa Checking accounts with rewards, a Better Checking account, and even Senior checking. While there is no minimum balance to the regular checking account, if you maintain a $1000 balance in the Better Checking account, you earn dividends. With the Senior checking account, the minimum is $500 to earn dividends and you have to be age 50+.
Youth Accounts – Kids need bank accounts too. With the Moola Moola Savings Club, kids 12 and under earn dividends if the account maintains a $50 balance. For kids 13-17, there is a CU Succeed Teen Program. This program helps kids learn about handling money, establishing and keeping good credit, and receive a quarterly newsletter as well as access to educational information online that cover everything from buying a car to getting a summer job.
Like a traditional bank, PFCU also offers, retirement savings accounts, Traditional and Roth IRAs, and Coverdell accounts.
When you are ready to get help figuring out how to knock down your debt, or just want a bank (or in this case, credit union) that is there for you and wants to help you get the most from your bank and your money visit one of the PFCU branches to learn more information or check