One thing I try really hard not to do to a new mom is give advice. It is one thing to help, if asked, and offer suggestions, again if asked, but over all I try to keep my parenting advice to myself. Here's why: When I had my first munchkin, 18 years ago, I had some idea of what I was doing, as in basic care, but I had never been handed a child and told, ok you are on your own now. Make sure you get to be a happy well adjusted adult. I was lost. But I knew the things that felt right to me. The problem was, so many people decided that they needed to help me get my kids into well adjusted adults, that they felt the need to tell me everything. And by everything I mean, how I should parent, what I should do, and all of the things that I was doing wrong. A lot of times, the advice they gave was completely different than what someone else was telling me. And worse still, there were lots of times that it differed from I felt was right.
My Best Tips for New Moms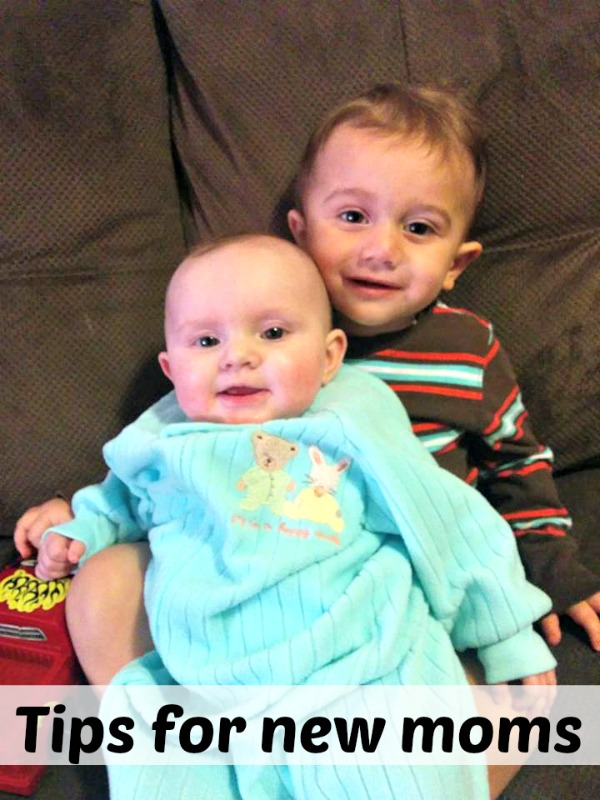 That being said. There are a few things that I have learned along the way, that I think moms should know.
Take lots of pictures and videos. You will spend a lot time the first few months in an exhausted haze. Ok, let's be honest, you will spend many years in an exhausted haze. Take lots of pictures to remember how small your baby was. Don't wait until it is an important time to take pictures. Take pictures, and especially videos of every day moments. Also, get in those pictures. I don't care if you hate the way you look (ex: too tired, too fat, too ugly, need a shower, whatever) Get in those pictures.
Sleep whenever you can: All the mess can wait. Being a mom takes a lot of energy and you will spend a lot of time losing sleep. Whenever you can, catch a few minutes of extra shut eye and  recharge your batteries.
Save money when you can: Babies need a lot of things and it is amazing how fast the money spent adds up. Find ways to save money. Get a Sam's Club membership. It is a great way to stock up on the things that you need for the baby, plus all of the things that you may need for the house. You can use your Sam's Club membership to get things like diapers, baby formula, and baby food. Also stock up on things like laundry soap and even food. Another way to save money is to buy baby clothes from second  hand stores. There are great  high end consignment where you can get brand name clothes for your baby at a fraction of the cost and that look like new. You can usually find them locally or even at some online stores.
Have a trusted diaper: There is nothing worse than a diaper that leaks and makes a mess. A diaper that leaks causes extra laundry, and messes to clean up around the house. It is even worse when you are out and about and there are leaks. You also want a diaper that you know will get the wetness away from your baby so that they are dry and comfortable. Little Snugglers from Huggies offers outstanding protection.
Huggies offers outstanding skin care with a GentleAbsorb linker and wetness indicator. It had a leak lock design for up to 12 hours of protection and a pocketed back waitstband to help keep runny messes inside. A great way to save money and get great protection is to get your Little Snugglers diapers at Sam's Club. You get a better price for even more diapers.

There is no such thing as too many hugs and kisses: I know that goes without saying. How can you resist that adorable little smile and chubby little cheeks. Kiss them, smooch them, just love on them. It makes you happy, it makes your baby happy and that is what it is all about.