I have incredible thin hair. I think my 6year old, who has baby fine hair too, has thicker hair than me. What makes my hair a pain is that not only is it fine, there isn't much of it. I have always had fine hair, but I used to have a lot of it when I was younger, so it was at least harder to tell. I am not sure if my hair has gotten thinner over the year from age, from processing it or maybe having teenagers (and I am slowly ripping it out of my own head) but whatever the cause, I now have incredible thin hair.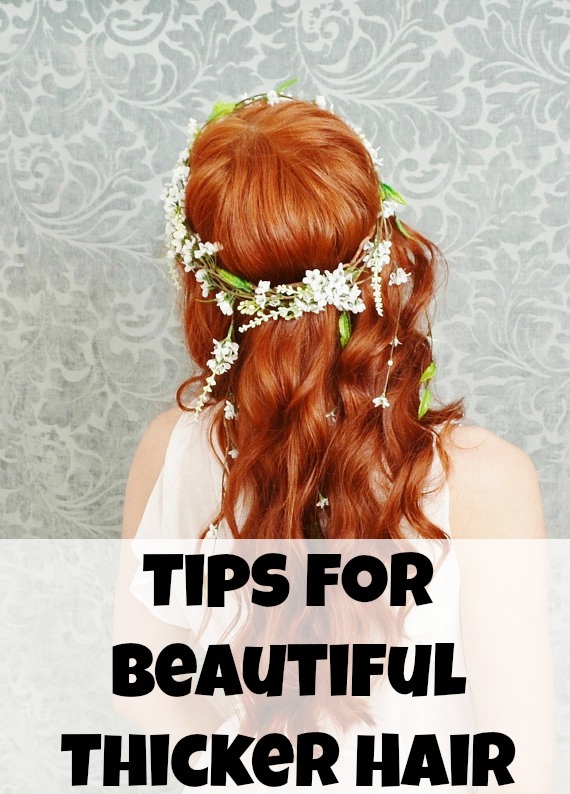 Having thin hair makes me feel self conscious. There are a few reasons why. I feel like I am starting to look like I am losing my hair. I miss having that long fluffy, shiny hair that falls into the sexy range and I also worry about it continuing to get thinner and thinner.
Tips for thicker hair
Use Natural Hair Cleaners: The chemicals in shampoos can strip your hair and damage it, causing it to break easier. If you are using cheaper shampoos it can be even worse. Try to use shampoos that have natural ingredients and try to stay away from sulfates.
Coconut Oil: Coconut oil has a natural plant extract that can strengthen and fortify your hair. It deep conditions the hair to stop breaking and split ends. It can actually make your hair stronger and appear more thick, feel softer and even look more healthy.
Eat Well: The way you eat can affect your hair. Eat high protein foods and food that has zinc, vitamin B, C, D and E. These vitamins and the protein encourage hair growth.
Fenugreek Seeds: If you breastfed any of your babies, you might have heard of fenugreek before. Taken as a pill it can help a mamma make more milk. Using the seeds of Fenugreek and making a paste with them, can help you get thicker hair. Start by soaking two to three tablespoons of fenugreek seeds in water for eight to 10 hours. Then, Grind the soaked seeds into a fine paste. Apply the paste on your hair and scalp and allow it to sit for about 30 minutes before washing your hair with lukewarm water.
Use ROGAINE®Women's ROGAINE® Foam: If you have tried the natural routes and you want something that is going to give you results you can see and trust, think about Women's ROGAINE® Foam. It is the first and only FDA-approved once daily treatment with 5% minoxidil proven to regrow hair. Unlike cosmetic thickeners which just coat hair and temporarily mask the issue, Women's

ROGAINE

® Foam helps prevent further thinning by regrowing thicker hair. It is easy to use, just apply once a day and it is safe for color treated or chemically processed hair. Most women will regrow hair in as little as 12 weeks and see visible results in 24 weeks. There is a Women's

ROGAINE

® Foam coupon available to make trying Women's ROGAINE® Foam even easier.
Many women think that their appearance is tied into their hair. Whether it is going to be a good day or a bad day, can often be determined by whether they are having a good hair day or a bad hair day. If thinning hair is making you nervous or causing more bad hair days that good ones, I hope these types and tricks help, but the only long term solution is Women's ROGAINE® Foam so together you will achieve optimal results.
Women's ROGAINE® Foam product was provided by the brand. I was selected for this opportunity as a member of Clever Girls and the content and opinions expressed here are all my own.