Thank you to thinkbaby for sponsoring this conversation on protecting baby's skin from the sun.
You know that you need to protect your baby's skin from the sun. You want to make sure that your baby isn't getting sun burned and you want to make sure that you are not letting the baby get exposed to harmful UV rays. While it isn't hard to keep your baby protected, it is helpful to know what you can do to make it easier.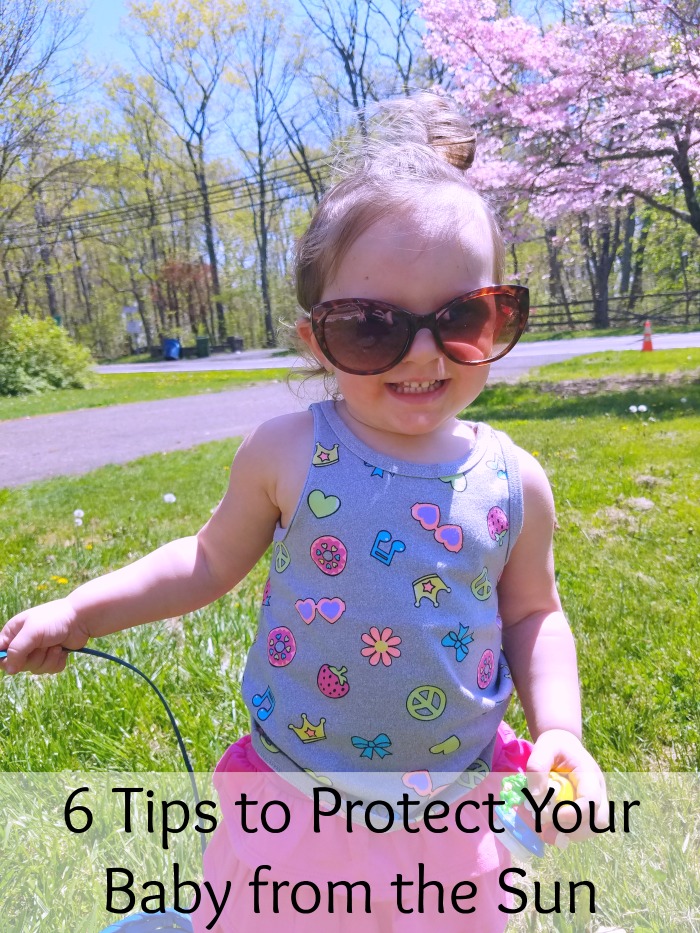 Protecting Baby from the Sun
1. Think about what time of day you are going to be outside. The sun is the strongest between 10am and 4pm. If you can avoid being outside during that time of the day, it is the easiest way to avoid the harmful ultraviolet rays.
2. Sometimes you can not control what time you will be outside. If that is the case, try to keep your baby in the shade. I know that is easier said than done when it comes to a toddler, but it is something you will want to try. If you plan to be at the beach, bring an umbrella. If you are using a stroller, try to keep the shade pulled over the baby. It is a way to have portable shade.
3. If you can not be in she shade, try to keep a hat and sunglasses on the baby. Some babies will always pull off their hats and glasses. Try to get a hat that has a strap that holds the hat on or a strap for the sunglasses.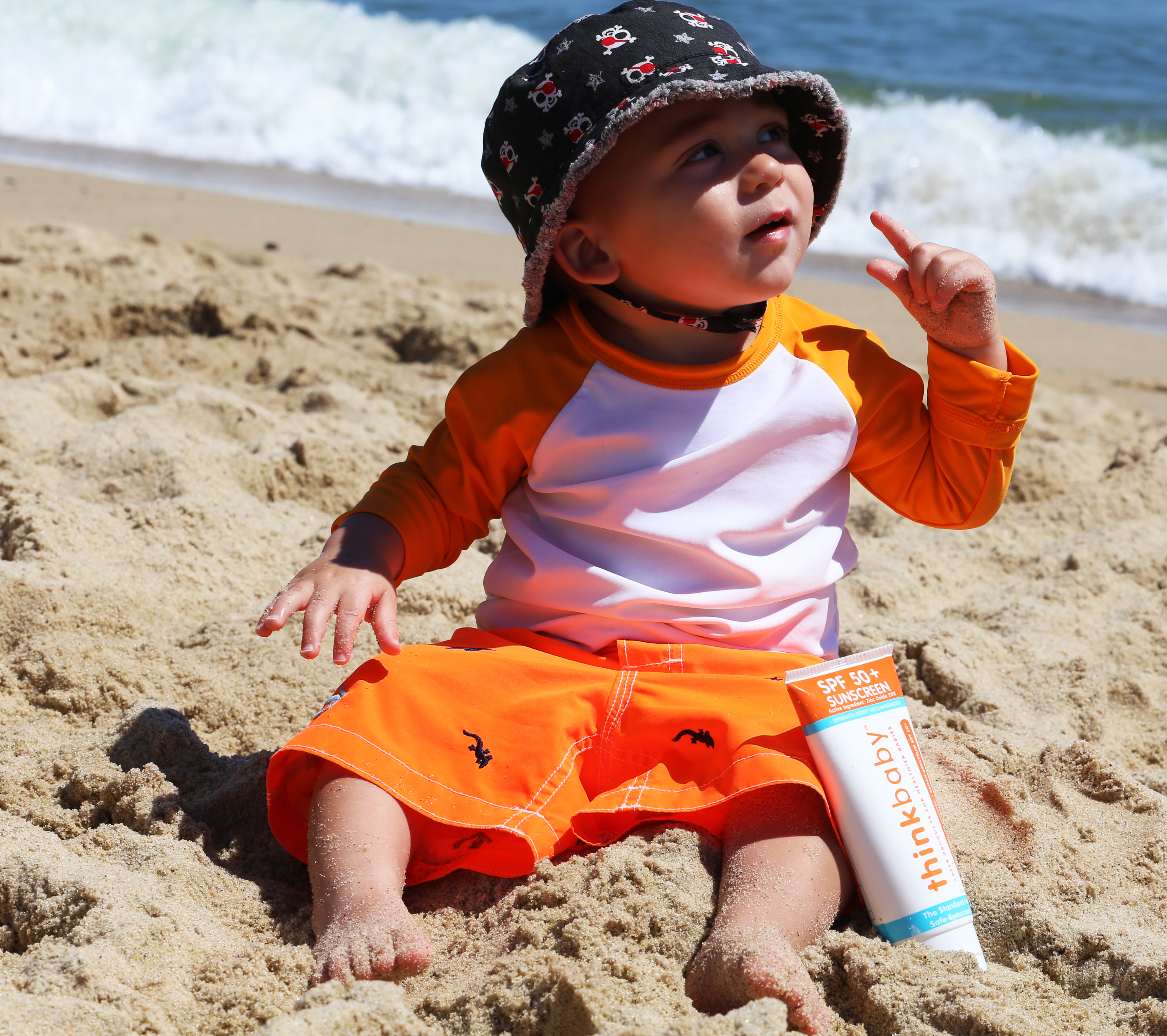 4. My daughter has the fairest skin I have ever since. This child has been known to burn in a few minutes on hot days. Trying to cover her when we are at the beach or the pool is difficult. I always use a swim shirt with her. It is specially designed to give her ultraviolet protection. This way, there is less skin exposed and the rays at not penetrating through the bathing suit.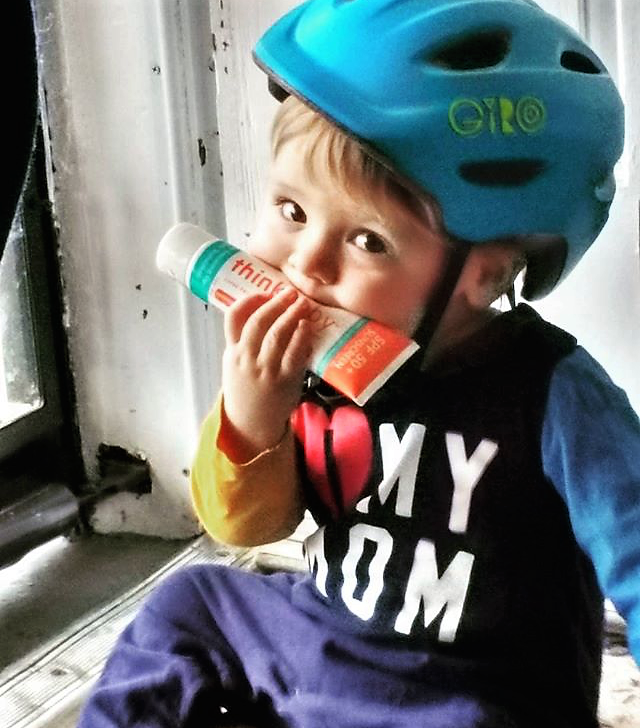 5. Try light weight clothes that cover as much skin as possible. Since it will be hot, you want to make sure the outfit is breathable, but dark clothes that have a tight thread pattern work best because it lets less light through. You have to walk a balance between what is too hot and what provides skin coverage.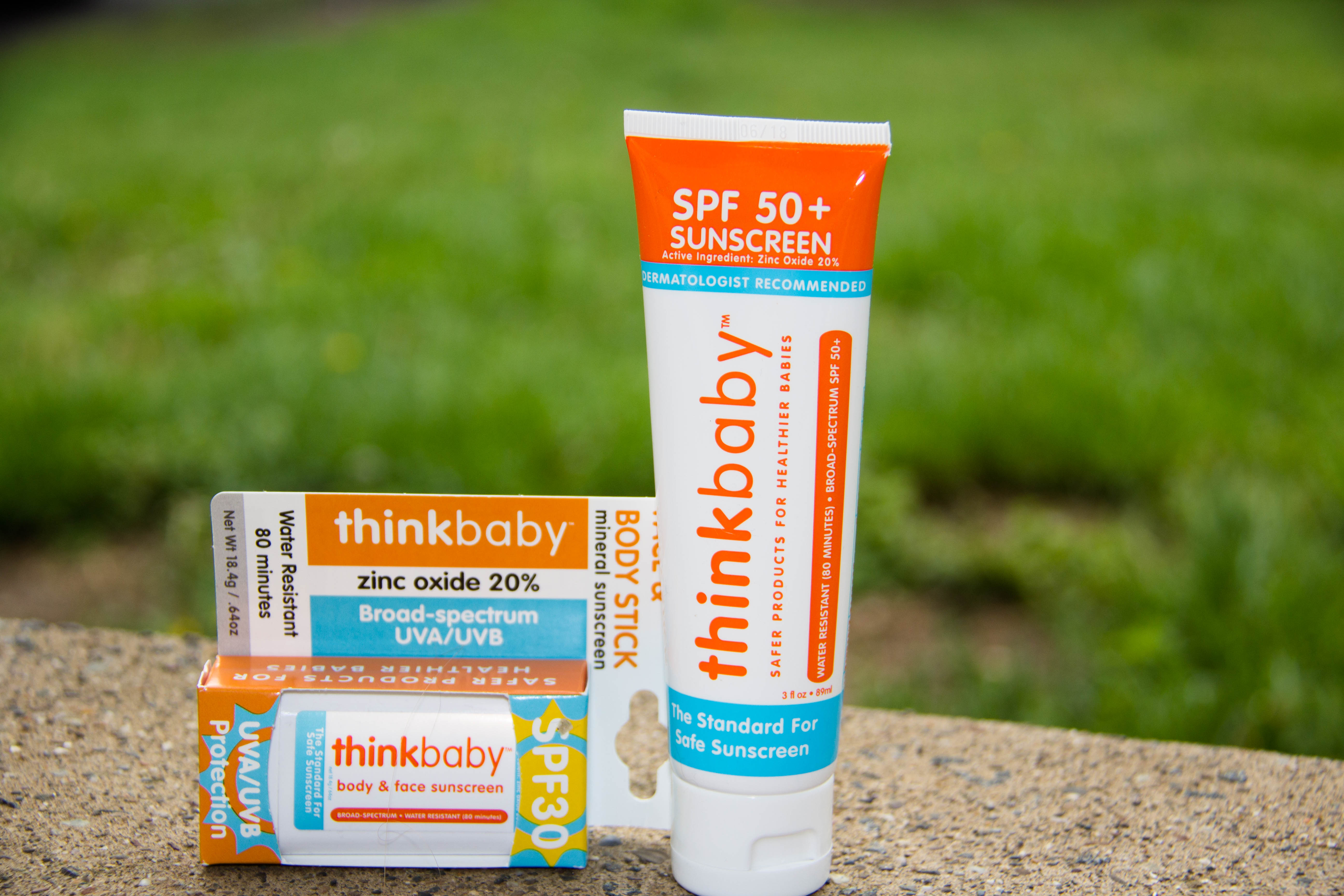 6. And of course, always use sun screen. You want to use sunscreen every day, year round. The ultraviolet rays are still strong in the winter or over cast days, even when you think you are safe. Make sure you are using a sunscreen that provides fantastic coverage. thinkbaby is not only a sunscreen that comes in a high SPF (50), it also is a non-toxic mineral based sunscreen. thinkbaby and thinksport sunscreen does not have any of the harmful chemicals that some sunscreen have. Since launching in 2010, thinkbaby has become the most award-winning sunscreen on the market.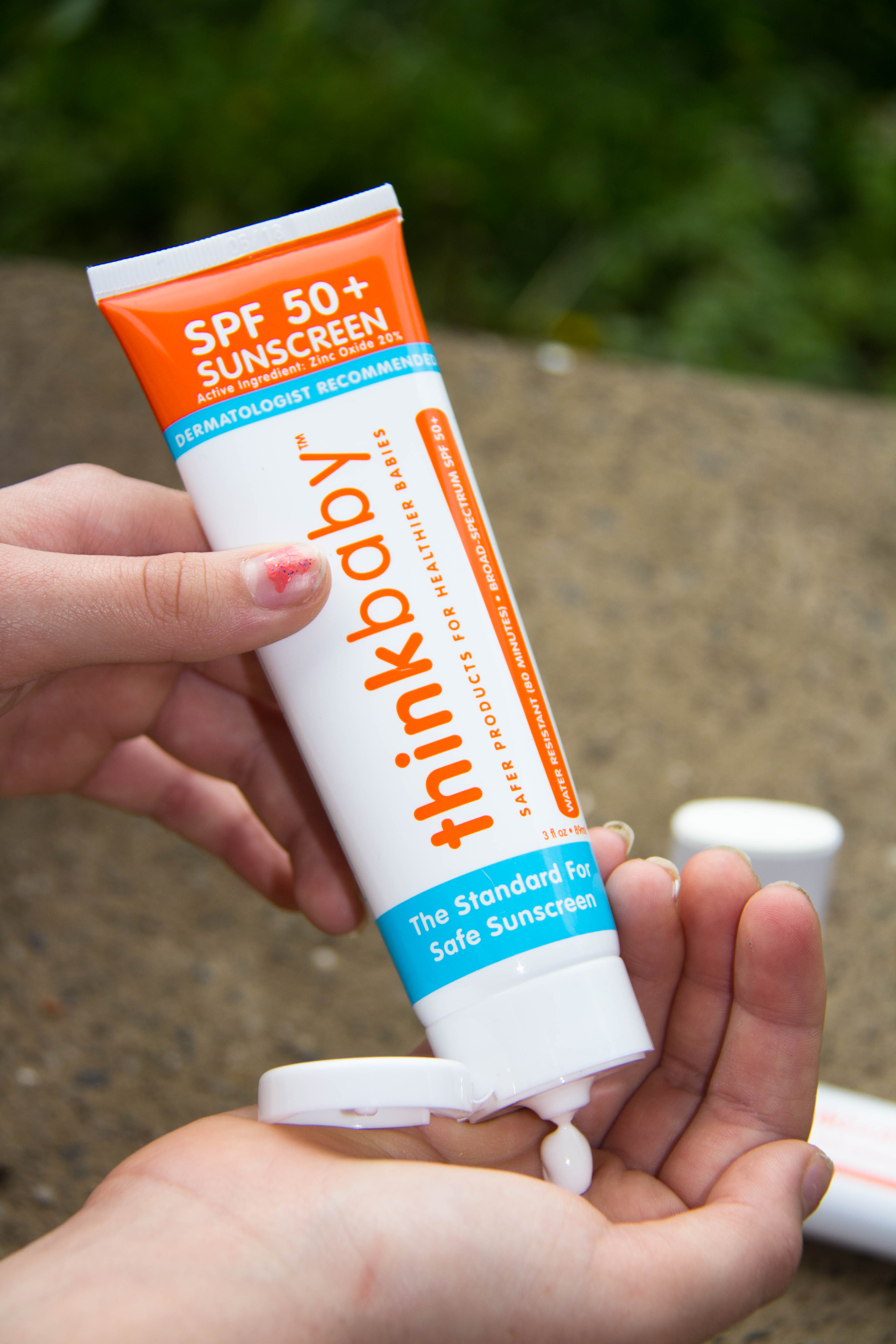 thinkbaby has 2 types of sunscreen options. There is the traditional cream that is great for slathering all over your baby, and you too for that matter. The other is great for using on your baby's face. If your kids are like mine, they hate having sunscreen put on their face. My daughter is always worried about getting sunscreen in their eyes. The thinkbaby sunscreen stick is great to putting sunscreen on baby's face but it also works for the body.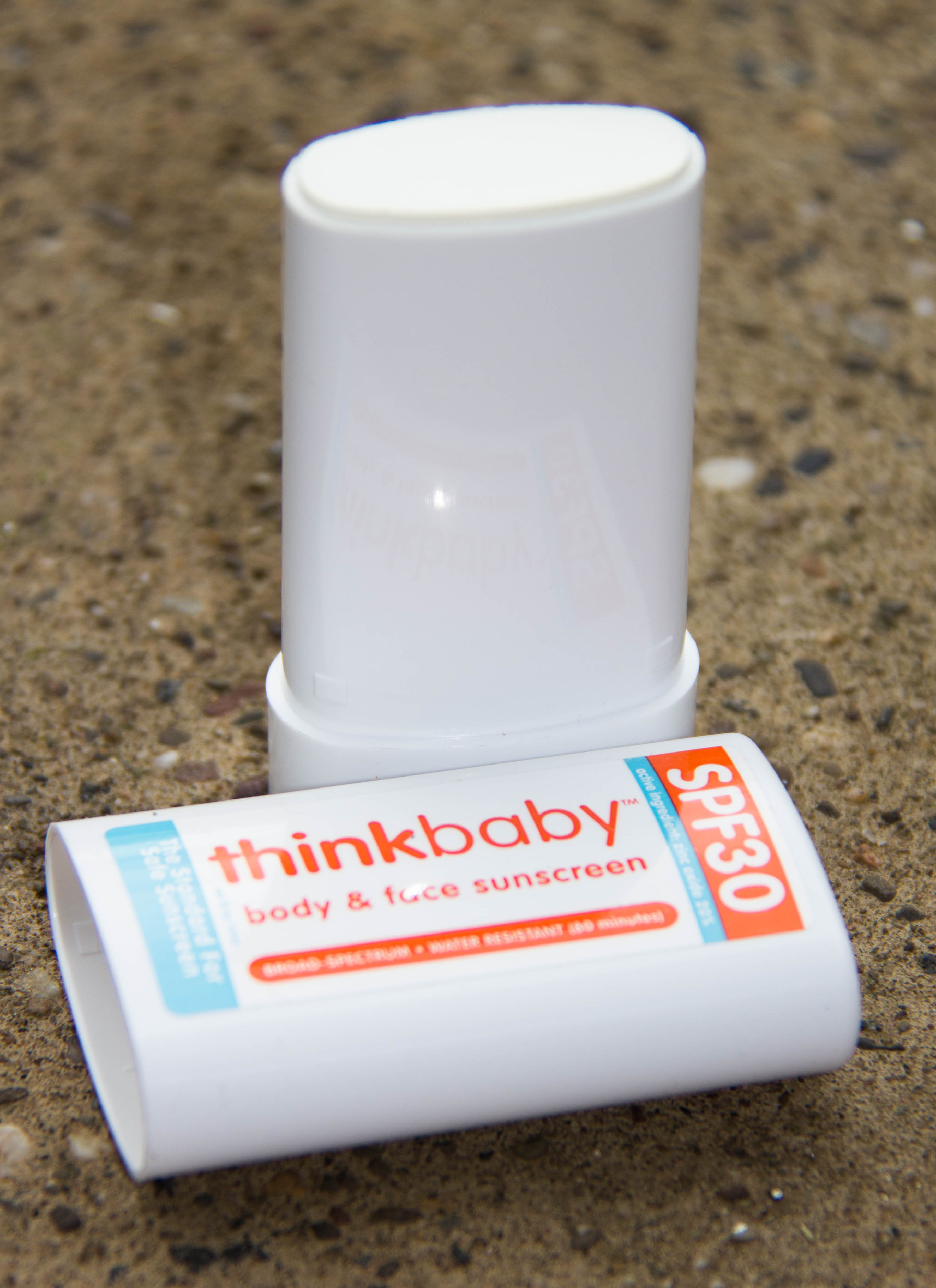 What makes thinkbaby and thinksport special? It is a USA produced mineral based sunscreen that is the first sunscreen to pass Whole Foods Market Premium Care requirements, is top rated "1" by the Environmental Working Group since 2010, has the highest level of SPF, UVA/UVB and water resistance allowed by the FDA, no animal testing and are a part of the Leaping Bunny, and thinkbaby is a member of the Safe Cosmetics Campaign Compact. These are some pretty impressive facts.
Be sure to pick up your own thinkbaby mineral sunscreen today before the summer heat kicks in.