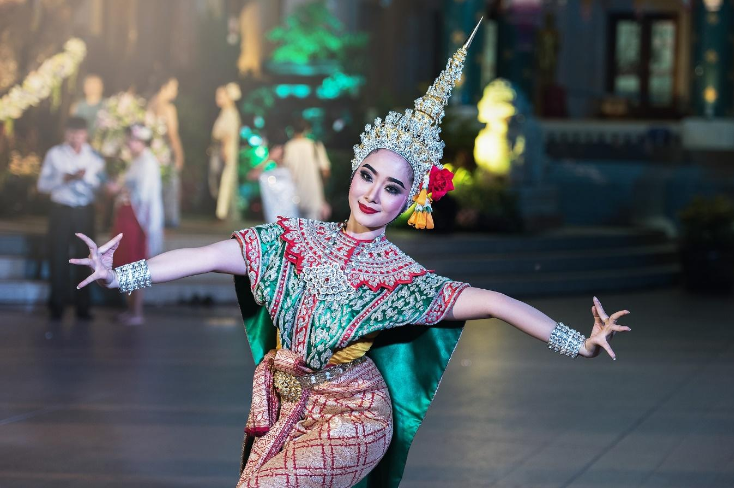 Image Credit: Pixabay
Visit the Real Palace of Bangkok
In the Temple "Wat Phra Kaeo", a very impressive architectural site, you can find the most sacred statue of all Thailand: the Emerald Buddha. The temple is one of the most important touristic attractions in Thailand, and is located in Rattanakosin Island. As you can see, the temple Wat Phra Kaeo has Pagodas (buildings with several floors), and they are covered in gold! If you walk a little more, you can find other magnificent structures: the Wat Po and the National Gallery.
Swimming in the Thailand GulfYou can´t leave Thailand without visiting the beautiful beaches. If you want, you can go to Koh Samet Island or Chang Island. There are a lot of activities and things to see. After dancing all night in Pattaya and trying delicious foods from Koh Samui, you can head out and see the natural treasures: the peaceful and beautiful beaches. Some families really love Koh Tao beach. Year after year a lot of divers visit that very beach and enjoy the water; Koh Tao beach is now one of the better places to dive. Do you not like city life? You really need to visit the Koh Chang Marina National Park, located in Koh Mak.
Swimming in the Andaman sea
Looking for adventure? Kayak fan? The islands of the province Krabi and Phuket are what you are looking for. There are delicious cocktails to enjoy with friends on the beach. Krabi has huge, impressive cliffs with beautiful vegetation. You can see in Krabi very romantic sunsets, and around the Andaman Sea, you can organize different excursions. Head over to one of the most spectacular sites: the Phang-nga, with lots of high cliffs rising from the waters.
 Trekking on the top of Thailand
If you are looking for a perfect place to trek, the northern region is for you. Not only can you hike around in the forest and jungles, but there are small secret valleys. In the far north you will find Chiang Rai, a little jewel. And, the perfect atmosphere to disconnect and relax is the gateway to the Golden Triangle. Another option is Doi Inthanon National Park, in the southernmost part of the Himalayan range. In this landscape you will find one of its great attractions: the mountain tribes Karen, Yao, Hmong, and Lahu. Chiang Mai is the second largest city and is located in the center of this region.
Nature in Khao Yai National Park
If you are a nature lover you will love going to Kao Yai National Park, which is one of the best known places in Thailand. The flora and fauna are protected there, in a forest of over 540.000 acres including jungle and grassland in different hills. This is an area of great beauty and life – see many animals like elephants, monkeys, bears and tons of species of bird and butterflies. Can you imagine yourself descending canyons with spectacular views on an elephant? If you decide to visit Khao Yai, you can experience it for yourself.
There is tons to do in Thailand! For even more ideas, click here.