Natural health leaders have encouraged Epsom salt baths for many years as they offer a wide range of benefits. And while there haven't been any conclusive scientific tests regarding the benefits of Epsom salt baths, this historical natural bathing method is something that many people swear by.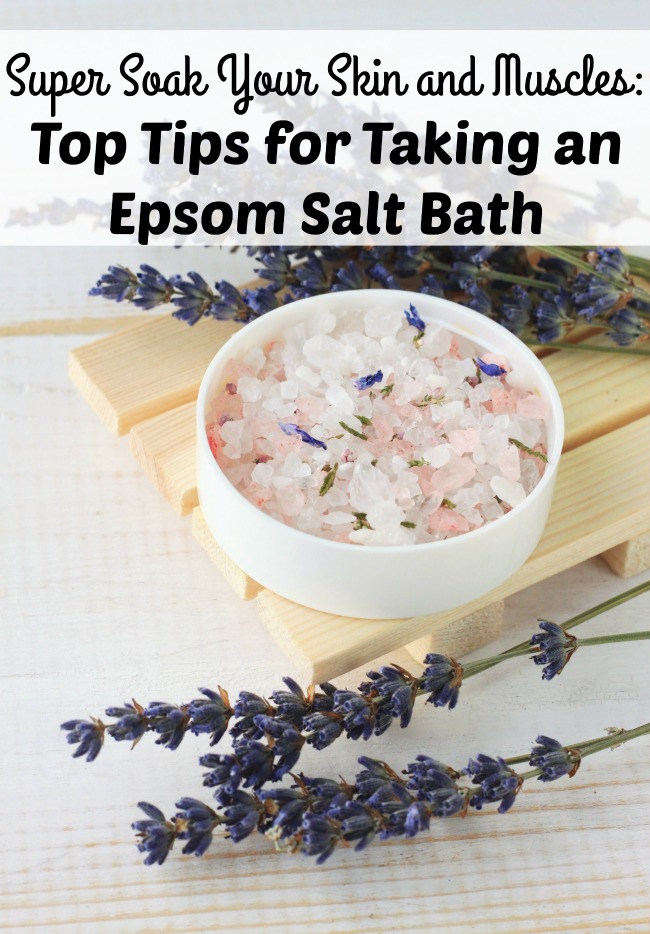 Some of the benefits of these types of baths are thought to be that it increases our sulfate and magnesium levels and lowers our stress hormones (read The Alternative Daily for more information). These features can help to relieve those aches and pains you've been suffering from and can even help you if you've got a splinter!
So, the next time you start to feel uncomfortable with your back after you've lifted something heavy or your arthritis starts to play up, why not try one of these natural Epsom salt baths to see if our ancient ancestors were right about them?
Where Does Epsom Salt Come From?
Despite the "salt" part of its name, Epsom salt isn't like the stuff you put on your food to season it. Instead, the salt aspect of its name refers to its chemical structure while the Epsom part denotes where it's come from in England. This salt is found in Epsom in natural springs and has been sourced from there for many years, which is why you'll now find it in most drugstores (check the area where the aspirins are, as it's usually there). You'll probably be able to pick up a large box for a few dollars.
It's also important not to get them confused with Dead Sea salts (these too can help with various ailments) or those fancy bath crystals you might find. These crystals might not be made from the same salt and will often have other additions in them, e.g. colors, perfumes and oils.
How Does Epsom Salt Work?
When you place the Epsom salt into water, it breaks down into sulfate and magnesium. It is therefore theorized that when you soak in a bath with Epsom salt dissolved in it, these will be absorbed into your body through your skin. Even though soaking in a standard bath of warm water can help joints, many people believe the addition of Epsom salt helps to treat things like swollen, tired feet; sunburn redness and pain; sore muscles; psoriasis; insomnia; ingrowing toenails; fibromyalgia (a condition that makes your tendons, ligaments and muscles hurt); sprains and bruises; and swelling and arthritis pain.
As there aren't many studies to support the benefits of these types of baths, you should check with your doctor first if you do have any health concerns. However, with the purely natural ingredients they contain, Epsom salt baths probably won't cause you any problems.
How to Create Your Own Epsom Salt Bath
If you like your bath water so hot you come out a vivid bright red, you'll need to cool things down for an Epsom salt bath. Even though the water needs to be warm, it shouldn't be too hot and should be comfortable enough for you to just jump straight in. Whilst the water is running in your bath, add the salts, as this will help them to dissolve quicker.
You'll normally find the recommended amount for your salt bath located on the package but for a standard-size tub, you'll usually require around 1 to 2 cups of Epsom salt. You shouldn't use the salts in a whirlpool, hot tub or another tub that features jets, unless the manufacturer has stipulated that you can.
Soak in the bath for 12 minutes or longer, keeping the part of your body that's hurting fully submerged in the water. As Epsom salts are thought to lower stress hormones too, it's important that you create a relaxing environment where you can enjoy this soak. So, try to make sure you'll remain undisturbed whilst you're in the bath and enhance the ambiance with essential oil scents, candles and music. And…relax!
How Frequently Should You Use an Epsom Salt Bath?
The frequency of your Epsom salt baths will depend on your ailment and is something you should consider asking your doctor about. Some say that you should start by using them once a week, increasing them as you see fit whilst others will say that you only need to use them as and when you have aches and pains. And if you're not a fan of baths and prefer showers, you can get the advantages of Epsom salts by creating a paste and using this instead.
Ryan Norton runs a manufacturing company and often writes about technology in business, staff training and keeping operations running smoothly in his online articles which appear around the internet.