This is a giveaway and review sponsored by Totino's and General Mills. While I received samples to help with my post, all opinions are my own.
Totino's Fans Bring Back Totino's Mexican Party Pizza
 Have you ever loved a food so much and then one day they stopped making it? How did you handle it? Grumble and moan? Look for a substitute? Well,  David Hlavac, a pizza lover who really loves Totino's Mexican Style Party Pizza, started Bring Back Totino's Mexican Style Party Pizza Facebook page. The fan page generated more than 700 followers. General Mills and Totino's was so moved by his passion that it's doing just that. For a limited time through May 2013 Mexican Style Party Pizza will be reintroduced at select retailers nationwide.
A complete marketing achievement, Totino's was actually listening. Too many companies do no pay attention to what their customers actually want.
"We never really know how much consumers latch on to one brand or flavor until it's gone," said Carina Sarbaugh, associate marketing manager for Totino's. "That's what's so wonderful about the power of social media, it gives our consumers a platform to tell us how they feel about our products, and we take that very seriously. We're so happy we could move on this flavor reintroduction given the consumer response, especially for our most loyal fans."
The flavor was discontinued in 2007 to make room for other Totino's offerings and to focus on its core party pizza line. Totino's Mexican Style Party Pizza includes a crisp crust with taco seasoned chicken and beef pizza toppings including green peppers, onions and cheese toppings. The suggested retail price for the 10 oz
"Totino's was into crowd sourcing long before it was a trend" said DyShaun Muhammad, senior marketing manager for General Mills." The Totino family built the brand in the 1950's by listening to their fans and creating recipes based on their preferences. The return of Mexican Style Party Pizza carries on that tradition, but now through the power of social media."
We love Totino's. We often grab a few pizzas for a weekend dinner while we are watching a movie, or playing a game together. It makes a great snack for after school too. My kids always love finding Totino's in the freezer.
To celebrate Totino's pizza bringing back their Mexican Pizza party, one lucky US reader will win a Totino's pizza prize pack.
The gift pack includes: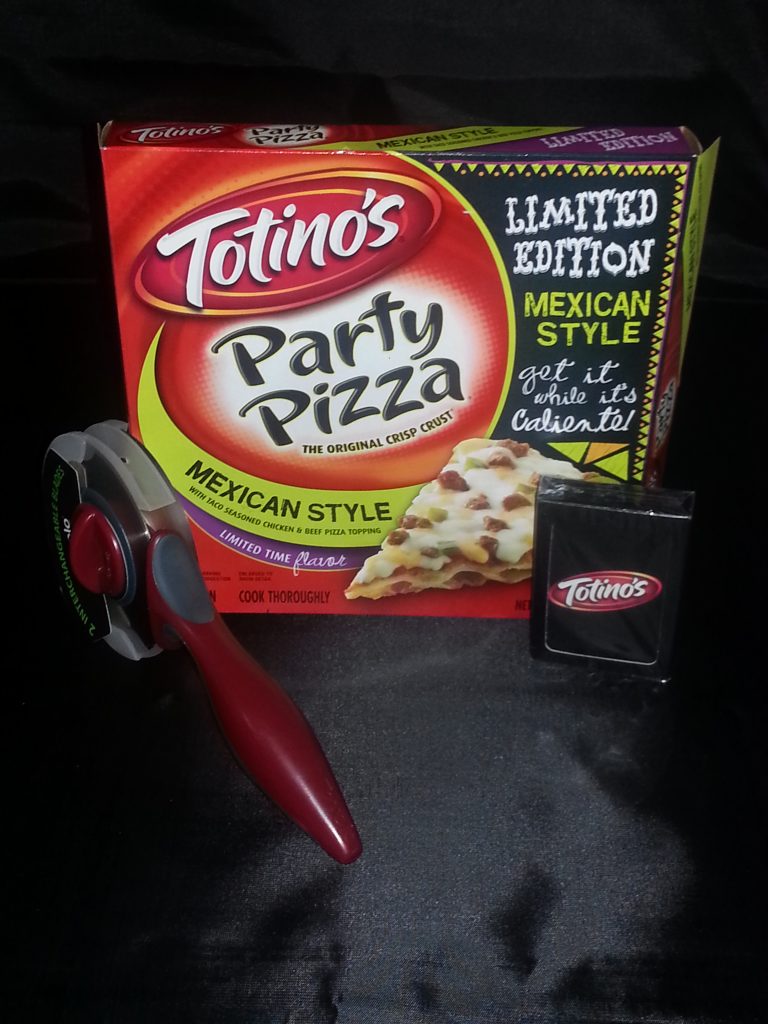 • Four VIP coupons for 4 free Totino's Party Pizzas

Pizza cutter

Totino's branded playing cards

Totino's pens
Contest ends 5/25 11:59 pm est.