Some form or another of radiant heating has actually been around since 5000 BC, but traditional radiant floors actually started to get more popular in 1985 especially in Middle Europe and Nordic Countries. These days, just about anyone in any location can use radiant flooring and reap all the benefits. Firstly, radiant floors i.e., heated floors are incredibly comfortable, especially when living in a cooler location. Secondly, they can add value to your home, not by a lot, but hey, any value added is always a good thing. Lastly, they tend to be quite efficient in terms of saving you money on your heating bills overall.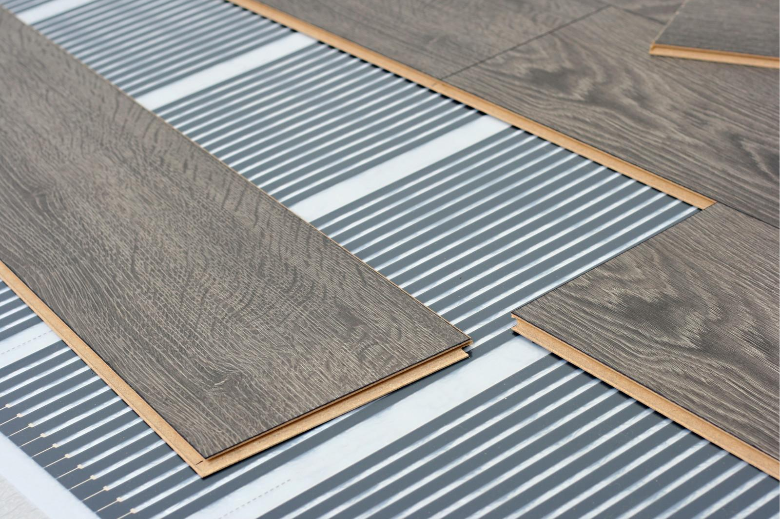 If you want to install radiant heating, though, you can't just install it under any flooring, there are certain floors it works the best with. These floors can be found below:
Tile Flooring
Flooring like ceramic or porcelain is a great conductor of heat, perhaps one of the best flooring materials to use. Tile flooring also won't expand or contract, which means as it heats and cools you won't get cracks in your flooring like you would with other flooring materials.
Laminate Floors
As long as the flooring is installed correctly, laminate is also a good flooring material for radiant heat because the laminate flooring has a very stable design, more so than hardwood floor, which means it won't expand and contract. Laminate is a material that is very similar to that of hardwood, but it's much cheaper than its predecessor.
Hardwood Flooring
Hardwood flooring will shrink and swell over time when used with a heat source, this will crack the wood, buckle it, crown it, etc. It's one of the best ways to ruin an expensive luxurious wood floor. So unless you want to ruin your hardwood flooring, definitely don't use it in conjunction with a radiant floor system.
Natural Stone Flooring
Stone is a wonderful conductor of heat. In fact, most people think that stone floors are always cold, but actually, they warm up quite nicely under the sun so it's safe to assume (and correct) that they also warm up nicely when you have a radiant flooring heater underneath them as well. Warmlyyours.com seconds this idea. If you think that walking on a stone flooring in blisteringly cold weather doesn't sound like a good idea, you've never been on a stone floor with radiant heat under it, while it's cold out. Instead of being chilly, it's warm and cozy.
While we're on the subject, let's also talk about some flooring materials which should never be used with radiant flooring. There are only three.
Wall To Wall Carpeting
Wall to wall carpeting is already a conductor of heat, it's used in rooms where you want warmth and coziness, so using these with radiant flooring sort of defeats the purpose. It's like overkill. In fact, in some cases, depending on the thickness of the carpet, the heat from the radiant flooring might not get through the flooring at all – it's a waste of money and time.
Vinyl Flooring
Since vinyl flooring has chemicals in the material, using heat with it is strongly advised against since this can cause off-gassing of the chemicals. Also, it can fade the color of the vinyl much quicker than any other material because of the heat factor.
Have More Questions?
If you have more questions about radiant heating, radiant floors, the best flooring to use with this type of system or how much money you can save with radiant heating, it's in your best interest to contact a radiant heating specialist. Why not visit www.tilemarkets.com and have a look at available options too? Once you find a company that specializes in this type of flooring, you can ask them all the questions you need to before the final decision. You can even schedule an in house consultation so that they can answer any questions you have in person and so that you can better understand how this works and what will be needed of you. You will also learn about the 2 different types of radiant heating; hot water systems and electrical systems. The hot water system uses a number of tubes which go under your flooring and hot water is pumped through those pipes to make your floor warmer. On the other hand, electric systems use electric cables which are placed under the flooring. The electricity you have in your home is then used to heat these cables up and warm the flooring from underneath. Both of these systems have their own pros and cons, as well as costs, so make sure you ask the radiant heat specialist about both options and the benefits/disadvantages of the two so that you can make a better decision.