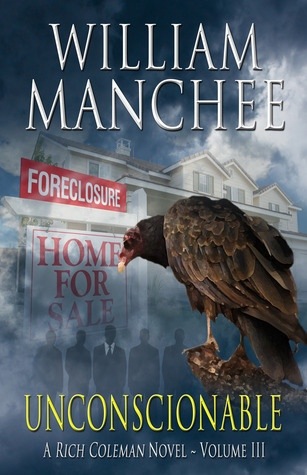 <
I just finished reading
Unconscionable
by William Manchee. This is third book in the Richard Coleman series. Now i have to read the first 2 books in the series, so reading the third is something I usually would never do, I was interested in it, and when I was given a copy to read, I thought why not. And I was not disappointed. This book is a thriller with a legal plot, added to the whole family drama. Rich Coleman is a lawyer, with 2 sons. His one son, Ryan, is a recent graduate from law school and his other son, Matt, who has some issues and was convicted of bankruptcy fraud. He has gotten the convictions over turned and is now trying to get his license reinstated.
Rich wants to go after the mortgage industry and wants is son on is side. While Matt is trying to get his license back, Rich has infiltrated the mortgage company, when suddenly, Matt's new girlfriend, Candy Kane, who runs an escort service, is kidnapped.
While all of this is going on, the other son's girlfriend, Amanda is becoming a literary agent. Once upon a time ago, Rich had written a crime story about the murder of his wife's aunt. Amanda is determined to have to book published, despite Rich adamantly against it.
There is no need to worry about being able to keep up, with not reading the other books, as this books feels like a complete novel in itself, while tying into the complete series. The author does a great job of detailing each character for people who might not be familiar with the other books. The book is thrilling grabs your attention right away. It is a wonderful read that will include a thriller, drama, with even a it of love added in.
About the author:
William Manchee is an attorney by trade and practices law in Dallas with his son Jim. Originally from southern California, he now lives in Plano, Texas with his wife Janet of some 40 years. Manchee first discovered his passion for writing in 1995 when he wrote "Twice Tempted." He vowed then to write a novel every year for the rest of his life. So far he is on schedule as "Act Normal," Volume 8 of the Stan Turner Mystery Series is his twelfth published novel. The series is inspired by many actual cases in which Manchee has been involved over the years. His other works include "Death Pact," "Plastic Gods," and a nonfiction book called "Yes, We're Open, Defending the Small Business Under Siege" which has been published in eight foreign countries as well as the United States.