I am a Weeva Storyteller Ambassador . All opinions are my own.
Jimmy and I just celebrated 15 years of marriage. It is a big deal. I have often wondered how we would ever make it through another year, but here we are going strong. I don't normally do overly sweet romantic things, it really isn't the way I am built, but since I just joined as a Weeva Ambassador I am excited to be able to make a unique wedding anniversary gift for Jimmy. Ok, so it isn't just for Jimmy, it is for me too. A fun way to tell the story of our relationship and a great keepsake book.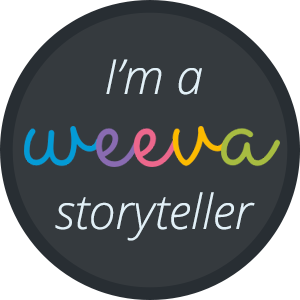 With Weeva, you work together with family and friends to collect your favorite stories in an online Tapestry; Once collected, you can print your stories in an art-quality book for yourself or someone else. In my case, I will be working from that first phone call, through having kids, to getting married and life after 15 years of marriage. It is neat because I can use my friends and family to help fill the stories, keep it private so that only the people invited can see it and add to my stories, and it is simple enough for anyone to do, from user as young as 3 and as old as 85. And, it is free to collect as many stories as I like. The company makes their money when people order the beautiful and affordable books.
Weeva designs the books for me, and all I have to do is talk about my memories and collect the stories. I am looking forward to how the Weeva books turn out after we are all done adding the stories.