This post about How To Connect With Teenagers is sponsored by Ore-Ida® Bold & Crispy #FindYourBOLD. All thoughts are my own.
I swear there are some days that I feel like my teenage boys are from another planet all together. The things that come out of their mouths leave me completely baffled. The things that they are into and the things that they talk about doing with their friends, it just leaves me shaking my head. Who are these strange people and how did they get into the bodies of my little boys. That being said, I am extremely lucky. I have a great relationship with my boys. We are very close and I am lucky that while sometimes they tell me things I kind of wish that they would keep between them and their friends, they tell me just about everything. Well, just about everything. And I truly wouldn't have it any other way.
I know it can be hard to get teenagers to open up. Or even just have a regular conversation. The biggest thing I have found that works with my boys is that we talk often. About everything, no matter how small. I listen when they go on and on about something I have no interest in, outside of that it matters to them, or things I actually do not understand. I ask them questions about it and hope they will explain it in a language that I can understand.
My one son and I connect most over music. If I hear a new song he would like, or if he has a new favorite song, he can not wait to share it with me. That usually leads him to tell me where he heard it and what he was doing. Once I have that it is easy to get more information about his day, his friends and what is going on with him.
My other son is all about the food. He is my chef in the making so anything with food gets him talking to me. We love trying new foods together and once he is happily eating and filling his belly, he is happy to tell me everything and everything.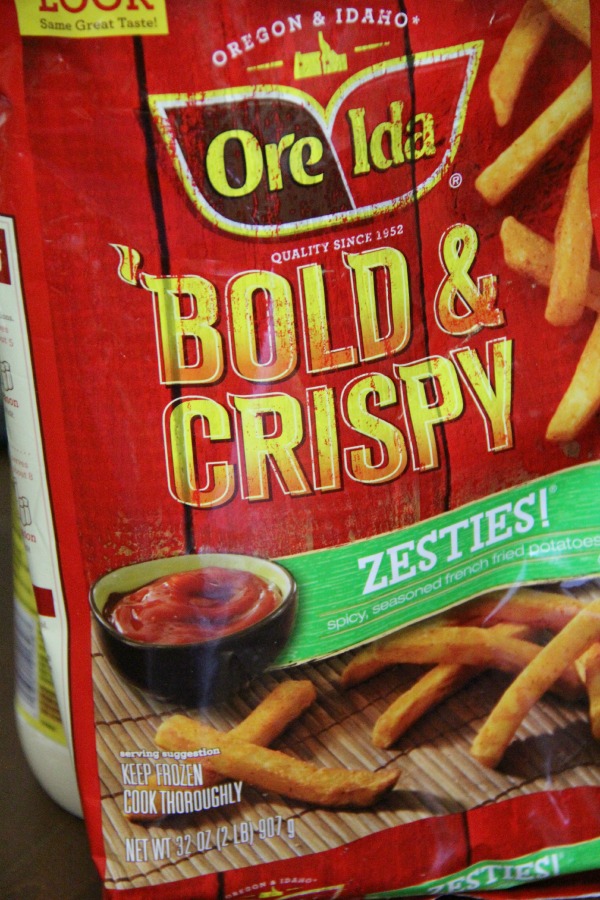 Our recent chat session was featured around Ore-Ida® Bold & Crispy and making a simple BBQ Ranch dip recipe. We tried two Bold & Crispy Flavors: Zetsy® and Spicy Sriracha Fries. These new fries have a bolder flavor and really bring a meal or snack life.  Both go perfect with the french fries dip.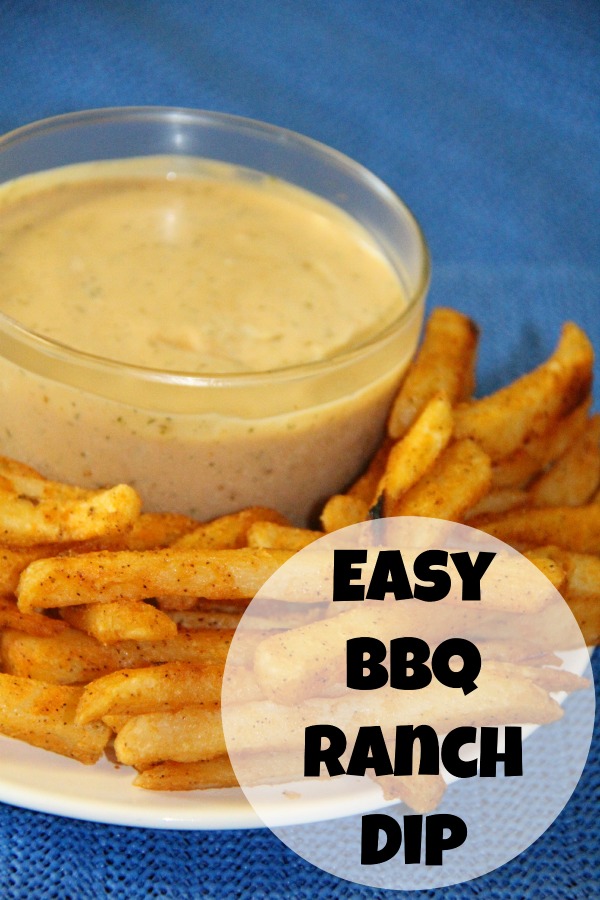 1/2 Cup Mayo
1/2 Cup Sour Cream
1/2 Cup BBQ sauce
1 packet of ranch dressing mix
Mix everything together. It tastes best after it has been refrigerated for at least an hour, but still works great right away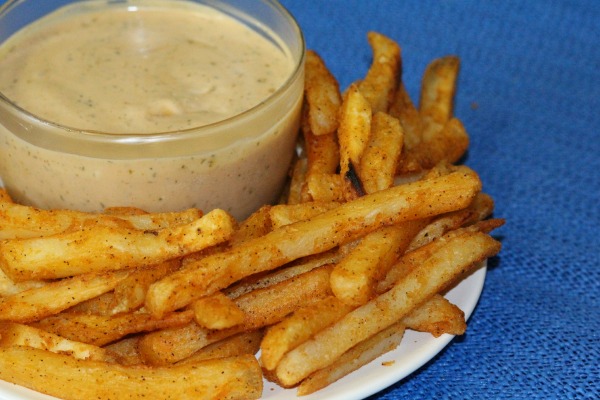 This dip is perfect for fries or wings.
You can find more ways to connect with your teens on the #FindYourBOLD Pinterest board. Here's an example of a conversation starter question found on the board.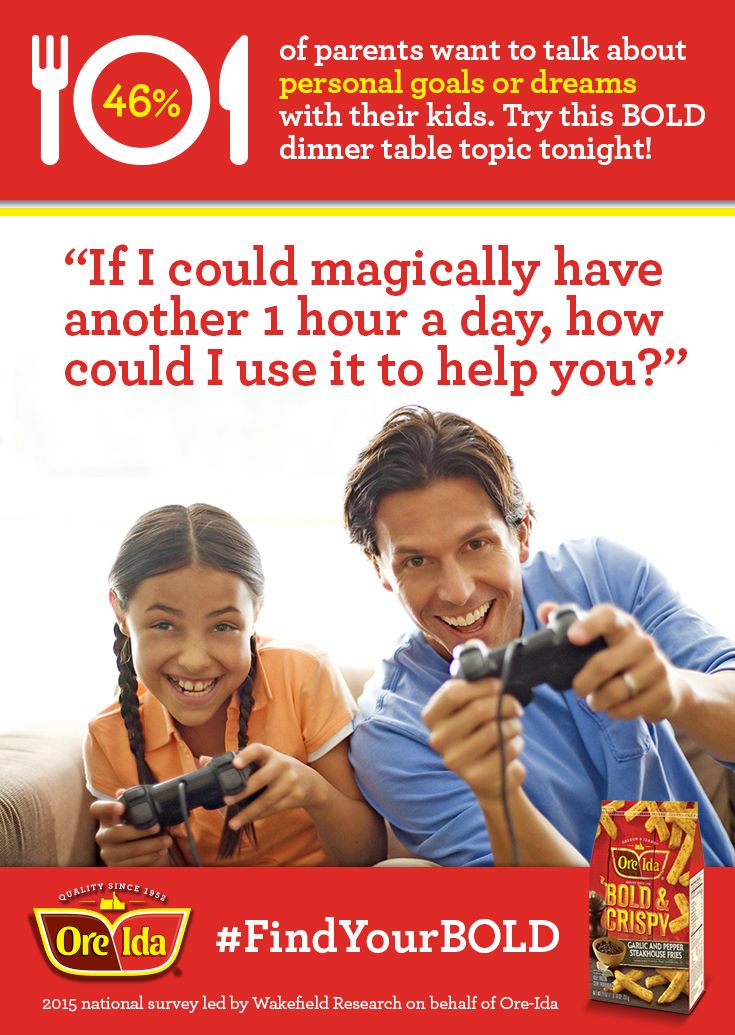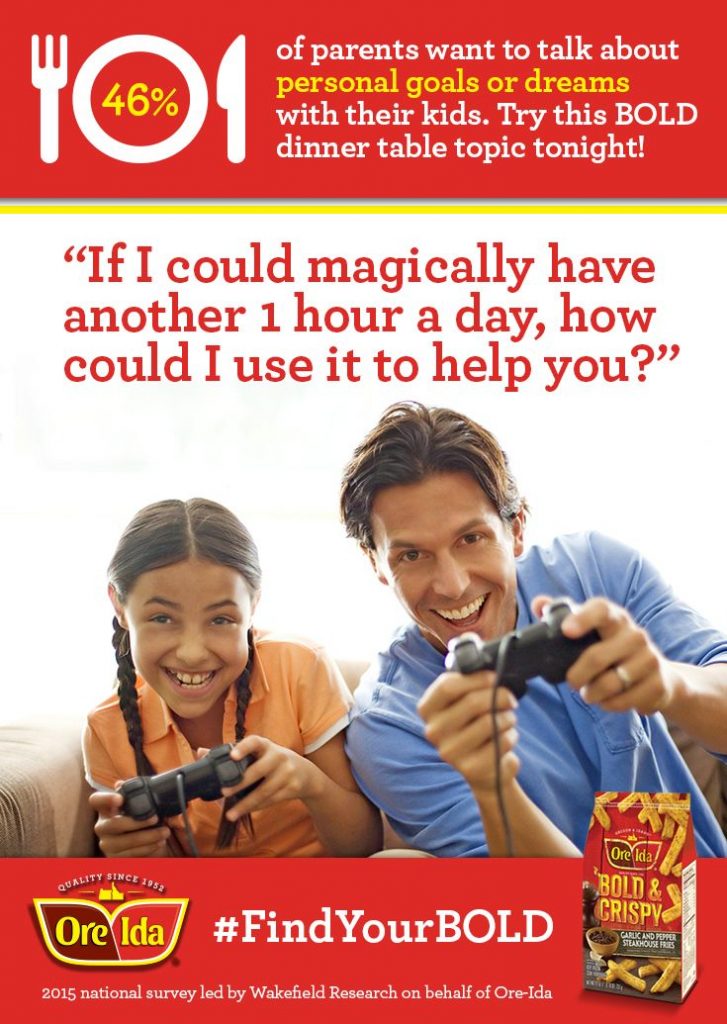 So tell me, how do you connect with teenagers in your house?