You know my oldest child is turning 16 in a few months. I remember bringing home that tiny little bundle and watching him sleep. I would stare at him for what seemed like forever. Once he moved into his own room, at a few months old, you would think it would mark a bit more sleep for a mama, because he was sleeping for longer periods of time, but it was actually the opposite. I was constantly getting up, going to his room to check on him. Was he breathing? Was his face pressed against anything? Was his binky in his mouth or laying near him? Was he warm enough? Was the room too cold? Basically I was a mess.
And it didn't get better with future kids. I was the same way with each child. Willow is almost 3 and I am still checking in on her a few times before bed to make sure she is all settled. And even when I wake up at night, I need to stop in to make sure she is covered and settled. I still make my rounds on all the kids, are they settled in bed, covered, quiet, everything ok?
Recently I was sent a Safe and Sound Video Baby Monitor From VTech for review. This is going to be the perfect gift for my nephew due in a few days. We gave it the thorough test before hand, and let me say, I wish I had one of these when my kids were little. It has been wonderful even with Willow at this age.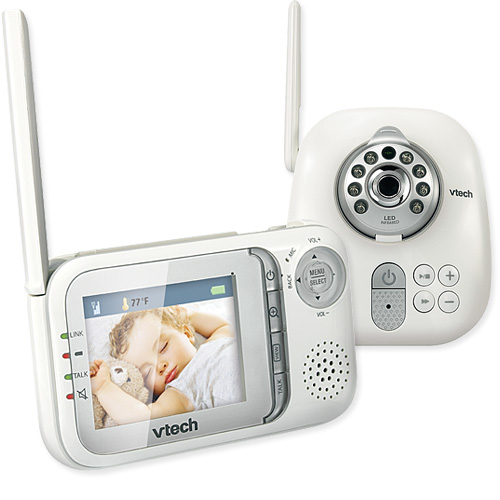 The video monitor features
Six level sound indicator.
Vibrating Sound Alert – Enjoy some added peace by being silently alerted when there is sound in the baby's room.
Temperature Sensor – Parent Unit displays baby's room temperature. Be assured the conditions are ideal for restful sleep.
Talk-Back Intercom System – Remotely communicate with your baby from the parent unit to the baby unit. Soothe your baby from another room or even from outdoors.
Polyphonic Lullabies – Play 5 different lullabies on the camera.
Camera Battery Compartment – Add four AA batteries (not included) to the camera for up to 4.5 hours of video streaming.
Zoom the camera from the parent unit.
Night Viewing – 8 infrared LEDs automatically sense the lighting condition providing full video viewing in dark rooms.
Split screen capability – System supports up to four cameras to be viewed from one Parent Unit. Viewing modes include Single View and Quad View Split Screen
High Resolution 2.8″ Color LCD – Easily view your baby (or babies) from the 320×240 full color display.
Full Motion Video – Up to 22 frames per second of full color, dynamic frame rate video provides excellent viewing of all the action in the baby's room.
Rechargeable battery with low battery alert in parent unit.
Wall Mount Bracket – Safely view your baby from a fixed location. Bracket includes a cord management system for storing excess power cord. Swivel, tilt and zoom the camera for the ideal view.
Adjustable camera angle.
Extended Range – Up to 1,000 feet of range allows you to feel safe and connected to your child while you go about your day.
Digital Transmission – This 2.4GHz Frequency Hopping Digital Spread Spectrum system digitally transmits both the audio and video signals. No annoying white noise sound. You only hear the sounds coming from your baby. All transmissions are encrypted for your privacy and security.
Expandable to 4 Cameras – For families with more than one child to monitor, this system can expand to four total cameras. Extra cameras (VM301) sold separately. Know what is happening in all of the important rooms in your home.
I still use a monitor to hear Willow at night anyway. because of the way my house is set up, I can not hear her well if she fusses at night and she doesn't sleep well (much like me) so fidgets in her sleep a lot. Not that I have to go in that often to her, but if I couldn't hear her, I would be waking up and going in there checking on her even more than I do now, which would be a mess. With the VTech video monitor, I can just look and see if she is covered. If I hear a noise from her room, and I wonder did she fall out of bed or did she just roll over and bump the wall with her foot, all I have to do is look at the screen.
The picture quality is great, (although it is a bit hard to tell as I take a picture of the screen through my phone). I can see even at night due to in infrared camera, and it is also in color making it easy to see the details I need to see.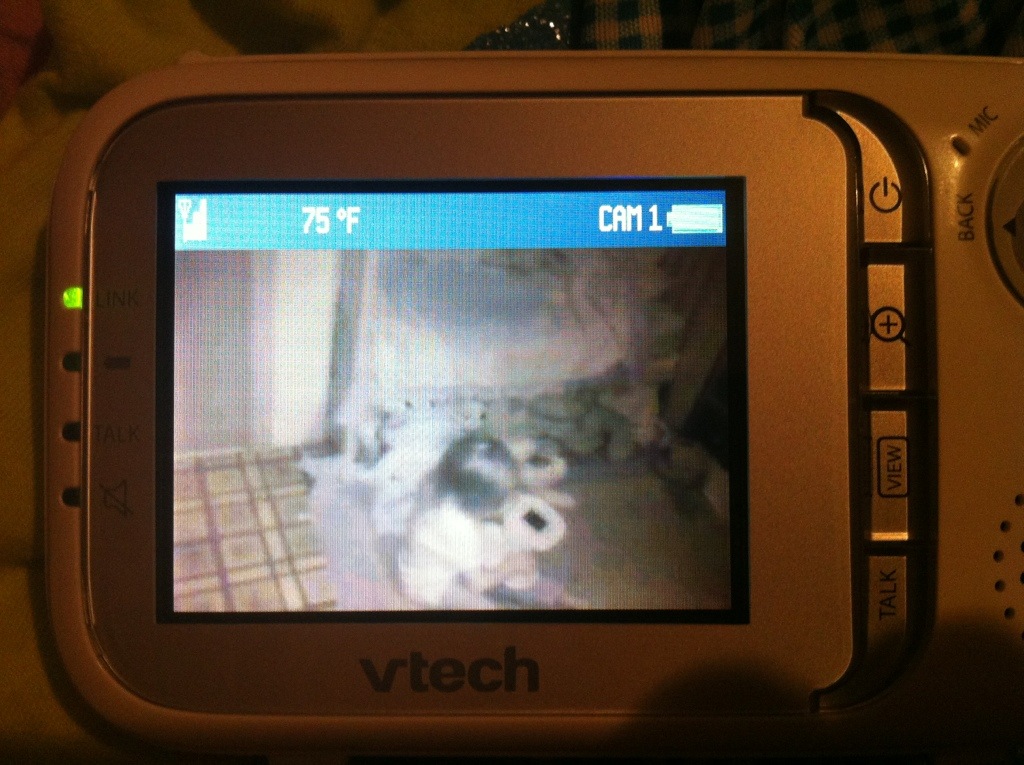 For younger babies, there is a great option to play lullabies. And a feature that is great, even at Willow's age is the talk back feature. I can press a button and talk to her in her room. This is great, because as she is getting older, she likes to play in her room by herself, but she is still young so I don't like to leave her unsupervised. She is a little dare devil and like to climb, jump on the bed, color on the wall, and who knows what else she will get into. With the monitor, I can watch what she is up to, but she feels she has the independence of being like the big kids in the house (because she can not grasp the concept that she is not 8 like her sister) and be off completely alone for endless amounts of time. And if by chance she is starting to do something she shouldn't, like jump on the bed or climb on something, I can just remind her through her monitor that she isn't suppose to do that. It gives her the independence she wants and the security and safety she needs.
A feature that sets this over the top in my opinion is the ability to add multiple cameras to one viewer. So let's say you have more than one child, or you have a play room you want to be able to monitor in addition to the bedroom. You can add up to 4 camera to one viewer, and you can see them split screen, so there isn't a chance of missing anything due to viewing the wrong camera.
It truly makes the
Safe and Sound Video Monitor
from VTech a monitor that can grow with your child, and not just an investment that last a few months or a year or so. The basic Safe and Sound Video Monitor with one camera starts at $129.99 with free shipping from the VTech website.
;