I am working in partnership with Eyecare 20/20 to share with you ways to afford LASIK. I received free LASIK in exchange of sharing my experience with you.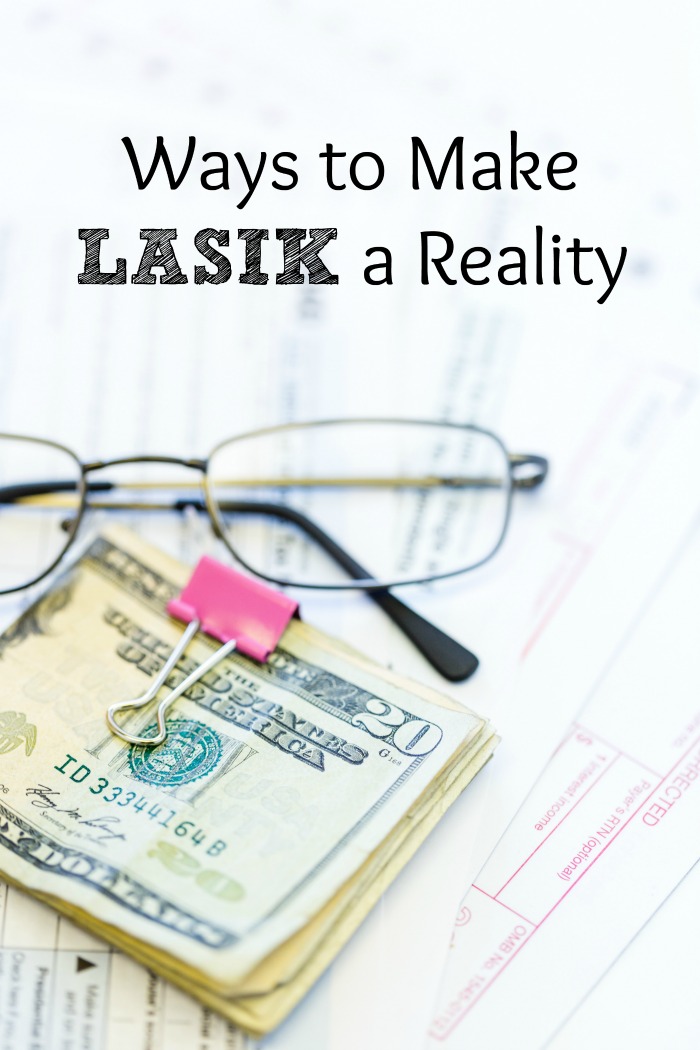 As you may know from previous articles, I recently had LASIK surgery from Eyecare 20/20 and Dr. Silverman. LASIK was something I had always wanted. The problem is, it does not come with a small price tag. Also, insurance doesn't cover LASIK so it can seem overwhelming when you think of the cost. But it doesn't have to be.
First, consider all the money that is spent on eye care. The frames, the lenses, and of course you hope that nothing happens to them like getting scratched or broken. The contact lenses every month, the lens solution, the cases. not to even mention the hassles that come with wearing contacts and glasses.
What is covered in the cost of LASIK with Eyecare 20/20? The consultation with Dr. Silverman is free. This is because while Dr. Silverman is amazing at what he does, not everyone is a candidate for LASIK. There are other procedures that can correct eye sight if someone isn't a candidate for LASIK. For the cost of the procedure a patient gets the surgery and all the associated medications and all appointments that follow the procedure for the following year. So when you have to go back in for check ups, or if there is some kind of issue, those appointments are covered too.
 Ways to afford LASIK
This time of year, a lot of people get a large sum of money back for their taxes. This time of year people are looking at their tax returns and trying to decide what is the best way to spend the money. It is a great way to offset the cost of the LASIK Surgery.
Look into Flex Spending. Many people have accounts for Flex Spending and the money in these accounts have to be used before the end of the year. The benefit of using your Flex Spending account, or starting one is that the money that is taken before your payroll taxes are applied. That means, the money goes into your flex spending account before you are taxed, therefore reducing the amount of income being taxed. So, you have more money to spend and less taxes.
Carecredit: Carecredit is like a credit card but it used only for things not covered by insurance. It can be used to cover things like chiropractic, cosmetic, veterinary and LASIK among other things. Once you have been approved, you can use it to cover LASIK. There is even promotional financing that allows for no interest if paid during the promotion period. It is a great option for getting LASIK now and pay it off gradually.
What Not to Do:
Do not go with a doctor just because they are cheaper. Yes, you can find a LASIK doctor that might be less expensive than Dr. Silverman. But cheaper doesn't mean you will have the same experience and results with another doctor. Dr. Silverman is renowned in his field and has performed LASIK on Olympians and professional athletes.
With these above ways to afford LASIK, Dr. Silverman wants to help it be even more affordable. Take advantage of the coupon code his office is sharing with me. When calling to make your appointment, use code I Care About Eye Care and receive $1000 off. That is a huge saving.
Connect with Dr. Silverman at EyeCare 20/20 to get  schedule a consultation. There is no better time to see if you're a candidate for LASIK, visit EyeCare2020.com. Other ways to connect with EyeCare 20/20 and learn more about LASIK on their social channels: Facebook | Twitter | Instagram | YouTube